Entertainment
Jacqueline MacInnes Wood Brings Love With Boyfriend Into 2017! Will Turn Dating Affair Into A Married One Soon?
You meet different people in the journey of your life. When some people prefer dating many individuals they come across; some choose to remain single until they find a perfect partner for them. But when a person finds a perfect partner, they can't stop themselves from loving their partner and flaunting their relationship.
Likewise, Canadian actress, singer, and television host Jacqueline MacInnes Wood are one of those celebrities who is enjoying a healthy relationship with her boyfriend. She has also been flaunting her love life in her official Instagram-like Carly Chaikin, Ashley Johnson, Janel Parrish, and Stella Maeve, who love flaunting their relationships as well.
A lovely Relationship!
Who wouldn't love to date Jacqueline MacInnes Wood?
But sadly, Jacqueline is already taken and is in a blissful relationship. If you follow her on her official Instagram account, you might have come across different pictures of her and her boyfriend. But if you are unknown about her love life, let us help you to know about the guy who has stolen her heart.
Jacqueline, who previously dated Daren Kagasoff, is currently dating Elan Ruspoli and has been sharing different pictures of the couple. She even welcomed 2017 with her lover, simultaneously wishing everyone a happy New Year.
On January 10, 2017, ten days after celebrating New Year, Jacqueline shared an image with her boyfriend Elan where she was seen kissing him. The caption said,
"A mind that is stretched by a new experience can never go back to its old dimensions.. ~ Lantern Festival #Rise ?? #travel #wanderlust"
How could this lovely couple miss to celebrate the lover's day? They even celebrated Valentine's Day together. Jacqueline shared an image with Elan where she wrote: "My Valentine" with an emoji of heart.
Similarly, on April 15, 2017, Jacqueline celebrated her birthday with her boyfriend. She shared an image kissing him where she wrote-
"Makin this Bday girl feel like a Queen ?????? #Coachella ????@bmcmuffin #theonewhostarteditall"
No doubt, Jacqueline is enjoying a happy relationship with her love interest, but will she turn her relationship status from dating to married soon? For now, enjoy her cute images with her boyfriend until she shares pictures with her husband.
Two times Emmy Award-nominated actress Jacqueline enjoys a prolific career. Thirty-years-old Jacqueline is active in the industry since 2006 and has some films and television series under her name.
Popular for playing the role of Olivia Castle in Final Destination 5, Jacqueline has undergone plastic surgery. She is believed to have rhinoplasty or nose job, lip fillers, and eye surgery.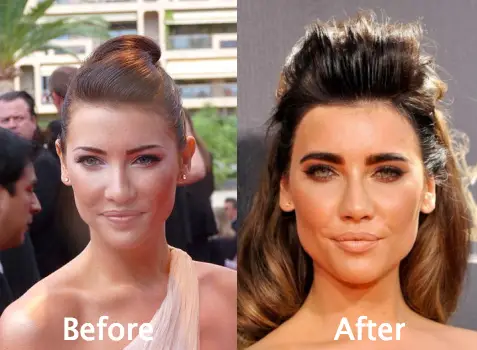 Caption: Jacqueline MacInnes before and after plastic surgery.
Photo Credit: latestplasticsurgery.com
Jacqueline is also known for appearing in The Bold and the Beautiful where she portrays the character of Steffy Forrester (2008–13, 2015– present). She is also known for appearing in two episodes of Les Anges 8: Pacific Dream.
Jacqueline is not only enjoying popularity from her profession, she is also receiving a fantastic salary which helps her to enjoy an eye-catching net worth, which is estimated to be around $300 thousand.