Entertainment
Jadyn Wong Relationships Only Exists In Professional Life? Made A Buzz When Became Pregnant On-Screen
It's quite a challenge living as a celebrity when everyone takes interest to know what's going on in their life. Along with their career information, fans are much more curious to know the personal details as well.
When celebrities get romantically involved with someone, they either share the news publicly or keep the affair private. However, the scenario is rather confusing for the Canadian Actress Jadyn Wong, who has bottled up her private life and only deals with relationships in her professional life!
Let's get the core insights of Jadyn Wong's onscreen as well as offscreen love life, who created quite a buzz when she came out pregnant on-screen! 
Jadyn Wong's On-Screen Pregnancy Buzz:
The talented actress, Jayde is popular for her role as 'Happy Quinn' in the 'Scorpion' TV Series. 
Her character is the lady, who is loved by two guys on the show, 'Walter,' essayed by Elyes Gabel and 'Toby Curtis,' portrayed by Eddie Kaye Thomas. Toby and Happy share a romantic relationship and fans adore them together.
During an episode of the series of Season 2 Finale, Toby got down on one knee and proposed 'Happy,' but she confessed to Toby that she was already married! It was not only a big blow to Toby, but the fans were equally shocked and wondered- who is her secret husband?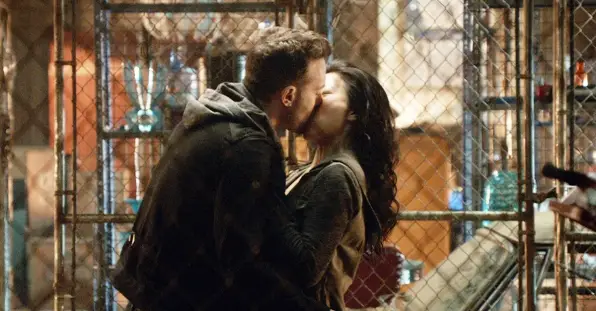 Caption: Jadyn Wong and Toby Curtis sharing a kiss during an episode of the TV series 'Scorpion.' 
Photo Credit: cbs.com 
Entertainment Weekly Radio tweeted that Happy's secret husband would be unraveled soon! 
And it turned out that she was married to Walter O' Brien to help him stay in the country. They were good friends, who were just helping out each other! 
However, that was not it!
On November 2016, a plot twist was introduced in the series, and Happy disclosed to Toby that she was pregnant with Toby's child. 
Fans were excited about Happy's pregnancy, and the news was all over social media.
On the series, Happy was confident that she had a baby on the way and was almost done with her high-tech baby crib. But the plot twist didn't end with the revelations of Happy's pregnancy; there was more to unveil.
Talking about the unexpected pregnancy, during an interview with TV Insider on October 2016, Jadyn Wong said,
"There's almost so much fear. I almost see it as one foot in the past and one foot in the future. It's almost like this turmoil in her; that's how I read it. I think there's some fear, also, around children. She didn't really have a childhood. It's like she's scared—she doesn't want to hurt [her kid]; it's the cycle of what you experienced as a child. It's not really knowing if she could do any different."
Additionally, Eddie Kaye Thomas, who was also present during the interview, added,
"Toby's a really loving guy; he really wants to do the right thing with Happy and this baby It's just going to make this connection even tighter."
But, the excitement didn't last long, as, after a medical check-up, Happy found out that the cadmium poisoning resulted in the false pregnancy.
Talking about Jadyn's romantic union in her life beyond the cameras, she hasn't been spotted with a romantic partner, who could be speculated as her probable boyfriend.
Further, she has not acknowledged a man as her boyfriend so; she remains single in the eyes of the public. However, there is a mild possibility that she is dating a boyfriend, who she is hiding from the spotlight. 
More about Jadyn Wong:
Jadyn Wong is a talented actress, who was born on May 11, 1985, in Canada. Her parents own a restaurant in Hongkong. Talking about her studies, Wong received her degree in Commerce from the University of British Columbia.
Jadyn made her acting debut in the Emmy-Award winning, and Golden Globe nominated mini series 'Broken Trail' alongside Robert Duvall. Wong has starred in numerous shows and films, but she is best known for her role 'Happy Quinn' in 'Scorpion'.
Wong has flaunted her acting skills on other shows as well. She starred in six episodes of 'Being Erica' in 2011. Moreover, she made guest- appearances on Caprica, Rookie Blue, and other series. 
Today, Jadyn has earned a household name for her self as a talented actress. But, acting is not the only skill she has been blessed with; Wong is surprisingly a black belt in Karate and is trained playing classical piano.
Jadyn has accumulated a hefty sum in her bank from her profession; however, she is yet to reveal the exact figures of net worth to the media.
Stay with us for the emerging updates on Jadyn Wong!