Entertainment
Everthing about Jake Bongiovi: Millie Bobby Brown's Rumored Boyfriend
The linkup speculation between Millie Bobby Brown and Jake Bongiovi might just have come true. The 17-year-old Stranger things fame was rumored to be dating the 19-year-old. While Brown has been a prominent figure in Hollywood, her new romance has not been in the glitz and glams of Hollywood much.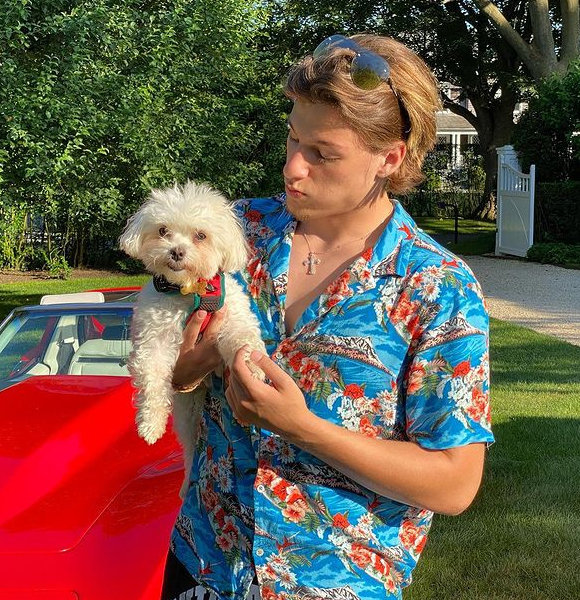 Quick Information
Brother/s

Romeo Jon Bongiovi, Jesse Bongiovi

Real Name

Jacob Hurley Bongiovi

Siblings

4

Instagram

https://www.instagram.com/jakebongiovi/?hl=en

Height/ How Tall? 5 feet 8 inches
Education

Major N/A

College

Syracuse University.

High School

J B Pennington High School

Net Worth

N/A

Girlfriend

Millie Bobby Brown

Relationship Status

In Relationship

Sister/s

Stephanie Rose Bongiovi

Date of Birth May 7, 2002
Mother

Dorothea Hurley

Father

Jon Bon Jovi

Parents

Yes

Ethnicity/Race

White

Zodiac Sign

Taurus

Birth Name

Jacob Hurley Bongiovi

Profession

N/A

Birth Place

New Jersey, USA

Nationality

American

Birthday

May 7

Birth Year 2002
The linkup speculation between Millie Bobby Brown and Jake Bongiovi might just have come true. The 17-year-old Stranger Things star was rumored to be dating Jon Bon Jovi's 19-year-old son. As Brown has been a prominent figure in Hollywood, her new romance has not been in the glitz and glams of Hollywood much.
Wondering Who Millie Bobby Brown Is Dating?
Millie Bobby Brown is allegedly dating the famous singer "Jon Bon Jovi's" son Jake Bongiovi. The speculations initially started after the two started posting each other on social media. The back and forth comments and replies on each other's posts led fans and media to believe a love cloud is forming in the air.
The speculations obtained a solid base after Millie posted an Instagram story giving a side hug to the 19-year-old.
Millie and Jake Instagram story together (Via Millies Instagram Story)
Back on 9th April, Bongiovi shared a picture captioned "All smiles here," to which the British actress responded with "Creds please," meaning these two were spending time at the moment. This was the first time the rumored couple shared contact on social media.
Millie's comment on Jake's Instagram Picture (Via Jakebongiovi's Instagram)
A month ago, they were papped, holding hands, and walking together. While the actress has been linked with famous figures like- Jacob Sartorius, Joseph Robinson, Romeo Beckham, and many more. Bongiovi, on the other hand, does not have much of a media emergence.
Besides being a star kid and now Brown's alleged boyfriend, Jake, age 19, has a life of his own that he lives on his terms.
Although the 19-year-old doesn't have a strong media presence, his surname is in itself an introduction for him. His father, John Francis Bongiovi, who goes by the stage name Jon Bon Jovi is a grammy award-winning rock band lead.
As the saying goes, like father like son, Junior Bongiovi seems to be quite fond of pop culture and rock music himself. Although having 217k followers on Instagram, the 19-year-old has his comments limited to a certain number of people.
It seems like the star kid does not want the attention that he is gaining at the moment.
Millie's Best Friend Approves?
The 17-year-old young actress has made a mark on Hollywood with her amazing acting skills, being one of the lead actresses in Netflix's most popular shows, "Stranger Things."
Previously, Brown had been rumored to be dating her co-star Noah Schnapp. However, the Canadian-American actor Schnapp is actually Brown's best friend. Despite fans shipping the two together, they have their own separate dating life. 
Noah Schnapp follows Jake Bongiovi on Instagram 
Noah seems to be following Bongiovi on Instagram and vice versa. Even though this does not confirm anything but having these two follow each other does make-believe that the 19-year-old is an essential person in Brown's life.
Everyday Life Of The Star Kid
Despite being a star kid, the 19-year-old lives a low-key life both in and out of social media. However, Jon Bongiovi's love for his son and even the littlest of his accomplishment can be evident on his social media.
The father of four recently congratulated his 19-year-old son for being accepted to Syracuse University. While the major of the young lad is still a mystery, we still wish the best for his future endeavors. 
Bongiovi also seems to love sports as he played football for his school, Pennington School in New Jersey. The father-son duo can be found in the same frame as Bongiovi gets in the field for his match. And as the proud father that he is, the warm smile shared by the rockstar to his son is simply beautiful. 
Jake Bongiovi alongside his father and other family members (Via Jon Bon Jovi's Instagram) 
Taking Father's Footstep Or Has Plans Of His Own?
The 19-year-old might have pressure to continue his fathers legacy, but he seems to have chosen a path of his own. The teenager appears to be very passionate about activism and politics.
He hit the headlines in 2018 when he led a mass walkout contradicting the Florida mass shooting, where 17 people were left dead. While talking to NJ.com, he revealed that it was not his first time being active for such events, as he, alongside his father and family, attended women's marches as well. 
Despite his busy schedule, it seems like the 59-year-old Bon Jovi's legend has not failed to teach his children good morals and values.
Further, the legend's son shared an Instagram video with US senator Cory Booker to share a funny moment. Upon being quizzed on New Jersey history, the 19-year-old replied with a witty answer.
Whatever path he chooses, this charming gentleman sure has a lot on his shoulders, and he seems to be making his father proud already.
Short Bio On Jacob Hurley Bongiovi
Jake Bongiovi is a United States-born 19-year-old. His birthday falls on May 07, 2002, making him a Taurus. His real name is Jacob Hurley Bongiovi. He completed his education at J B Pennington High School, Alabama, USA.
Standing on a height of 5ft 8inch, he weighs about 77kg. Being the son of Dorothea Hurley and John Francis Bongiovi, his sexual orientation is straight.