Entertainment
Into The Life Of James Carville And His Wife! The Couple Who Have The Perfect Family With Their Daughters In It
Into The Life Of James Carville And His Wife! The Couple Who Have The Perfect Family With Their Daughters In It. Talk about power couple, and we've got one canoodling just right around the corner. James Carville, an American commentator by profession, regardless his demanding job is someone who shows that you can always find time for your married life and the family you get from it. He has a wife and daughters who complete him as a man.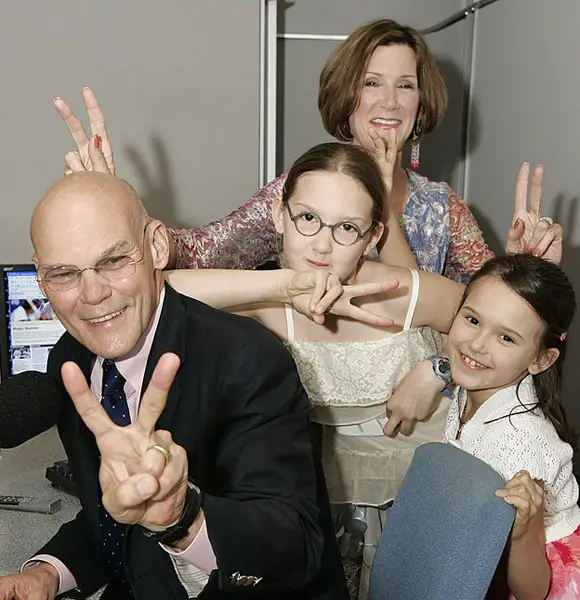 Talk about power couple, and we've got one canoodling just right around the corner!
James Carville, an American commentator by profession, regardless his demanding job is someone who shows that you can always find time for your married life and the family you get from it. He has a wife and daughters, who complete him as a man because one cannot simply only be famous and not have a family.
Duncan Lacroix and Taylor Cole are an exception of course!
Today, let's take peek at the married life of James and get acquainted with the blissful family life he has been living.
Into The Married Life Of James Carville!
James Carville is someone who we have known for his strict democratic knowledge and attitude, an attitude which also made him the personality that the SNL could impersonate.
However, apart from his astute career in politics, he is more of an easy person when it comes to family and so is his critically acclaimed political consultant wife, Mary Matalin.
Caption: Carville and Matalin: Finding love across the aisle. Published on Jan 5, 2014
The couple met in 1991, a year before both of them faced each other representing opposite presidential candidates. Carville was a lead strategist for the 1992 Bill Clinton presidential campaign and Matalin was Chief Campaign Director for George H. W. Bush's presidential campaign.
The couple met for the first time in D.C. Matalin recalls their meet as,
"It wasn't really a date. I don't know what we were -- it was something. It was vodka and French fries, that's all I remember. And I was struck, stayed struck, am struck."
Says as she cups Carville's chin in adoration.
However, since there could be only one president elected, either of them were at risk to be on the losing side, and it was Matalin.
Carville's candidate Bill Clinton won the election, and while his joy as a Democrat whose candidate just won the election was sky rocking, Matalin, on the other hand, was on the low side. However, both of them balanced out their joy and sorrow.
Matalin expressed,
"Yeah, it's really hard. It was really, really depressing, but he was really doing great. And I was really in love. And they fought against each other, and the good side won. I stayed in love instead of in darkness." 
Resting their professional life where it belonged, the couple took charge of their relationship and got married on 1993's Thanksgiving Day. The wedding was arranged in New Orleans, on October.
James Family with Wife!
Despite the fact that both of them are sheer talented when it comes to debating on political matters, it is hard to contemplate how harmonious their life as a family is in their home with two daughters Emma and Matty.
However, both also acknowledge the fact that If they were to argue and turn their fight mode on, it would be one vicious battle, given the fact that they are prominent figures in the political field.
"We don't really fight. We're not good fighters -- we kind of pout, or passive-aggressive. And I think the reason for that is, if we actually, either of us, get into our fight mode, given our experience and our skill sets, we are so vicious, we turn into a different person."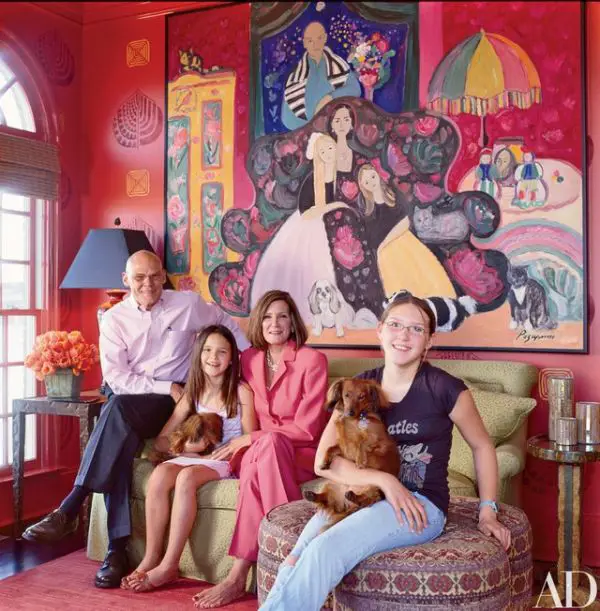 Caption: James Carville and Mary Matalin with daughters in their Virginia home in 2014
Source: architecturaldigest.com
At the moment, the couple lives in their New Orleans home, a 1905 mansion that was not Carville's initial choice. However, Carville now calls this his home and expressed that living in New Orleans is something that he always felt was right and something that he should have to do.
"I'm really happy here. That all I can say. There ain't much else I can add to it."
The Home
Matalin states that Carville isn't necessarily a shopping kind of man when it comes to real estate, so Matalin went on her own and with some assistance of agents, she came across the home the whole family currently resides in.
However, given the fact that the couple has massive net worth, Carville holding a net worth of $10 million and wife at the half with a net worth of $5 million, Carville initially said that the house was pricey.
The couple mentioned some details in their tell-all book titled "Love & War: Twenty Years, Three Presidents, Two Daughters And One Louisiana Home," where they discuss their life like a couple of over two decades, moving to New Orleans and raising two daughters.
An excerpt from their book recalls Carville's reaction upon getting inside the house to check it out.
"Oh, Mary, love of my life, wizard of home and hearth, your wonders never cease to amaze me!" Guess again. What he actually said was: "Way too expensive. Not gonna happen."
However, after much debating and negotiating over the price, they finally settled in their home. The couple, who still keeps a home in D.C, talk about their views on being married inside the book.
"Many people thought it was some kind of stunt marriage, but we knew what we were getting into. Sure, we have the Republican-versus-Democrat dynamic, sleeping with the enemy or whatever. But what two married people have ever been exactly alike? How boring." – James Carville.
James Carville currently serves as a political contributor for CNN. Both of them are living quite the healthy life, appearing on shows, dropping their thoughts on politics.
However, there were rumors that his wife Mary had cancer. Fans started speculating this bizarre theory that Mary was wearing a wig and did not look at her best somewhere in 2014.
Well, that is the most biased speculation in the history of speculation; since both of them have not talked about any health-related issues, we can only assume that both of them are healthy, happy and are in love with each other and their family.
Stay with us for further updates on James Carville and Mary Matalin!