Entertainment
Jeopardy's James Holzhauer Net Worth, Family, Is He Married?
James Holzhauer is a professional gambler and a quiz show contestant, who gained massive fame as the champion of the hit quiz show, Jeopardy.
To those not familiar with the concept of Jeopardy, it is a quiz format show in which the participants are presented with clues in the form of answers, and they have to respond in questions. 
Well, James won 32 consecutive rounds and shattered multiple records on the trivia show, after which he was named "Jeopardy James." 
James Holzhauer's Net Worth
James Holzhauer has amassed massive wealth from his winning streaks in the game show.
During his time in the contest, James bagged more than $2 million in prize money. On his 33rd appearance, also his last, James won a total of $24,799, which made his total prize money $2,464,216.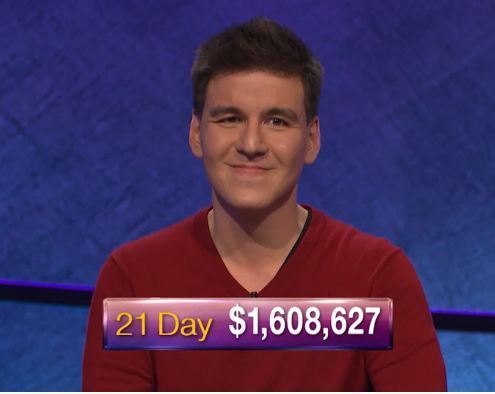 James Holzhauer after his victory in May 2019 (Photo: nytimes.com)
Well, fans of the show expected James to beat Jeopardy's highest grossing contestant, Ken Jennings - who earned $2,522,700. But, James was short by around $60,000 and ended up becoming the second highest-earning Jeopardy winner ever.
Short Bio/ Age/ Family
Born in 1984 in Naperville, Illinois, James is the youngest son of parents: Nachiko Ide Holzhauer and Juergen Holzhauera. His older brother, Ian Holzhauer, is an attorney in their hometown of Naperville.
James credits a considerable portion of his success to his family. Notably, to his grandmother, who moved to the US from Japan to help raise her grandchildren. As a kid, James watched Jeopardy alongside his grandmother and even promised her to be on the show someday.
And eventually, James did keep his promise. In fact, he even dedicated his final Jeopardy shoutout to his late grandmother.
You May Like:- Jawed Karim Wife, Family, Net Worth
The Jeopardy star was a genius from a very young age. At the age of seven, young James began taking fifth grade-level maths. Later in high school, he joined the maths team and garnered impressive science and maths accolades, even helping the team win the state championship.
As for his college, he attended the University of Illinois and graduated with a Bachelor of Science degree in Mathematics.
Is James Holzhauer Married?
James Holzhauer is a happily married man. He tied the knot to Melissa Sassin on 8th September 2012.
The couple initially met in 2011 when James was on holiday, and Melissa was on an English teaching program in Thailand.
Just like James, his wife is also no stranger to game shows. She appeared as a contestant on Who Wants to Be a Millionaire? in 2014 and ended up taking home $28,800.
Another Game Show Star:- Dylan Lane Net Worth, Wife, Family, Gay
Apart from that, Melissa has also competed in several quiz competitions, including the World Quizzing Championships in 2012.
Well, James and his wife Melissa are a perfect match for each other. Further, the ideal couple is also parents to a daughter who was born on 9th November  2014.