YouTube is a recognized platform of the modern-day era. While many know about its attributes, few care to talk about the brains behind it.
One amongst three co-founders of the world's profound creation is internet entrepreneur Jawad Karim. The Standford University Computer Science degree holder came up with the idea when he did not find the clips of Super Bowl XXXVIII and the Indian Ocean earthquake and tsunami in 2004.
However, it was not his first major accomplishment as he was also amongst the earliest employees to have worked in the most prominent online payment system, PayPal. Let's dive right in to know more about the IT expert.
Married To Wife Or Girlfriend?
You can never tell what is happening in the life of programmers as they are seen continuously staring into their computer screen. Jawed Karim was no different; the entrepreneur had not outsourced his personal life what so ever.
Only his achievements and names associated with high tech companies would be heard. However, the tech guru turned out to be human after all when he was spotted with British writer Kia Abdullah on several occasions.
American Idol Star:- Cade Foehner Engaged, Wedding, Family
The author and travel writer often talks about her boyfriend via her tweets. But, neither of the two has confirmed their relationship in the open. Though Jawed is happy to spend time with his girlfriend, there is no sign of him calling her "his wife" and getting married any sooner.
Net Worth Information
Knowledge often resembles power, and you are one of the most influential people if you have the skill set of modern-day technology. Blessed with that ability is Jawed Karim, who is one of the biggest names in the field of computer science.
From his expertise in software development and excellent command in programming languages helped him work with the most significant tech company in the world. Before finishing school level education, he had worked for PayPal and even created YouTube with his friends.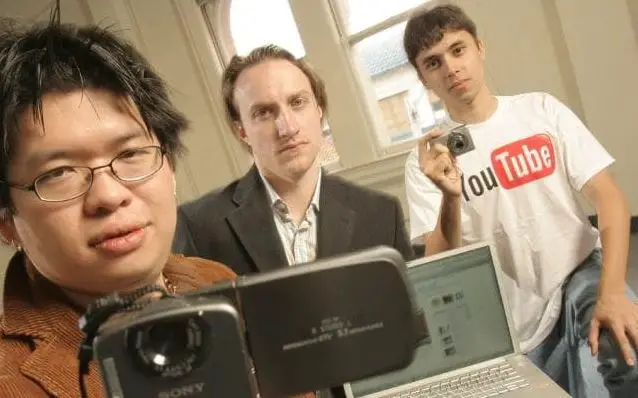 Jawed Karim creates YouTube with Hurley and Chen in 2005 (Photo: answersafrica.com)
Further, he left to pursue higher education, and when Google bought YouTube, he received a whopping sum of $64 million. As of now, he boasts a net worth of $140 million and has a beautiful house in Palo Alto, California.
Similarly, he invests a lot of his money in different places, the latest being a $15 million investment in Series B - Truebill on 23 October 2019.
Age, Family & Nationality
Jawed Karim comes from the outskirts of Merseburg, East Germany, with his parents Naimul Karim - a Bangladeshi scientist - and Christine - a research professor of biochemistry.
Outspoken Actress:- Lena Dunham Married, Dating, Children, Net Worth
He boasts American nationality and inherits mixed ethnicity from his parents. Also, he has a sister named Ilias in his family of four. Growing up, Jawed's family shifted places many times. In 1992, they left Germany and permanently relocated to Minnesota, US. 
After moving there, Jawed followed his passion for computers and joined the University of Illinois at Urbana-Champaign. Interestingly, he was picked to worked for PayPal and left his school in the middle.
While working there, the 40 years old co-founded YouTube with two of his friends and gained massive recognition from it. Now, he is amidst the biggest earners in the field of computer science.