James Johnson has his own unique way to present himself in front of the world, whether it be with his colorful personality or with some bizarre hairstyle which...most important thing in the world for the Raptors star was taken away from him, so in his remembrance...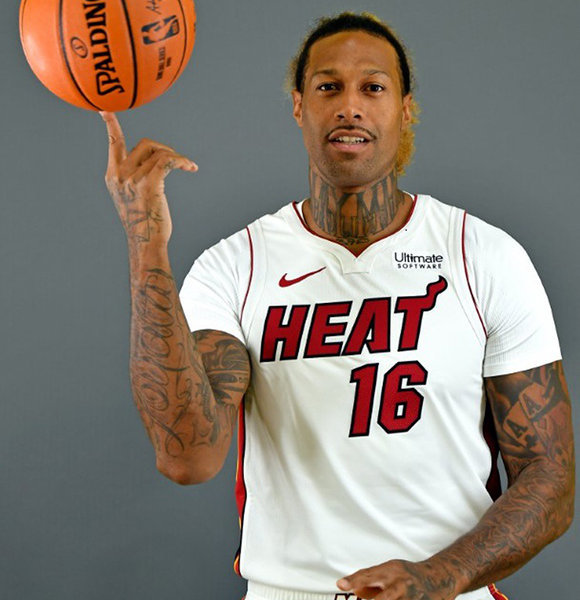 Basketball star James Johnson has his unique way to present himself in front of the world, whether with his colorful personality or a unique hairstyle, which only he can pull off.
While he is undoubtedly a great ambassador of the sport, James was in huge trouble from his fling with his wife of two years Callie Johnson that took place in June 2014.
The former Memphis Grizzlies star was arrested for charges of domestic assault and violence on his wife. He was taken away from his house to Shelby County Jail for the incident. Let's know more about the player in detail.
Dating Or Married To Wife?
James Johnson carried a huge backslash on his reputation, starting with the legal trouble with his wife, Callie. For the same, he was arrested and lost focus from basketball as well.
However, he was released from custody as his ex-wife failed to appear in the court hearing in July 2014. The two eventually split up, and James lost custody of his only son Naymin from his ex-partner. 
Worldclass Athlete:- Shayna Baszler Husband, Lesbian, Family
The most important thing in the world for the Raptors star was taken away from him, so in his remembrance, James inked a tattoo of his son's name in his neck. The tattoo reminds him to work hard and focus on his work.
Saying that in 2017, when he moved to Miami, he fell in love with another woman, Diana Issa. The relationship became deeper and the pair even got engaged. 
Now, he is the father of two sons, which raises the question of whether it is from his relationship with Diana or a past dating affair.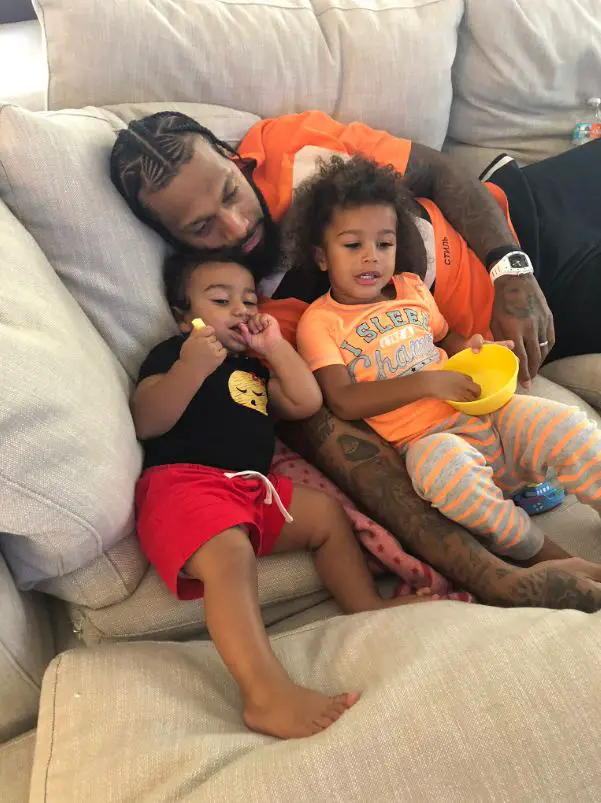 James Johnson with his kids in October 2018 (Photo: James Johnson's Twitter)
Maybe James will reveal his kids' details in due time.
Age, Height, Weight Info
James Johnson came from the city of Cheyenne, Wyoming, and was born on 20 February 1987. His family was blessed with the spirit of fighting as his parents, including all his eight siblings, hold a black belt degree to their name.
Coming from such a great family background in fighting, the 32-year-old was bound to be a fighter, but it was during his school days that he developed a keen interest in basketball.
Playing for his college Wake Forest Climb, the aggressive forward scored with an average of 14.8 and lead his team to the top. Soon, he started playing in domestics leagues and events and caught the attention of the selector.
Making Comeback:- Darren Till Girlfriend, Wife, Daughter, Net Worth
In 2009, he entered into the NBA following his selection with Chicago Bulls and kickstarted his playing career. Though he is yet to showcase his best performances, the forward is backing himself to do the same for the Miami Heats in 2019. 
As of now, he is showing off signs of a comeback with a thumping 17 points, four rebounds and three assists performance against Houston Rockets
Apart from his sports playing abilities, James is a very colorful character. He is a huge bloke standing at 6 feet 8 inches (2.07m) and weighing in at 108.86 kgs. His body is covered with tattoos in most parts. Coming to his unique hairstyles, his most famous one was spotting a red hair in April 2015.