If you are a fan of a reboot of the 80's famous soap opera Dynasty, then there is a mix of good news as well as some bad news for you.
The good news is that Dynasty Season 3 premiered in the US via CW on 11th October 2019, but the rest of the world has to wait till summer 2020 to view on Netflix.
The bad news is one of the best characters of the series, Steven Carrington (portrayed by James Wilson Mackay) has changed a bit too much for the third season. All the fans, who were waiting eagerly to see their favorite character back in the show find happiness with Sammy Jo, would be disappointed to find out that James will no longer be a series regular in season 4. All of this means fans will be seeing less of the talented actor, James Mackay.
James played the leading role in the series Dynasty, which won People's Choice Awards for the Revival Show of 2018.
Career, Height, And Family
Movie actor James Wilson was born on 20th July 1984 in Australia. He started acting in school plays in Sydney before training as an actor at the Western Australian Academy of Performing Arts, located in Perth, Australia.
James's early-stage career featured William Shakespeare's Julius Caesar in 2009 and Anton Chekhov's Three Sisters in 2010; he played Marc Antony in Julius Caesar and Andrey in Three Sisters.
Another Stage Actor You Should Know:- Ari Millen, Married to Animal Lover Wife, is a Proud Father
Further, his feature film debut, Don't Be Afraid of the Dark, gave him a notable recognition in 2009 as he played the role of the librarian. He was also the recipient of the fifth annual Australians in Film Heath Ledger Scholarship in 2013.
Besides, the Australian actor is also a familiar face in television, playing Bernard in The Leftovers and Lance in Love Child in 2017, and of course, his famous role of Steven in Dynasty.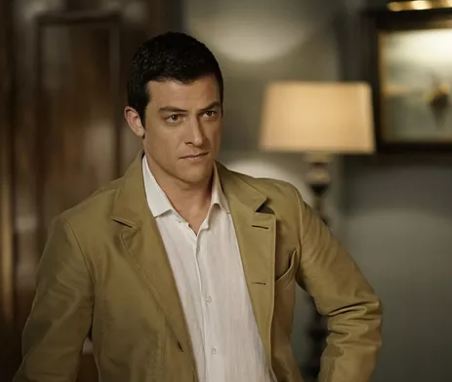 James Wilson Mackay in a scene from the TV show, Dynasty (Photo: hiddenremote.com)
In conclusion, James is a talented actor, who has left his mark on television, stage, and big screen, such as his role of Maddox in Pirates of the Caribbean: Dead Men Tell No Tales.
Although the Barry Court of Battle of the Sexes with a height of 5 feet 11 inches (1.8 m) is an open book when it comes to his career, there is not much information about his family, siblings, and his parents.
Is James Gay? Partner Or Spouse?
There are no records on James's relationships, and if he is a married man. Any information regarding his spouse, dating history, or his partner is hidden beneath a secret stone.
One Of The Most Eligible Bachelor In Hollywood:- A Short Glance On Tobias Menzies' Personal Life
However, due to his gay environmentalist character in one of the most popular TV series, Dynasty, many of his fans have suspected his sexual orientation. To his credit, he has portrayed the role of one of the earliest gay main characters in American television, Steven, very convincingly.
On the contrary, even though his personal life is not revealed in public, the on-screen role often does not speak about a person's real life. Thus, much of James' dating life is still a mystery to many.