Entertainment
Who Is James Ransone's Girlfriend? Family Insight & Dating Status Now
American actor, James Ransone enacted to the entertainment world within just little more than a decade of his acting career. He was dating his girlfriend.....for... At that time, he was highly in.......and his girlfriend left him due to his habit..After that he was dating the actress.......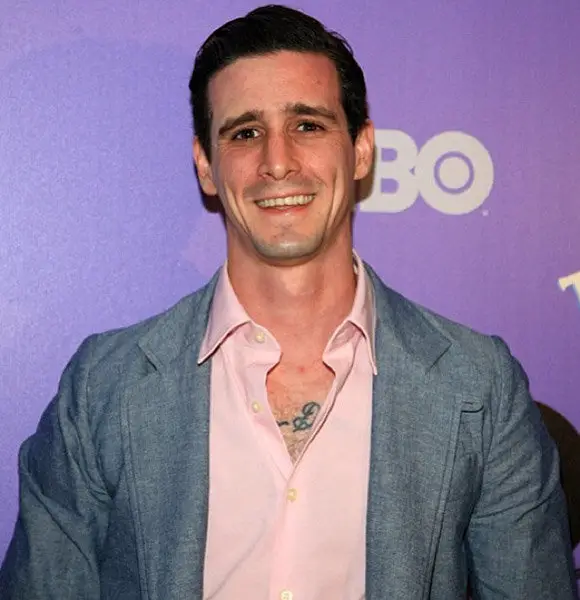 American actor James Ransone has been the "hero" of the movies and TV series for more than a decade in his acting career!
While enacting to the entertainment world and being favorite of many Hollywood prominent directors, James has proved that he is, in fact, a hero in real life. He saved his neighbor from being physical abuse, which landed him with major applauds.  
But the twist weaves when the actor's real "hero" is his girlfriend, whom he regards as the "wonder-woman." While the Baltimore, Maryland native was going through his dark days with his drug addiction in his late 20's, his girlfriend was the support pillar!
Saves Neighbor From Rape; Dating Life With "Wonder Woman" Girlfriend 
The reel life hero became the real-life hero when the Insider Man star James Ransone saved a woman from the rapist outside his New York apartment back in 2006.
While he was getting ready for his audition, he heard a woman cry for help, and immediately he called 911. Also instead of waiting for the police to arrive on the scene, he grabbed the metal bar and went out where his neighbor was being held choking, and the rapist was pulling his man's part out.
During that time, he described that he pictured his mother and his girlfriend.
"I pictured my mom, my girlfriend and every girl I've ever loved and thought, Vengeance is mine.'"
Though he hit the man with the metal bar, the man flew away as police arrived on the scene. After this news aired, James was titled as the 'Real-Life' hero, and his career went on enhancing to the height.
See Also:- James Marsden Dating Again After Divorce With Wife; Girlfriend Is Rare Gem
With the few successful movies under his belt, a journal was published about James' which enacted his highly caught intoxication habit during his late 20's and his five years of long relationship.
In the journal that was published on 12 August 2008, he shed light on his five-year relationship with the woman whom he described as the 'wonderful woman,' whom he loved very much. 
However, his dating relationship ran out of the course after his girlfriend got fed up with his behavior. He stated:
 "She got fed up with my bullshit and finally decided to leave. Let's face it — junkies don't tend to make the best boyfriends."
The heart-broken award-winning actor went through the chain of events including his split but he stood up to the table. 
After his broken heart, he was spotted with actress Chloe Sevigny holding hands at the premiere of Generation Kill which was held at Paramount Theatre back on 8 July 2008.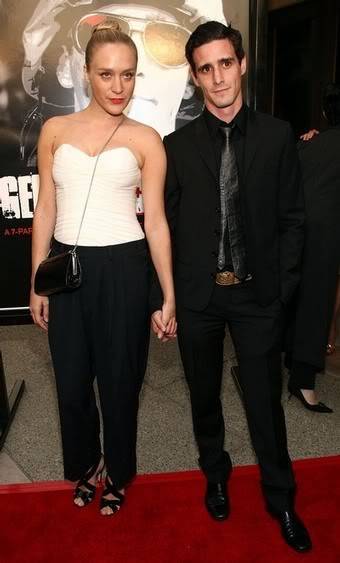 James Ransone, actress Chloe on the premiere of Generation Kill in 2008 (Photo: ohnotheydidnt.journal.com)
Though James' name was linked to the actress Chloe, they did not confirm their dating rumors. Standing at the height of 5' 9," he was again linked with the actress-girlfriend Natasha Lyonne.
The news about their dating life making a swoon after he accompanied his actress-girlfriend Natasha Lyonne on the IFP Gotham Independent Film Awards in New York City back in December 2013.
However, as of now, the actor has not hit the limelight with the dating life, but he indeed has gained an impressive height in his career.
Don't Miss:- Married in 2007, Pablo Schreiber, Divorced With Yoga Instructor Wife: Investing Love to Children
Acting Career; Reel Life Father Helped In Fighting Drug Addiction
Thinking to start his career in acting, the 39 aged James relocated to New York to study film at the School of Visual Arts in 1997 but could not complete it. As he described that acting would be a lot easier in '90s, he faced the camera first time in a Dr. Pepper commercial, and since then he started to work as an actor.
Started his acting journey with the movie The American Astronaut back in 2001, but his major role came in with the 2002's Ken Park then he appeared in 2003's HBO's crime drama series The Wire. With this series, he had a successful movie under his belt.
With his success in his newly started career, he also was indulged in the addiction. When he aged 27, he had developed a drug addiction and also had a debt of $30,000.
In an interview with Grantland back in July 2015, he disclosed that during his dark days, his on-screen father Chris Bauer from the series The Wire helped him a lot. He stated:
"He was really gentle with me, basically. He never made me feel like shit about myself. I think he might have been the first person who shepherded me into respecting my own talents."
Also in a phone interview with Indie Wire in July 2015, James stated that it was hard for him to get out of the addiction. He said;
"There is no external means, whether it's my career, or money or house or a wife or anything, that is going to set me right."
However, with his sole motivation, he changed his habit and went to rehab, got clean and eventually, his lifestyle changed after he moved to Namibia, Africa for eight months after his The Wire- director called him for another project. He was deeply into his role as Corporal Josh Ray Person in the HBO's war drama series Generation Kill, which ultimately led him to adopt the clean habit.
Appearing on the David Simon's first project, The Wire ultimately led him to his biggest career beak Generation Kill, since then he has made a name for himself into the entertainment industry.
As of now, he has palmed dozens of popular movies and television series which includes: Sinister, Sinister 2, Tangerine, Bosch, In a Valley of Violence, and The First among many others. 
For his tremendous work into the entertainment industry, James, who has a net worth of $3 million, was awarded the 'Online Film & Television Association Award' in 2009 for Generation Kill and 'an Independent Spirit Award' in 2013 for Starlet.