James Righton is the father of two children... On 2nd May 2019, the British musician and his actress wife Keira Knightley stepped out or a Chanel-hosted event in Paris, France... At the cocktail party, the latter was beaming with a radiant glow as she debuted her baby bump...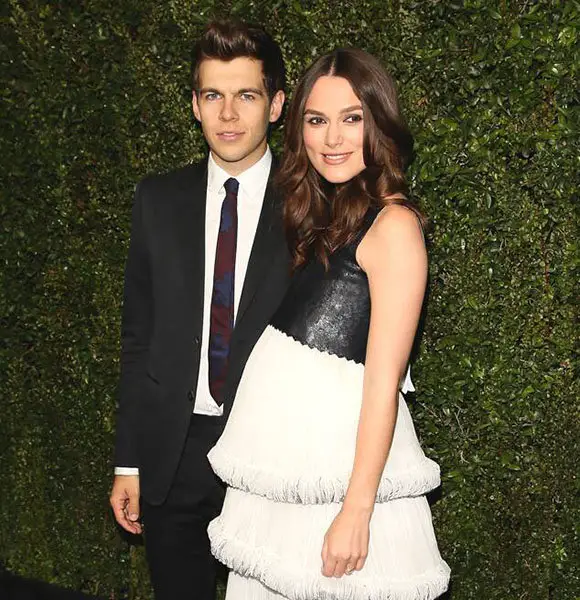 James Righton is now a proud father of two children!
James and his wife, Keira Knightley, welcomed their second child earlier in 2019.
News on their second child surfaced after the pair were spotted pushing a stroller together. The fact was confirmed by the couple, who shared their proud moment to the public on 13 September.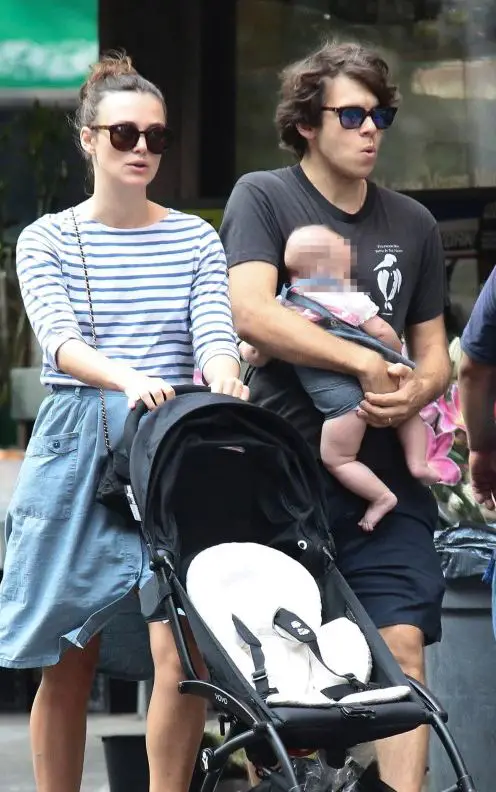 James Righton with wife Kiera Knightly and their second child in September 2019 (Photo:- thesun.co.uk)
The two have allegedly decided to name their newborn Delilah. According to Mail On Sunday, James announced his second child's arrival at a Hugo Boss yacht party and supposedly referred the infant as "Delilah."
While Delilah is usually a girl's name, the couple is yet to reveal the gender of their child.
James and his wife have also tried to hide the baby's face from the media. Even the photographs of the newborn have been blurred. Any new updates on their newborn are sure to come from the parents themselves.
Only a month before the delivery, a pregnant Keira looked like she was ready to pop. During a shopping trip in North London, she revealed a large baby bump.
The British musician and his actress wife had first mentioned their pregnancy in May 2019. The couple had stepped out or a Chanel-hosted event in Paris, France. At the cocktail party, the latter was beaming with a radiant glow as she debuted her baby bump.
For convenience, a relatively pregnant Keira donned a flowy Grecian-inspired, empire waist white gown. Meanwhile, James looked dabber in an all-black ensemble.
Neither the former Klaxons' member nor his actress life partner had commented on the pregnancy when approached by keen photographers at the event.
Baby No. 1 In 2015
The news of James and Keira becoming parents of two children came nearly four years after they welcomed their firstborn, Edie.
Months ahead of Edie's birth in 2015, the "The Imitation Game" actress claimed that their first baby would be perfect and wouldn't need any teaching.
Expecting Baby In 2019:- Amy Duggar Pregnant, Baby, Husband
Following Edie's birth though, she drew backlash for her 2018 controversial essay wherein she had criticized Kate Middleton's postpartum actions. She even compared Kate's behaviors with hers.
Throughout the debacle, James presented himself as his wife's most reliable ally.
Wedding With Wife
Many might not remember, but it was James and Keira's friends Alexa Chung and actress Sienna Miller, who outed the 1st baby news in 2015.
Interestingly, Sienna was one of the 11 guests invited to their 2013 wedding. Fellow Klaxons musician Jamie Reynolds described the affair as "the greatest day ever."
James and his then-fiance Keira tied the nuptials in the town hall in Mazan, Provence in the south of France on 4th May 2013. The duo then traveled to latter's parents' vineyard for a 50-guest reception. 
On the day of the wedding, Keira wore a Chanel dress that came to the knees, Chanel ballet pumps and a white teed Karl Lagerfeld jacket.
Back in May 2012, the Golden Sanks hitmaker popped the big question to his then-actress girlfriend, Keira. Before getting engaged, the now-married duo dated for almost for a year.
Alex Chung had introduced the two in 2011. James and his wife repaid gratitude by inviting her to their exclusive wedding.
Bio Unveils Age
Born on 25th August 1983 in England, James rose to prominence as the keyboardist of the London-based band Klaxons. He also serves as the group's vocalist.
Discover New Musician:- Ben McKee Bio, Married, Wife, Parents, Net Worth
He inherited the passion from his biological father, who was a musician. While attending Stratford-upon-Avon High School, he got introduced to fellow Klaxons members Simon Taylor-Davis and Jamie Reynolds.
After three studio albums, the band disbanded in 2015. Going solo, James then released his debut album under the pseudonym Shock Machine in 2017. Now age 36, the Magick hitmaker has dabbled in acting and composing original music for featured movies.