Entertainment
Jamie Lee Curtis Married, Lesbian, Children, Family
Jamie Lee Curtis went to Hugo's restaurant in West Hollywood that night and came across her husband again...Most of the members in her family were affiliated with the Hollywood...stands in for absent mums at gay and lesbian weddings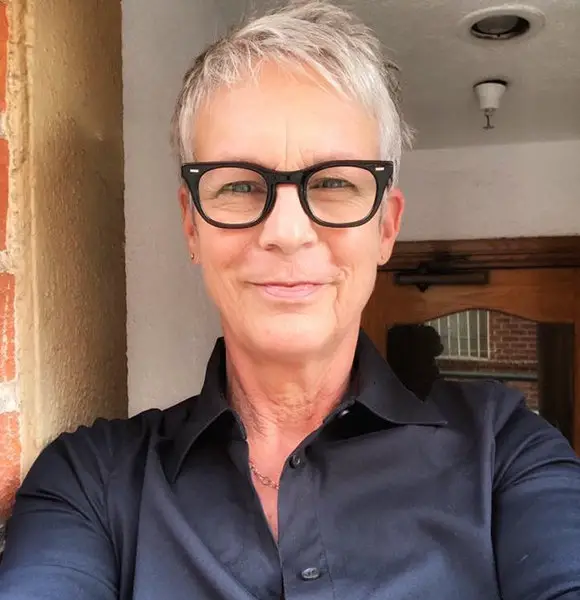 American actress Jamie Lee Curtis needs no introduction at all. Her notable role in the classic movie Halloween heavily contributed to her success, and she ended up receiving the informal title "Scream Queen."
If viewers dig a bit deeper into the personal life of the actress, it will mostly come as a surprise. And, the surprise is both pleasant and mysterious too. While you'll come across a long list of failed relationships in many celebrities' dating life, Jamie's love life is strange to all these nasty elements.
It appears that she has found a formula for a long-lived marriage. Let's take a look at the True Life star's married life along with her net worth and more.
Marriage, Husband, Children
Jamie is unlike anyone as she fell in love with a man and even to marry him after she first saw his picture. Back in May 1984, she was with her friend Debra Hill when she got the glimpse of singer Christopher Guest on the cover of Rolling Stone magazine. In her own words, Jamie recalled the moment, 
"I looked at the man on the right, wearing a plaid shirt and a waggish smirk. I'd never seen him before, but I pointed at him. I'm going to marry that man,' I said to my friend."
But it wasn't that easy to get Christopher's attention. First, she gave him her number as he too worked under the same agency as Jamie. But, he didn't call her at all. Coincidentally, she met him again after a month, at the night of her breakup with then-boyfriend.
Recommended Read :- Cue The Tissues; List Of Top Breakup Songs To Tune In This Year!
Just a few moments after her breakup, she went to Hugo's restaurant in West Hollywood and came across her future husband. Finally, their eyes met, and the two exchanged friendly signals from a few tables away.
Thankfully, he called her the next day, and the two started dating. Likewise, everything happened as Jamie had wanted as their love became mutual. And, on 18th December 1984, the pair got married at director Rob Reiner's house.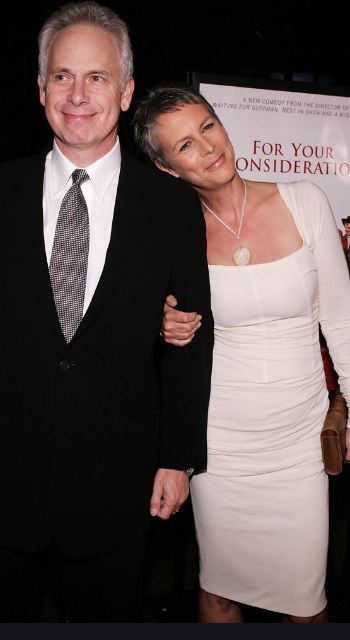 Jamie Lee Curtis and husband Christopher Guest have been married since 1984 (Photo: eonline.com)
Two years later, she adopted daughter Annie, only a few months after her birth. The pair also adopted a son named Thomas in 1996.
With a long-lived marriage that is still intact, the performer joked that staying away from divorce is the key to a successful marriage. Jamie has also mentioned the importance of patience in a healthy relationship. 
Age, Family, Height
Jamie's - height 5 feet & 7 inches (1.7m) is a native of Santa Monica, California. Aged 60, she celebrates her birthday each year on 22nd November.
Most of the members in her family `were affiliated with Hollywood. Her late mother Janet Leigh was notable for her role in Alfred Hitchcock's classic film, Psycho.
Rising Actor In Hollywood :- Damon Herriman Married, Family, Net Worth
Similarly, her deceased father Tony Curtis was also an actor with appearances in films like Some Like It Hot and Spartacus. However, her parents separated while she was three years old. Jamie's sister is actress Kelly Curtis; whereas, she has three younger half-sisters named Allegra,  Alexandra, and Nicholas Curtis from her mother's later relationship.
Net Worth, Recent Project
As of now, Jamie relishes a net worth of $60 million accumulated from her acting career that has spanned for decades. Talking about her assets, she possesses a 108 sq ft home in Santa Monica, California valued at over $4 million.
Still, the Halloween actress is pushing the envelope through her well-founded fame. In 2019, she was in talks to make a movie about an Oklahoma woman who stands in for absent mums at gay and lesbian weddings. The film is supposed to be based on Sarah Cunningham's memoir, How I Sleep At Night.