Entertainment
Jamie Linden & Girlfriend Rachel McAdams Welcomes First Baby - 'Secretly'!
American screenwriter Jamie Linden is not a new name to Hollywood. He is best known for his work on the 2006's movie We Are Marshall and 2010's film, Dear John. 
Not only his works, Jamie is also known for his dating life as he is reportedly dating the Notebook actress, Rachel McAdams. Though various sources claimed the duo as a couple, they have kept their personal life under the wraps. 
Interestingly, the couple is reported to have welcomed their first baby child, which adds a new chapter in their life.  
If you are curious to know more about the couple's dating life, join in the preface below!
Jamie Linden's Love: How It Started!
The handsome Jamie Linden and gorgeous Rachel McAdams were first rumored to be dating each other back in 2016. The couple was spotted together in Los Angeles and also later, photographed in Paris and Virginia at a friend's wedding. 
Though the pair spent quality times together, they maintained low key-ness in their relationship. While keeping their affair under wraps, Rachel got speculated to be pregnant as multiple sources claimed her pregnancy. 
Jamie Linden's rumored girlfriend even started to miss the red carpet events that fuelled pregnancy rumors more. She became almost invisible from media since September 2017 missing many auspicious events. 
However, Rachel was later spotted at Pearson International Airport in Toronto on 27th November 2018. She was wearing a big baggy jacket with a baseball cap, probably to hide her baby bump as per speculations. 
Rachel, who also skipped a premiere of her latest movie, Game Night held on 21 February 2018, was rumored to be seven months pregnant with her first child in February 2018.
Jamie Linden Welcomes Child But Secretly
As of now, Jamie and Rachel gave birth to their first child, a son as per reports. According to Hollywood Pipeline, the duo has already welcomed their first bundle of joy and was spotted together for the first time with their son. 
Both Jamie and Rachel was photographed together when Jamie was carrying the newly born.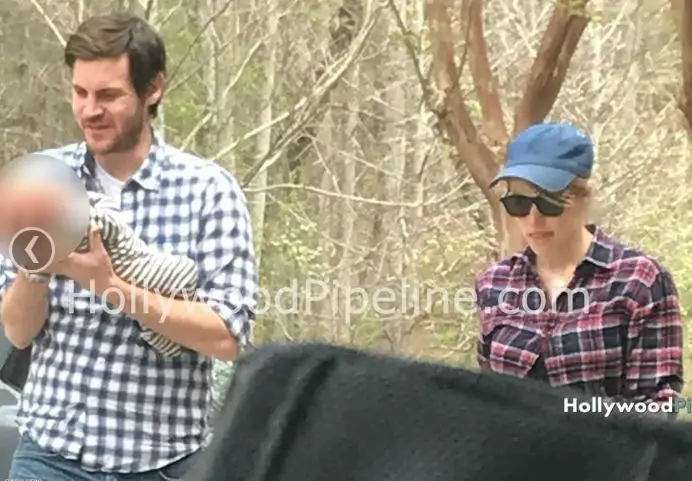 Jamie Linden carries baby son while walking beside girlfriend Rachel McAdams (Photo: hollywoodpipeline.com)
Despite all, the couple has kept most of the information a secret. Neither the time and date of delivery nor the baby's name has been revealed. Furthermore, Jamie and Rachel have also not spilled any beans in regards to getting engaged and married.
It seems like the couple has planned to keep everything behind the curtains without sharing or opening about their relationship status. However, Jamie's lover has openly talked about becoming a mother.
Back in August 2009, in an interview with PEOPLE, she revealed that she couldn't wait to be a mother. She stated,
"Having a few [kids] would be great. I'm looking forward to it someday."
She added that her mother is an inspiration to be a loving mother and hopes to do same for her future child by passing generous qualities of her mother. She remarked, 
'My mom is a great inspiration to me. She's a nurse and very nurturing and gentle. She lets me be who I am. Hopefully I can take on those qualities and be as great as her."
Again, in 2010, she expressed her desire to be a mother if she finds the right partner in an interview with InStyle. She said, 
"Part of me is very attached to the idea of having children. It'll depend on if I find the person I want to do that with."
Apart from Rachel, Jamie was in a relationship with his then-girlfriend Zooey Deschanel. After two years of dating, the couple reportedly ended their relationship after Zooey was spotted cozying up with producer Jacob Pechenik. 
The newly turned mother, Rachel has also a history of past dating. She was romantically linked with Michael Sheen whom she met during the filming of Woody Allen's Midnight in Paris. They split after three years of dating in 2013.
May Jamie and Rachel continue their relationship forever and eventually come forward with their baby boy officially!