Famously known as The weather machine J.D., Janice Dean rose to fame after joining as a meteorologist in Fox news...Apart from working there, she has also written a series of children's books including "freddy the frogcaster" and acted on films like a walk through smoke(2004) and fox report(1996)...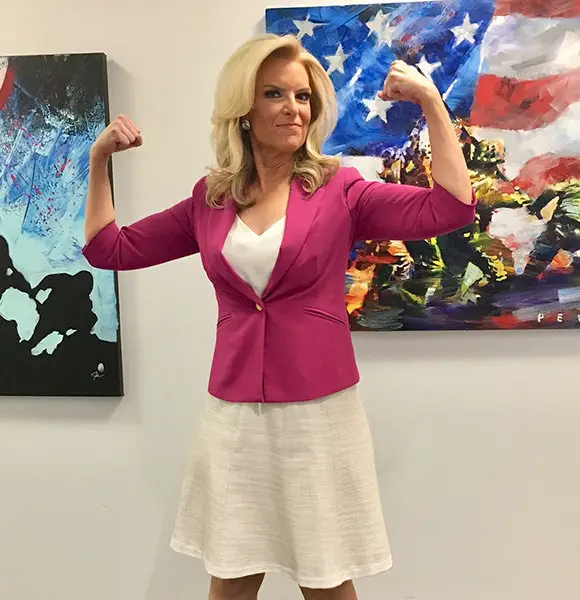 Famously known as The weather machine J.D., Canadian television personality Janice Dean is a meteorologist, an actress, and an author. She has written a series of children's books including "Freddy the Frogcaster" and acted on films like a Walkthrough Smoke(2004) and Fox Report(2016).
Dean rose to fame after joining as a meteorologist in Fox News programme Fox and Friends. She was appointed to meteorologist hall of fame in 2017.
Janice Dean Age, Family, Net Worth
Janice Dean's height is adequately 5 feet and 7 inches(1.7m). With a net worth of $4 million, she receives a handsome salary of more than 70,000 dollars a year.
Interesting Read:- What Is Liz Habib Age? Husband, Bio, Salary 
Dean, age 48, was born on 9 May 1970 in Ontario, Canada, where she grew up with her brother and parents. She received her honors diploma in Radio and Television broadcasting from Algonquin College.
Sexual Harassment and Fox News
Janice Dean is among the well-known figures to have spoken out about the sexual misconduct they faced in the hands of notable figures.
In her 2019 memoir Mostly Sunny, Janice describes her past experiences of being sexually harassed by late Roger Ailes, former CEO and founder of Fox network. She also sheds light into various sexist remarks and activities that were prevalent during her earlier days in Fox News.
Despite the odds, Janice regards her job as the best job she has ever had. For her, the organization has been the platform that made her career. Even when she was diagnosed with multiple sclerosis in 2005, the organization along with Roger Ailes provided her with needed support. That is why she acknowledged Roger right after his death in 2017. 
Similar:- Did CNN's Alisyn Camerota Leave Fox News Because Roger Ailes Sexually Harassed Her?
As of now, she is actively involved with Fox News as a meteorologist. In January 2019, she celebrated her fifteenth year at Fox News. She is presently optimistic about the safe work environment that has been created under the current management.
Janice Dean's Husband / Children
Just like Janice, her husband, Sean Newman, is passionate and professional towards his career. He is an award-winning and experienced firefighter of the New York city fire department. He was actively involved in the aftermath of the 9/11 attacks in New York.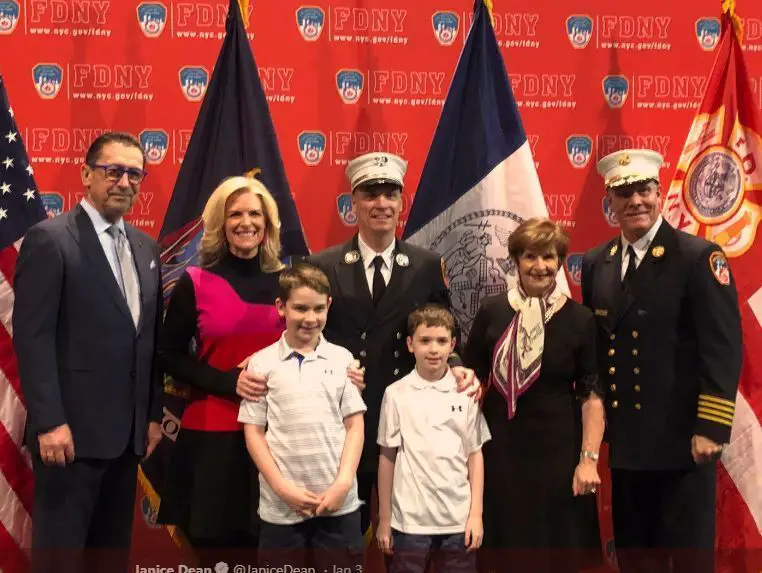 New York Fire Department awards veteran firefighter Sean Newman in the presence of his wife Janice Dean and their two children in 2018 (Photo: Janice Dean's Twitter)
Janice met Sean while she was studying Meteorology. She married him in 2007, and they have two sons named Mathew and Theodore. As of today, their happy marriage shows no sign of divorce or an extramarital affair.
Looking back at Janice's history of being diagnosed with multiple sclerosis, harassment and along with the strict schedule that her job demands, it is very evident that the pair have come a long way together overcoming many obstacles in their life.