Entertainment
January Jones Candid On Son & Baby Father; Boyfriend/Husband, Revealed?
American actress and model, January Jones gave birth to a son at the age of ... but didn't reveal the identity of her baby father......The Mad Men actress has been dating again, this time with......It was reported that she met her current boyfriend at a......January's potential husband also attended her 40th birthday......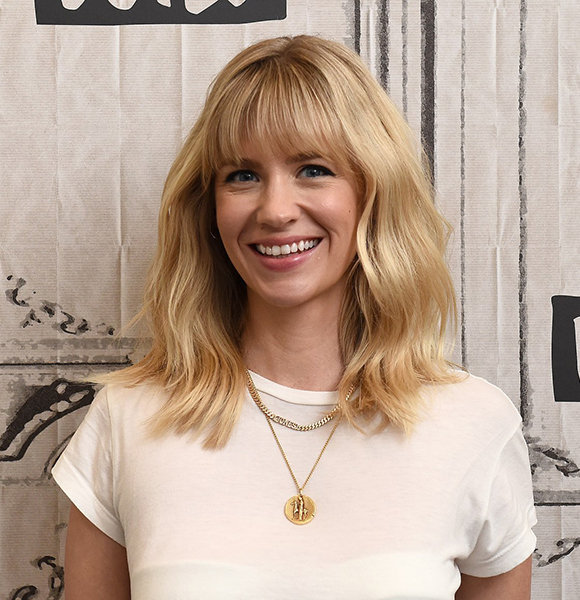 American actress and model, January Jones has shown everybody that it doesn't take a man to raise one's kid. Becoming a mom at the age of 33, the Mad Men actress has done everything within her reach to give her seven-year-old son all the happiness in the world.
But, seven years down the line, Hollywood is still buzzing about the baby's father, January's supposed husband.
The actress, on the other hand, has bigger news to share with her followers!
Gives Birth To Son At Age 33; Who is the Baby Father?
It wasn't only for her beauty that January Jones became a sensation in the show-biz. Portraying different characters and earning an Emmy Nomination for her superb pretentious act in the TV series, Mad Men, made her one of Hollywood's sweethearts.
Aside from a successful career, the beautiful actress is often the target of the reporters, who take a keen interest in her personal life. For instance, she stole all the tabloids when she first broke the news of her pregnancy on 30th April 2011. People Magazine spilled the beans writing,
"January Jones is happy to announce that she is expecting her first child this fall, she's really looking forward to this new chapter in her life as a single mom."
After nearly six months of publicizing her happy story, the Abercombie & Fitch model welcomed her first baby, Xander Jones, on 13th September 2011.
The star, who was previously linked with the Saturday Night Live comedian Jason Sudeikis before eventually calling an end to their ties, has been out and about with many Hollywood heart throbbers including Jeremy Piven, Jim Carrey, Adrian Brody, and more.
But, with much dating history, the Mad Men's Betty Draper still somehow managed to keep the identity of her baby's father tight-lipped.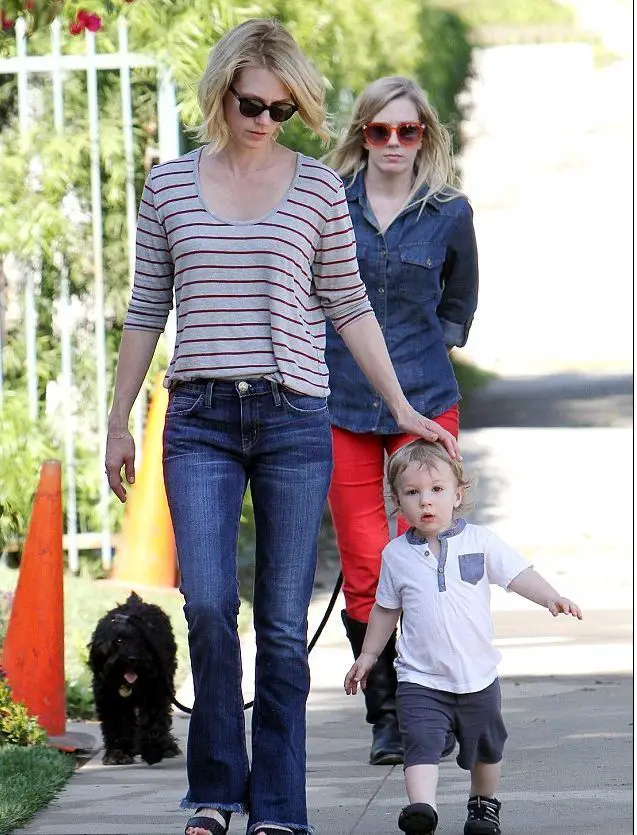 January Jones with her seven-year-old son Xander going for a walk (Photo: Dailymail.co.uk)
Even after the birth of baby Xander, the actress has been more than cautious not to open her mouth when the topic rolls to her child's father.
More Crew From Mad Men: Jon Hamm Finally Embracing Dating & Girlfriend? Wife Rift & Adaptation
The notoriously private actress's decision to become a sole parent has been admired by her fans, and she has successfully spent the last seven years raising little Xander alone.
Her commitment to become a single mom was explained to The Edit in May 2013, when she revealed,
"I don't have room for anything else, so I don't know how I would have done it with a partner. I knew I would be raising my son alone. It was something I went in to knowingly, I was prepared mentally - and I was excited about it."
While her kid grew before everybody's eye, all were left with the same lingering question about the baby's father that remains unanswered!
But, one thing that's certain is the X-Men star wouldn't be keeping the secret hidden from her son. She reported to The Edit saying,
'When my son asks those questions, I want him to hear it from me. I don't want him to be able to Google it.'
While January's baby father's identity is still a forbidden knowledge, her current love life is out there for all to see and envy.
Dating A New Boyfriend; Potential Husband?
It is without any doubt that the fashion model won't be hitting her followers about Xander's father soon. But, a big shocker hit the media when 2018 broke the news about January Jones being off the market.
The Hollywood star, who has dated many guys starting from Ashton Kutcher to Will Forte, was found to be swirling a romance with the former Bachelor star, Nick Viall.
Read More About Will Forte: Will Forte Moved On From One Girlfriend To The Other; In Thoughts Of Getting Married And Having A Wife?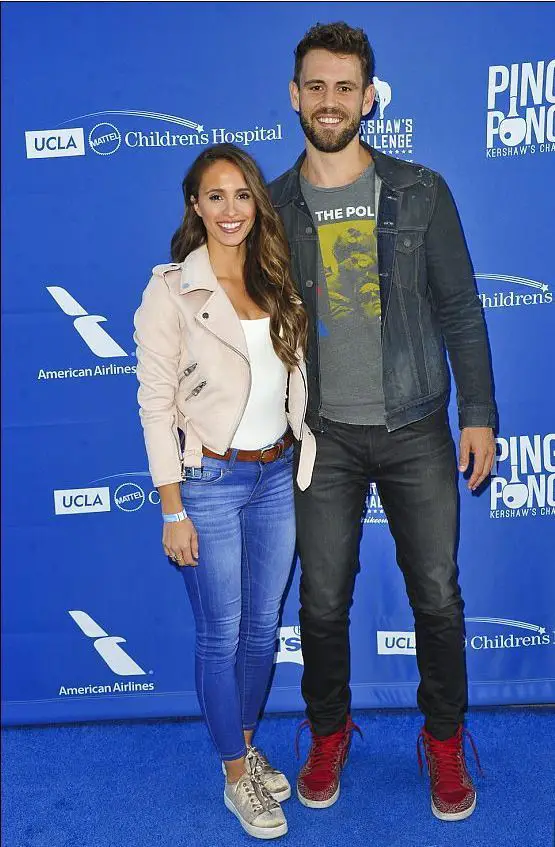 Nick Viall with his ex-fiancee Vanessa Grimaldi, the duo called an end to their tie (Photo: Dailymail.co.uk)
It was reported that January had attended a Late Show in November 2017 and was reached out by Nick, who tried to get her into a lip-sync battle with him. After her denial, he asked her out for a drink which she accepted and hence, swirled the romance ever since.
Inside Story Of Nick Viall: She's Still Loved! Vanessa Grimaldi's Boyfriend-Turned-Fiance Nick Viall Speaks On Their Split
The Bachelor star, who was once engaged to Vanessa Grimaldi, was also present at January's 40th birthday, celebrating her special day with lots of love.
The X-Men star, January Jones, who possesses a body measurement of 37-24-36 inches, had been previously going through great lengths to avoid any husband material for long. But, her recent tie with Nick could signal something new in her life.