Jarrett Stidham found an ideal girlfriend in...got engaged after asking his longterm muse in...married his fiancee turned wife in...turned 23 years of age on...hails from a family of...created buzz as a high school athlete in...owns a net worth of...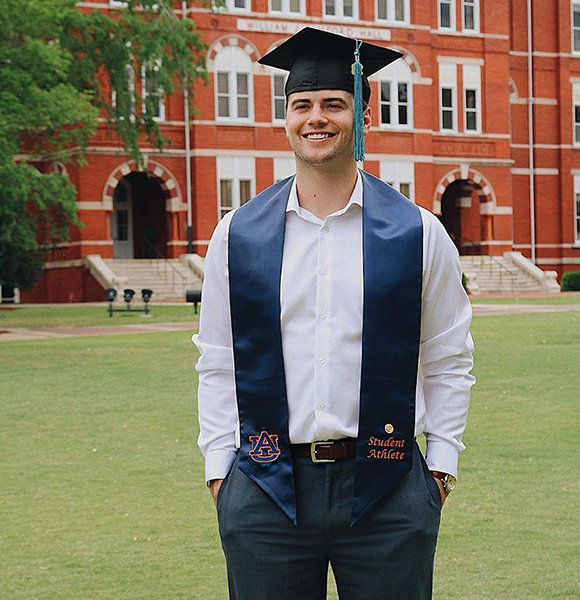 Dubbed Tom Brady's rightful heir, Jarrett Stidham exploded into the national scene as a top high school footballing prospect. Following a standout collegiate career, the Corbin, Kentucky-native got drafted in the NFL in 2019 as New England Patriots' fourth round (31st overall) pick.
As it does with every NFL star quarterback-in-the-making, Jarrett love life became a subject of curiosity upon his draft. A breeze through the piece shall shed light into the intimate aspect of his life!
Engaged, Fiancee & Girlfriend
Jarrett met the love of his life, Kennedy Brown in 2015 while attending Baylor University.
A native of Kinghood, Texas, Kennedy hails from an affluent family. Her father Tad Brown, a former NBA athlete, got promoted to Huston Rockets' CEO in 2006.
At Baylor, Jarrett was a celebrated football athlete while his once-girlfriend Kennedy played for the University's women's soccer team. Together, they became inseparable while hogging the crown of "it" couple.
Found Love In College:- Deshaun Watson Stats, Contract, Net Worth, Girlfriend
Never shy to show off his girlfriend on social, Jarrett dated Kennedy for three years before popping the big question.
Engaged in July 2018 at the Lake Brownwood in Texas, the duo took to their respective Instagram to announce the engagement. In his post, Jarrett labeled Kennedy "the girl of my dreams." Meanwhile, his then-fiancee replied with the tag of "my forever."
Is Jarrett Stidham Married?
Precisely a year as an engaged couple, Jarrett and his then-fiancee Kennedy finally tied the knot.
Married at The Astorian, Houston, Texas on 7th July 2018, the duo's wedding was an intimate affair. In front of select few guests, they shared the "I DOs." Notable personals in the attendance include the likes of Kerryon Johnson and Rhett Lashlee.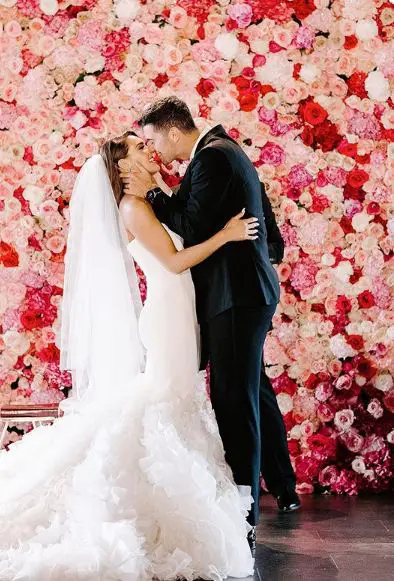 Jarrett Stidham with his fiancee-turned-wife Kennedy Brown on their wedding day circa July 2019 (Photo:- Jarrett Stidham's Instagram)
Following the wedding, Jarrett and his wife Kennedy flew to the Bahamas for the honeymoon. Instagramming from their trip, the duo shared adorable photos together.
Age, Family & High School
Now age 23, Jarrett was born on 8th August 1996. Discussing his family, he is the son of Rochelle and Juder Stidham.
A native of Corbin, Kentucky, Jarrett calls Stephenville, Texas his hometown. It is during his years at the Stephenville High School that he created buzz because of his footballing exploits.
Rose To Fame As High Schooler:- Antonio Brown Married, Wife, Kids, Net Worth, Facts
Named among the top 50 national prospects, Jarrett earned the Blue Chip recruit status by joining Baylor University's football team in 2015.
Height, Weight & Net Worth
Owning six feet and two inches (1.87 m) height and 98 kgs weight, Jarrett began his foray into NFL in 2019 with New England Patriots.
Upon his draft, the Baylor University alum penned a 4-year contract worth $3.1 million. By signing the deal, he pocketed $633 thousand in signing bonuses. Per the agreement, he would earn an average annual salary of $788 thousand.
Considering his marketability, Jarrett shouldn't have trouble landing multi-million endorsement deals, which should solidify his burgeoning net worth.