Sports
Deshaun Watson Stats, Contract, Net Worth, Girlfriend
NFL star Deshaun Waston registered stats of...underwent surgery following the injury in...penned contract worth...earns salary of...boasts a net worth of...mother survived cancer while father...ignited dating rumors with...girlfriend is a...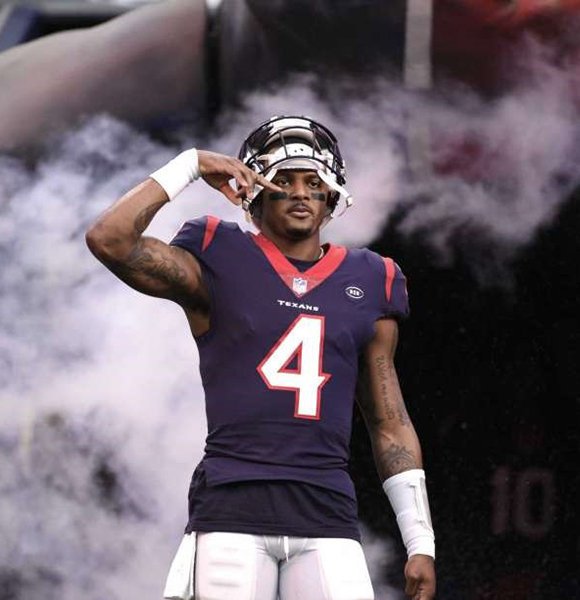 Using his six feet and ten inches height and 220 pounds weight, Deshaun Watson first gained traction as a Gainesville High School's star footballer. As a high school athlete, he broke history books by setting a state record for passing yards, total touchdown, passing touchdowns, and total yards.
Building on his growing repertoire, the star quarterback guided his college football team Clemson University's Tigers to the NCAA National Championship in 2017. A season earlier, he had helped Tigers to the championship game.
Recognizing his talent, Houston Texas selected Deshaun as the franchise's 1st round pick (12th overall) during the 2017 NFL Draft.
Salary, Contract & Net Worth
Upon signing the four-year-long contract with Houston Texas, Deshaun bagged $8.125 million in bonuses. The deal totaled $13.8 million — all of which was a guaranteed sum.
Per the agreement, the star quarterback would pocket an average salary of $3.4 million annually.
Fellow NFL Sensation:- Dak Prescott Stats & Latest Contracts | Girlfriend Info, Salary & Facts
Sans taxes, Deshaun boasts a reported amount of $4 million in net worth. A chunk of his net worth comprises of his earnings from NFL. However, the endorsement deals with Nike and Beats By Dre should further boost his growing fortune.
NLF Stats & Injury
Deshaun made his NFL debut on September 2017 against Jacksonville Jaguars. Playing seven games in his rookie season, he registered 1,699 passing yards, 19 touchdowns, and eight interceptions. Meanwhile, he rushed for 269 yards and two touchdowns.
Had he not suffered ACL injuring during his debut campaign, his stats would have been better. In November 2017, he underwent surgery to repair his ACL.
Fully recovering from the injury and the operation that followed, Deshaun returned for the 2018/19 NFL campaign. He finished the year with career-high stats of 4,165 passing yards, 26 touchdowns, nine interceptions, 551 rushing yards, and five rushing touchdowns.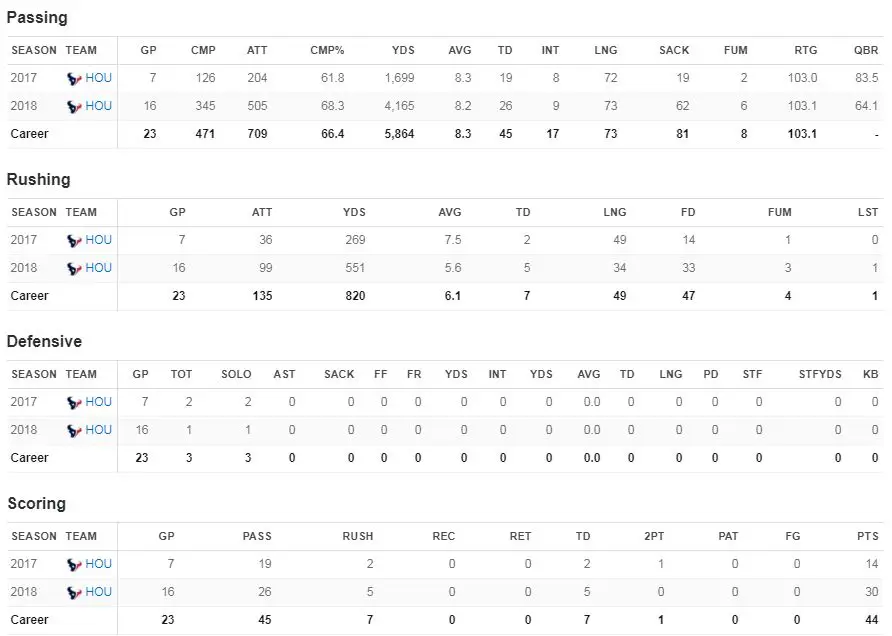 Dashaun Watson's NFL stats (Photo:- espn.com)
Despite good relation between the player and the team, fans and pundits have accused Houston Rockets of not protecting injury-prone Deshaun enough.
Girlfriend & Dating
Even after the NFL draft, Deshaun continued dating his highschool sweetheart Dallas Robson. The NFL star and his longtime girlfriend dated throughout college.
Suggested Read:- Antonio Brown Married, Wife, Kids, Net Worth, Facts
But, by 2018, the couple's romance was no more. Meantime, Deshaun's friendship with Mia Khalifa was booming. Both the Rockets quarterback and the adult actress denied dating rumors.
When 2019 kicked around, an IG model by the name Ashley Marie showed up as Deshaun's new muse.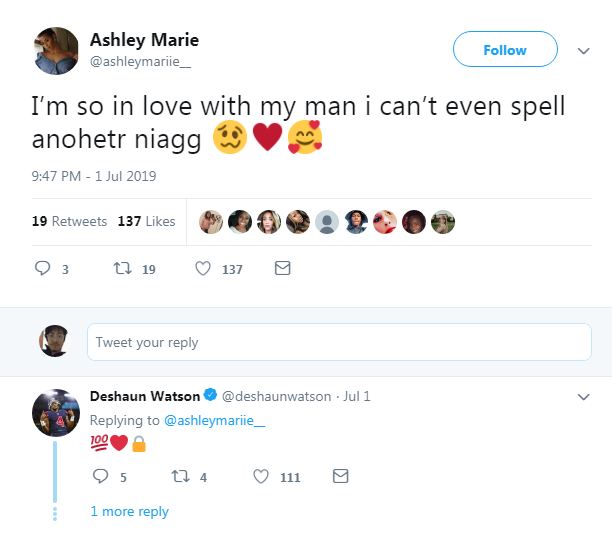 Deshaun Watson and rumored girlfriend Ashley Marie's flirty exchange on Twitter (Photo:- Ashley Marie's Twitter)
February that year, the lovebirds fueled dating rumors by vacationing in Atlanta.
Age, Father & Mother
Even with the multiple relationships, Deshaun's mother - Deann Watson - is still the leading lady in his life. Deann is a stage-five tongue cancer survivor.
Another Cancer Survivor:- Vanderpump Rules' Ariana Madix, 33 Shares How Her Cancer Got Removed
Deshaun was born in September 1995 in Gainsville, Georgia. The 23-year-old grew up fatherless. Referencing his father Don Richardson, he once tweeted:-
My heart cold cause I grew up without a father.
A second of the four children, the star quarterback has an older brother named Detrick. While twins Tinisha and Tyreke are his youngest siblings.