Entertainment
Jayma Mays Recalls Her Post-Pregnant Situation With Husband Of Nearly A Decade! Married Life Still Smooth?
The quirky teacher Emma Pillsbury of Glee, Jayma Mays got blessed with a baby boy with her husband a long ago, but the memories of post-pregnancy are still fresh for the actress as she often vividly recalls them.
Well, it has already been nearly a year now for that beaming moment when Mays presented her husband with the most precious gift. The couple's life is thus, filled with joy with the entry of the child in their marital life, but it was a long wait for all her fans, as they bore one only after a decade of their wedding.
Jayma Mays' Family Which Now Includes A Baby:
Jayma Mays is a singer and an actress, who is best known for portraying Emma Pillsbury on Glee. Besides that, she is also recognized for her roles in shows; such as Ugly Betty, The League, Wet Hot American Summer: First Day of Camp and How I Met Your Mother and also the movie Paul Blart: Mall Cop.
She happened to meet her lover boy, Adam Campbell, on one of the sets of the film in 2006, and guess, what, he was her co-star too.
It was the set of spoof film Epic Movie(Released in 2007), where they got to know each other through the filming process.
Then, they started to find compatibility in one another and finally decided to tie the knot on October 28, 2007, in a veiled wedding ceremony.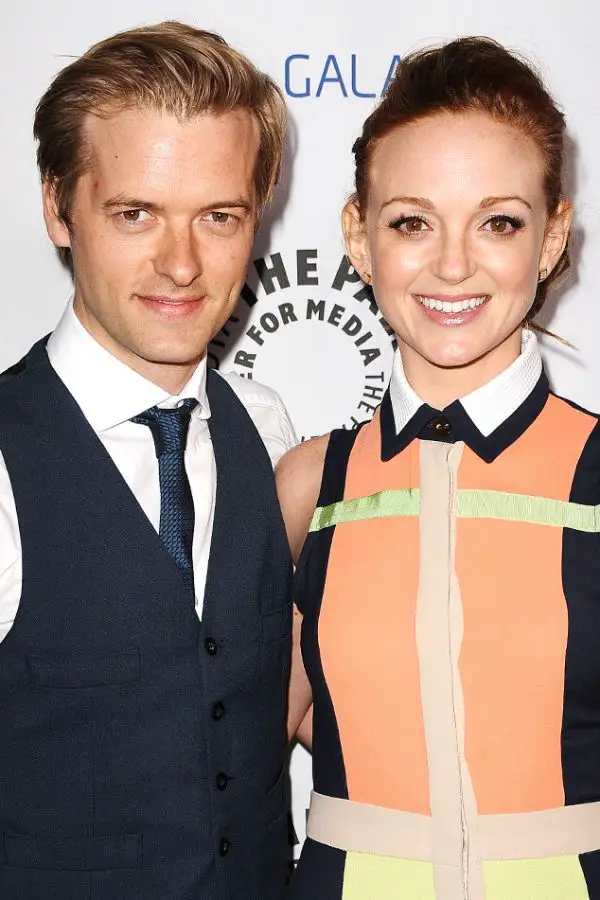 Caption: Jayma Mays and her decade-long English actor husband, Adam Campbell.
The couple continued their marital life, probably enjoying their acting career for a decade and after having a surplus moment for each other, they finally decided to welcome a child of their own.
The news that everyone was eager to hear only flashed in April last year and soon they had an adorable child in their life on August 21, 2016. The child was the first from the married couple, whom they named Jude Jones.
The moments were special for both the actors, but Mays recalls her post-pregnant days, which was astounding for her as a new mom haze kind of things.
Mays has joined her acting with the filming for crime-documentary spoof show "Trial & Error" at the Television Critics Association conference in Pasadena, California, after the two weeks she gave birth to her child.
The actress shared the experience to People as:
"I thought, yeah, you have a baby and then you just go to work. I had no idea."
She then added:
"Thankfully, they were all incredibly supportive in allowing me to pump and do all those things I wanted to do as a mom."
Now, the mom is getting plenty of time for her son as the show has already wrapped up, and the baby is probably getting much love and care from his actor parents.
Despite that, they haven't got anything for their fans, who are in great desire to watch their son, Jude.
Well, we make you the beautiful family pictures available to view as soon as we grab them and for now, we wish the parents and their new son a whole bunch of best wishes for their future.
Stay with us for more updates on the couple!