Jenna Davis is an American actress, singer, dancer, and YouTuber. She is also active on social media, where she boasts a huge fan following.
She is best known for doing covers of popular songs. Besides covers, she does vlogs, funny videos, short movies, and frequently uploads to TikTok. 
Jenna's Wiki: Parents, Age
Jenna Davis was born on 5th May 2004 in Plano, Texas, to parents: Ronnie and Anna-leigh Davis. At the tender age of just two years, little Jenna began dancing. She soon grew to love acting as well. Passionate and talented, it didn't take long before Jenna showed great promise. Jenna was just six years old when she won her first talent contest. 
She lived in Minnesota until the age of eleven and moved to Los Angeles, California to pursue her dreams of becoming an actress.
Dating? Who Is Her Boyfriend?
In a video titled "Your Questions Answered Jenna Davis" - which was uploaded on her YouTube channel on 27th November 2017, Jenna answered some personal questions. When asked if she had a boyfriend, the young actress answered that she didn't have nor needed one. In her own words: 
"Guys, I don't really have a boyfriend. I don't want one. I am only thirteen. I don't need one yet. Maybe one day? But not today."
Jenna turned 15 in May 2019 and hasn't been linked romantically to anyone. She might have a boyfriend, but no details are known about him.
Acting Career
Jenna began her professional acting career in 2018. To date, she has appeared in a single episode of the comedy series Teachers and nine episodes of Raven's Home. Her prominent role, however, was in Netflix's Treehouse Detectives, a South Korean-American animated television series. Jenna voiced Teri, the adorable bear detective. Teri appeared in all 20 episodes of the show and could reprise her role in the third season. 
You Might Enjoy This:- Best Movies On Netflix 2019 | Monthly List
Putting mainstream productions aside, Jenna has also played in numerous short movies, including The Clubhouse, The Woods, and Some Calming Music. 
Journey To Internet Stardom
Jenna took her first step to stardom by opening her YouTube account on 19th August 2014. She was just ten years old at the time. The social media star uploaded a few song covers and random videos without garnering much attention. She got her big break in December of 2016 when her Cheap Thrills music video cover blew up. The video has over 4 million views. Her channel has grown a lot, and each video gets over 500,000 views in recent years.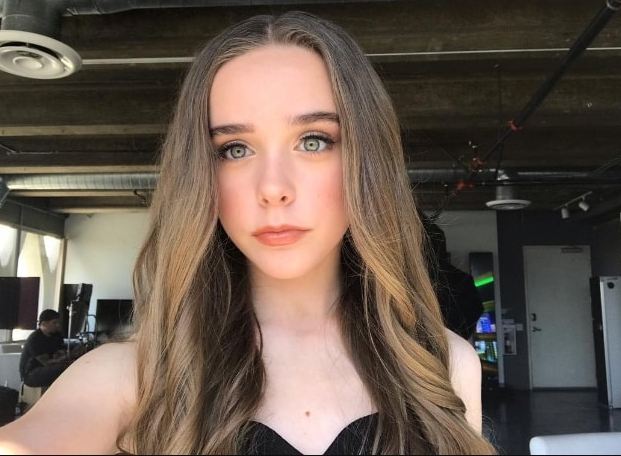 Jenna Davis takes a selfie for her fans (Photo: Jenna Davis' Instagram)
As of December 2019, she has over 645,000 followers on Instagram, over 3,500 followers on Twitter, and 215,000 subscribers on YouTube. Through her vast social media influence, she has received multiple opportunities. Jenna has endorsed or promoted some brands with FashionNova and designer Monica Stanley being the more notable.
Some Interesting Facts:
She has a height of 5 feet ½ inches (1.54 m) and weighs in at 45 kgs (99 lbs).
She is also called Trishelle Davis.
She celebrated her 15th birthday on 5 May 2019.