Entertainment
ABC's Jim Avila Keeping Old Age Love Alive! Married For Years, Family Rock Solid
American TV journalist Jim Avila has written success excellence all over his career as working as the Senior Law and Justice Correspondent for ABC News, he has already won awards in the field of journalism.  
Not only has Jim excelled in his career, but also has been blessed with a love life and family that he cherishes. He shares years of love with his wife, and his three kids are his ultimate accomplishments. 
Well, he sure is a family man blessed with wife and kids along with a loving little brother who wouldn't at any cost let him take the last breath even though it means sacrificing his kidney. 
Married Life Sharing Kids; Still Going Strong
Versatile reporter Jim Avila, who has covered the White House from 2012 to 2016, has a blissful family life with his wife and kids. Jim has been married for a long time now and shares three kids with his wife.
Even though Jim has not revealed the name of wife or the person he has shared most part of his life, it seems that he his much comfortable in sharing moments with his kids.
It turns out, Jim, who has his net worth in millions, prefers keeping details of his wife under the veil away from his admirers. The dates of their marriage is still a mystery. Despite his effort to hide the relationship he once posted a picture of his wife along with his three kids who were just toddlers back then.
Jim posted the picture on his Facebook account which seemed like a vintage picture of him, his wife and his kids. Well, they all had smiles on their face which seemed like they were having quality time at the beach.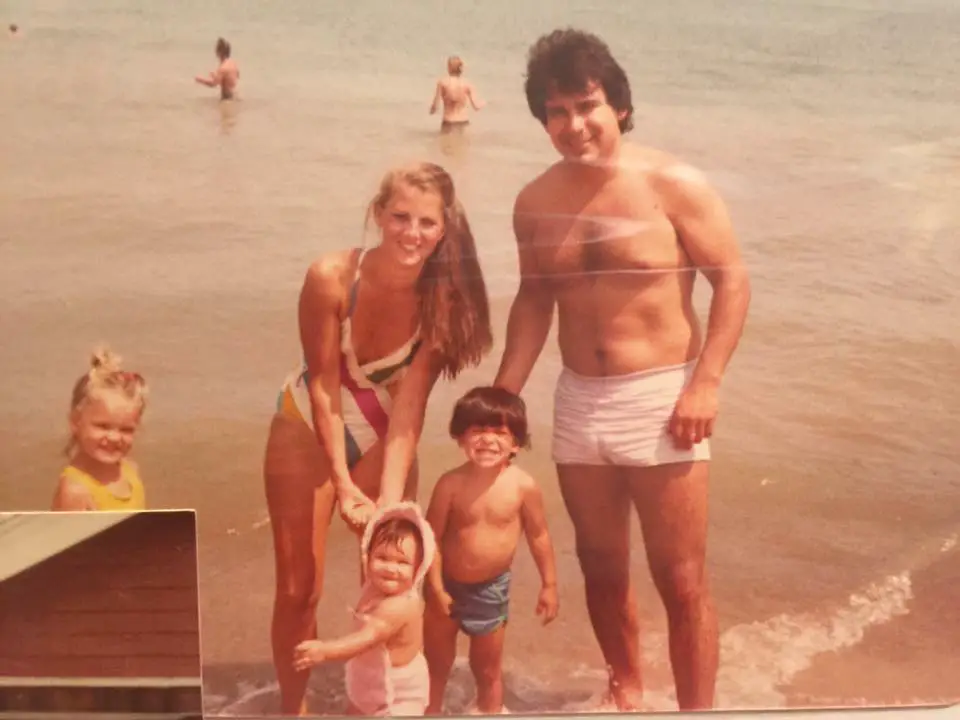 Jim Avila with wife and kids Jamie, Jenny, and Evan. (Photo: Jim Avila's Facebook)
Adding to it, even though he does not mention of his wife, he often tweets posts relating to his three children, Jamie, Jenny, and Evan. Through his post, it has come to light that his kids are his greatest accomplishments and are proud of them.
Well, his children have sure made him proud. Jim's second son Evan is also an Emmy award winner just at the age of 26. 
Indeed, he does share a rock-solid bond with his family and even though he hardly mentions of his wife they seem to have been married for years and there has not been any news of their divorce yet.
Successful Kidney Transplant; Donor Is His Brother
Jim Avila, who was a correspondent for NBC News, had undergone Kidney transplant just a few months ago. His kidneys were functioning at about 14 percent which was a damaged caused by his diabetes the led to his kidney failure.
He was on a big race to find an organ donor or else the only other option was to perform dialysis. For Jim, dialysis was a big no and it turns out the kidney of his youngest brother from Avila clan Jaie was a match. 
Also the TV News reporter, Jaie, without any hesitation, volunteered for the kidney transplant.  The doctors at the hospital performed a separate but adjacent operation for the kidney transplant.
The operation took place on the morning of 10 April 2018 at Cedars-Sinai Medical Center in Los Angeles. Even though Jim was on "big race" to find an organ donor he was blessed to have someone of his own do it for him without any hesitation. 
The transplant was a success, and Jim along with Jaie returned home safe on 23 April 2018. As of now, Jim is blessed with a new life which he is looking forward to cherishing fully.