Entertainment
Jim Jefferies Admired By Wife-Like Girlfriend! His 'Like Father Like Son' Situation
Australian stand-up comedian Jim Jefferies has all the humor to crack funny laughs on or off stage. The comedian has taken his comic talents to TV world by starring on the FX comedy series, Legit. 
While enjoying the success of his career, Jim is also a family guy enjoying a blissful life with a girlfriend and a son. Jim shares a son with his longtime girlfriend whom he met on the sets while they were shooting for one of his comedic episodes.
Jim has been going strong in his relationship with his girl, but there has not been any news of their wedding yet. 
Fell In Love With "Prostitute"; Father To A Son
The Never Mind the Buzzcocks star, Jim Jefferies is a blessed man when it comes to romance in his life. He has been in a long-term relationship with his girlfriend, who is also the mother of his first baby.
Jim has been in a loving relationship with the Canadian actress, Kate Luyben. The Sydney, Australia native first crossed path with Kate back when he was shooting the pilot episode during October 2011.    
For the episode, Jim was taking his brother's friend, who has muscular dystrophy, to a prostitute for the shoot. It turns out Kate played the role of the prostitute in the episode.
Read Also:- Esther Povitsky Reveals Amusing Parents Moments And Dating Comedy Writer Boyfriend
While they were on the set, Kate did knew Jim was the executive producer of the show who was also doing the shows. As the takes for the show were taken and Jim would boss around the set and whisper in the director's ear, Kate mistook him as an arrogant actor. 
The doubts were cleared later when they got to know each other. The pair shared a connection since then and have been going strong till today.  
But the couple has not yet been bound by the bond of marriage. They have not exchanged the marriage vows yet. Even though they are still dating, there has not been any news of them tying the nuptial knot.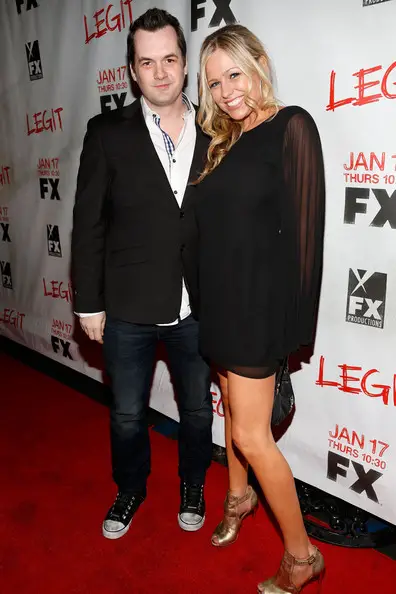 Jim Jeffries with longtime wife-like-girlfriend Kate Luyben attends the screening of   'Legit' on 14 January 2013. (Photo: zimbio.com)
However, despite the couple are not yet married, they share an intimate bond. They not only share the bond but also shares a baby together. Jim and Kate have a son. 
Kate gave birth to their first baby back in November 2012 and named their son Hank Lennon Jefferies, who is now five years old. Jim shares a loving bond with his son as well as he has been sharing "like father, like son" moments with his first born baby boy. Jim along with his longtime girlfriend Kate and only child Hank is a longtime resident of Los Angeles. 
Attacked On Stage; Robbery Gone Wrong
Well, prior to his blissful family life, Jim had gone through some trouble in his life. Previously in 2006, Jim, who has a net worth of $5 million, was attacked by one of the audience when he was doing his show back in Manchester Comedy Store. He was viciously attacked which sure brought him international exposure.
Later in 2011, he fell victim of home invasion and was robbed. The robbery led him to lose his car. He was tied up and sliced in the head with a machete. During that time, Jim was with his friend and girlfriend in Manchester. 
You May Also Like:- Michelle Wolf Too Funny To Be Married? Ethnicity, Personal Life & More Facts
The cops later caught the intruders and they were pretty much charged with everything including bodily harm, robbery, attempted rape along with possession of drugs.
Released "Jim Jefferies: This Is Me Now"; New Grand House
Well, rising from all the ups and down in his career, Jim has been able to book a show for himself. Jim previously starred in the show, The Jim Jefferies Show which was released in 2017. With humor and quick wit, Jim grabbed a lot of admirers for himself along with the second season for his show. 
Adding to it, he even got a new show "Jim Jefferies: This Is Me Now" which is released this July 2018. The show is a pure stand-up comedy by Jim who excels at offensive comic still winning despite all the offenses.
Along with his new show, Jim has also bought a house in Studio City, California for the price of $3.15 million, which certainly upgrades his net worth for sure.  
Jim made sure to persuade his fans to have a look at his newest television special. Well, Jim yet again gained admiration for his recently aired show that was able to make a lot of people laughing till their belly hurt.