Entertainment
Joan Smalls and Her Boyfriend Who Got Her Back! A Dating Affair That Inspires To Do Better
Love is a four letter word no doubt, but it is one of the most valued emotion in the existence of humankind. Love is such an intense emotion that the people in love do whatever it takes to retain the relationship. No wonder people back one another when in love.
The same scenario relates with love between Joan Smalls, who is a Puerto Rican fashion model and her boyfriend, Bernard Smith, as the two have been each other's biggest supports in life. So let us see how they have got each other's back and shed more light on their beautiful relationship.
The Beautiful & Amazing Relationship Between Joan Smalls & Her Boyfriend:
Joan Smalls is beautiful beyond the limits. The one who has her in his life is hands down a lucky man, and that certain someone is none other than Modellounge founder, Bernard Smith.
The two have been dating one another for some times now, and although the exact date and tenure of their love relationship have not been made public, the love between them is far from ordinary.
Previously, Joan and her boyfriend were spotted together, as they attended Leonardo DiCaprio's St Tropez fundraiser in 2016.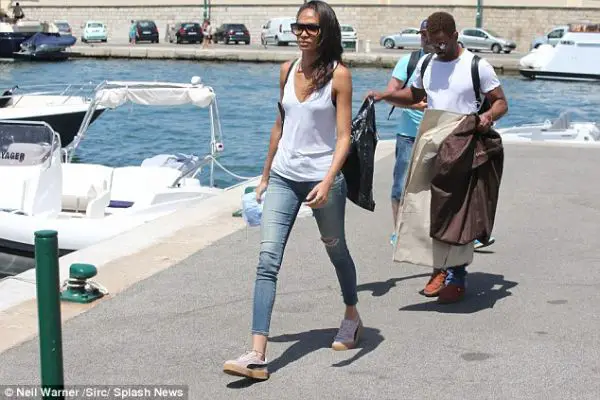 Caption: Joan Smalls and her boyfriend Bernard Smith out to have a quality time, October 2016.
Photo Credit: Dailymail
Similarly, they were again photographed together while attending the Met Ball after-party in May 2017.
Caption: Joan Smalls and Bernard Smith attend the Met Ball after party in May 2017.
Photo Credit: Dailymail
The model wishing her man on his birthday reflects the attention she gives her man!
The duo spending time together and expressing their love on social medias makes their love pretty much evident.
Not only are they all loved with one another, but they also support each other in an ample amount too.
One prime reason for you to believe this thing is the fact that; Smith began Modellounge in 2009 being inspired by his girlfriend, Joan. See how long they have been together and how much support they have for one another!
Speaking about the idea of commencing Modellounge in an interview with Vogue back in 2016, he said,
"I conceived this idea to create a workstation where she and her model friends could converge and remain in work mode during the day," presumed it would benefit other female fashion models, but wanted to restrict access to models who were working and really in need, so I went exclusively with top agencies."
He further added,
"We choose not to charge models and agencies because we feel girls should have access no matter their financial situation," says Smith. Sustained by unique partnerships with well-known brands including Microsoft, Puma, and Beats by Dre, the line between service and commerce is one Smith is keenly aware of. Says Smith, "When we work with brands, we try to create meaningful programs and relationships that benefit our community of models.
Smith concluded,
"We're able to offer support through workshops, the Modellounge Card, and other key programming that benefits so many more than just a few models or agencies,"
All in all, they feel blessed to be with one another, and that is the key essence of the success of their relationship.
More About Joan Smalls:
Born on July 11, 1988, as Joan Rodriguez Smalls in Hatillo, Puerto Rico to parents, Betzaida Rodriguez (her mother) and Eric Smalls (her father), Joan Smalls is a fashion and glamor model, who was once ranked the #1 Model in the World as per models.com in 2012.
In September of 2013, she also appeared alongside Karlie Kloss on the cover of "Vanity Fair." Not only that, but she is also one of the most successful and highest-paid catwalk girls worldwide.
That shows how successful she has been in her career as a professional model. The success she enjoys in her career has helped her finances a great deal too, which is evident in her net worth, that dwells around $16 million.
Clearly, this model of Latino ethnicity is a conqueror when it comes to her career!
Stay with us for the budding updates on Joan Smalls!