Entertainment
Joel Schiffman's Wiki: His Age, Bio, Relationship With Partner After A Failed Married Life and some Must Know Facts
Joel Schiffman's Wiki: His Age, Bio, Relationship With Partner After A Failed Married Life and some Must Know Facts Joel Schiffman, an American financier, is known as the boyfriend of celebrity, Hoda Kotb. And when you are associated with a celebrity then it's obvious to have curiosity regarding you too.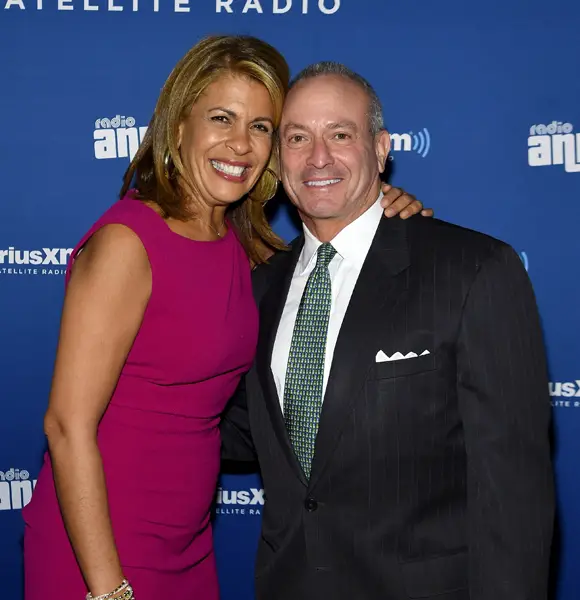 Joel Schiffman, an American financier, is known as the boyfriend of celebrity, Hoda Kotb. And when you are associated with a celebrity, then it's obvious to have curiosity regarding you too.
So today, let's have a look at the life of this financier who was once married only to get divorced but is now happy in a relationship with his partner. Along with that, we shed light on some interesting facts in his short wiki.
The Former Married Life of Joel Schiffman & His Current Love Life:
Joel Schiffman once shared married life with his former wife, whose identity is not brought to light the light yet. Joel also has a twenty-three years old daughter from his previous marriage, Kyle.
But as they say that once a relationship ends, the doors for another often opens, and the same happened with Joel. Joel started dating NBC's host Hoda Kotb from 2013.
The two have been in love with one another, and also, it can be seen that the couple loves Joel's daughter Kyle as well as their adopted child Haley Joy.
An example of Kotb's love for Joel's daughter was seen, when she took over Twitter to congratulate Kyle on graduating back on May 9, 2016.
Speaking about the adoption procedure of their daughter Haley, Hoda said,
"You're standing in a room waiting, and somebody walks in holding your daughterI was exploding in tears. I thought they were going to take her away and say, 'No, we have a hysterical freak here, get that baby back!' "
Additionally, adding as to how she felt holding her child for the first time, she emotionally added,
"it was like a puzzle piece that just snapped in. I felt it, It was as if she had been with me forever."
Since then, the adorable couple has been sharing their journey as parents, where their fans can get an insight into the family life.
An example of that was seen when the couple celebrated their four year anniversary with their daughter Haley.
 The love the couple has for their young girl is often gushed about on social medias, and it just will melt your heart.
After the adoption of the baby girl, the news regarding a possible wedding of Joel has surfaced the media. A source of closerweekly.com disclosed the marriage plan of Joel Schiffman and Hoda Kotb.
"Most likely, they'll tie the knot by early summer. She is over the moon," 
The source also added,
"She never wanted to pressure Joel into doing anything. She was stunned when he suggested she and Haley move in with him,"

 "They had long discussions about the future. Joel told Hoda he wants to marry her and raise Haley. Of course, she was thrilled."
We are excited to see the upcoming marriage of the couple!
A Short Wiki-Like Bio of Joel Schiffman: 
Born on March. 21, 1958, Joel Schiffman is an American financier, who is currently working for an investment firm in New York.
He has previously worked for companies like Lord, Abbett & Co. LLC, Reed, Trail Ridge Capital, LLC, and Connor & Birdwell and that certainly has helped his finances the world of good. But still, Joel is yet to release an official statement on the actual figure of his net worth, which we assume is indeed a good one. 
Joel, who has touched a great height in his career, is a graduate of the University of California, located in Los Angeles. In 1981, he was granted a degree in Bachelor of Arts in economics.
Amid his opportunity at UCLA, he was in the Sigma Alpha Epsilon clique and on the UCLA Rugby Team.
He then went to Pennsylvania to attend his graduate school, the University of Pennsylvania. He earned the title of a Certified Investment Management Analyst at UPenn's Wharton School in 1995.
That is where he learned the tricks of the trade!
Stay with us for the emerging updates on Joel Schiffman!