Entertainment
John Luke Robertson Wiki: On Juggling Married Life with Wife and College Precisely
Juggling personal and professional aspects of life simultaneously is not a piece of cake for everyone, and being able to do it successfully is a far cry. But the reality star John Luke Robertson had been handling it like a pro!
Being one of the members of the hit reality show Duck Dynasty, John Luke Robertson is married and had a convocation filled with Dynasty star cast and their fans. Wondering how he does it? 
Let's shed some light on the young star's life.
John Luke Robertson Wiki
John Luke Robertson, son of Korie and Willie Robertson, is the youngest member of the hit TV series Duck Dynasty. He joined the reality show at the age of 14. Luke not only happens to be the youngest but also happens to be married.
Featured In Duck Dynasty:- Sadie Robertson Boyfriend, Engaged, Affair
Luke got married to Mary Kate McEacharn when he was 20 years old.
Luke met Mary in 2010 when they were both in the Christian summer camp. Luke admitted that he always had a thing for Mary.
"I had tried to date her before, and she kept turning me down! I just kept at it and she finally said yes!"
And finally, in 2013, the couple started dating. Both John and his girlfriend, Mary, went to Liberty University. 
Only a year after that, on John's 19th birthday, John popped the big question to Mary.
She said, "Yes," of course!
 "I am so excited to marry my best friend. I know my parents [Willie and Korie Robertson] married young as well, and they have always been examples of what 'could be' to me. Fast-forward 22 years and they are more in love than ever, and I hope Mary Kate and I are the same way in the years to come. God has truly blessed us." 
After completing their education and being engaged for a year, John and Mary were ready for their graduation that was held on June 27, 2015.
The youngest member of the Roberson family, John, with a net worth of $400 thousand, was graduating, and there was no way his parents would miss that for the world. 
His parents Willie Robertson and Korie Roberston, along with their daughter, Sallie, and grandfather, Si Robertson, were present at the ceremony. The crowd was filled with students and fans of Duck Dynasty.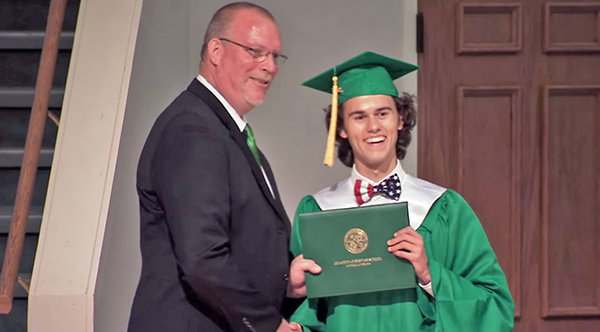 John Luke Robertson smiles for the camera at his convocation ceremony (Photo: countryrebel.com)
The Duck Dynasty stars did not only grace the ceremony by being there, but they also shared a few stories about John. 
They had a good laugh out of how he was rolling in a wheelchair and speaking gibberish after removing his wisdom teeth.
They also expressed their gratitude towards Liberty University for providing their son and daughter-in-law with wisdom and faith.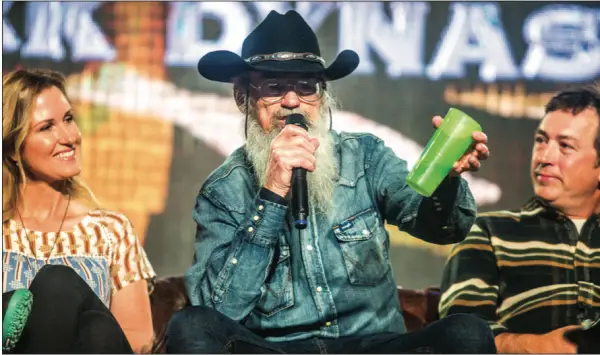 Si Robertson shares stories of Duck Dynasty at his grandson, Luke's convocation ( Photo: Liberty University)
If you are thinking, "Is that it?" wait, there is more!
Soon after their graduation, the couple took vows on June 29, 2015. The wedding took place at the Roberson farm in LA, accompanied by 800 family members and friends.
Intimate Garden Wedding Ceremony :- Lex Scott Davis Husband, Wedding, Family
They reached the ultimate height of cuteness as they stood next to each other, holding hands.
Luke and Mary are one lucky couple to have found love quite early. 
The love that was ignited in a summer camp blossomed in college days and found its way to the wedding. Now that's a great love story!
Birth Of Baby Boy
In May 2019, the Duck Dynasty alum made a not so surprising yet eagerly awaited reveal regarding his partner's pregnancy. The pair made the big reveal through a picture that featured his partner's baby bump along with a sonogram.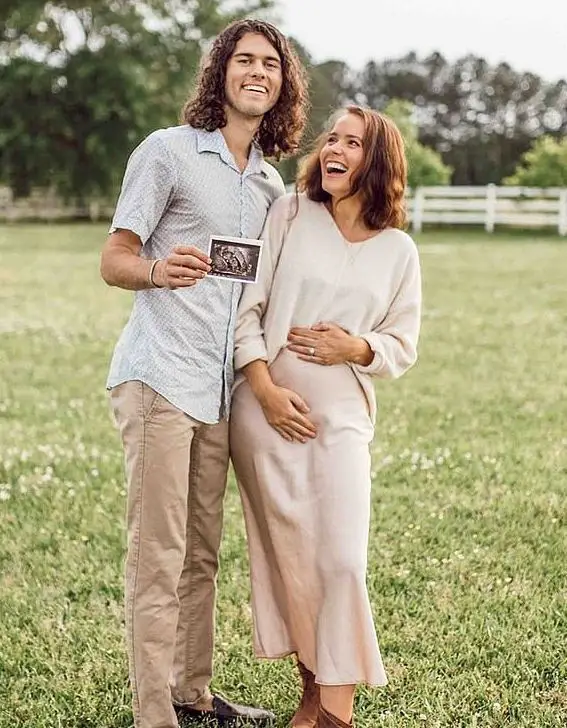 John Luke and wife Mary Kate announce the news of her pregnancy in May 2019 (Photo: dailymail.co.uk)
As per the reports, their baby was expected to step into the world on 24th October 2019.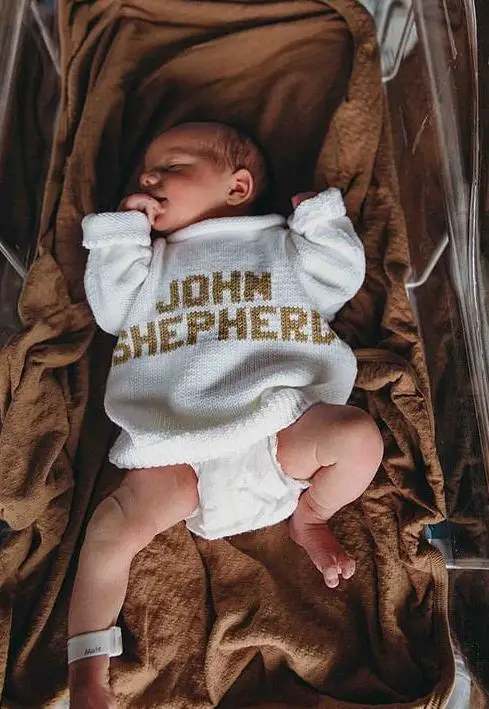 John Shepherd, son of John Luke and wife Mary Kate after his birth on 24th October 2019 (Photo: dailymail.co.uk)
Interestingly though, his wife Mary gave birth to their baby John Shepherd ten days before the designated day of the baby's birth. Their adorable son made his first appearance on Mary's Insta handle, and congratulations started flooding their comments section in a zippy.