Entertainment
Johnny Iuzzini Not Married! Dating After Controversy – Why Not?
The very renowned name in the hospitality industry, American pastry chef, Johnny Iuzzini with his dashing looks and very significant talent, indeed has skyrocketing popularity. However, he too has gotten indulged into the world of controversy.
Well, after the allegations on him regarding sexual harassment has Johhny found love, and is dating anyone?
Let's read through to find out!
Johnny Iuzzini's Dating Status
The award-winning chef, Johny Iuzzini has a romantic life beyond the kitchen as he was spotted flaunting his love life on the social networking sites. Well, he is dating the general manager of Untitled NYC, Gia SanAngelo. Since 2016, Johnny has been uploading the pictures to his Instagram account flaunting his love for the lady.
Back in May 2016, they were spotted spending their time together to watch the 'Kentucky Derby' together, as Johnny shared the moment on Instagram with a caption that read,
We have arrived! So exciting. 1 of my fav events of the year @KentuckyDerby. Doesn't my date look beautiful? @GiaSanAngelo #TasteOfDerby
Similarly, Johnny took to his Instagram last year in September to wish his girlfriend for her birthday. The caption was indeed filled with love!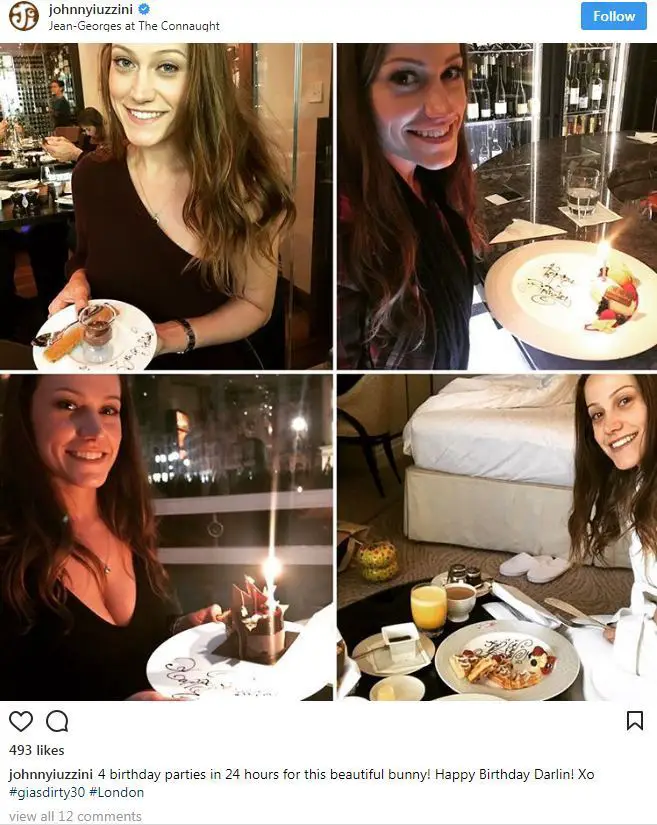 (Photo: Johny Iuzzini's Instagram)
However, after the very day, Johnny hasn't uploaded a single picture with his girlfriend and hasn't made any public appearances either. Now, because of that, his fans are little bit skeptic regarding his relationship. Well, they might just be busy with their work schedule, so relax guys!
Furthermore, Johnny has not talked about turning his girlfriend into his wife, and neither has he shared his plans on getting married. So, if you are excited to witness, Johnny, walk down the aisle with his to-be wife, you'll need to wait as of now.
Also, did you know, previously, back in 2010, Johnny dated a television host, Claire Robinson? Meanwhile, having known about his love life details, he sure cannot be surmised gay!
Sexual Harassment Allegations On Johnny Iuzzini
The graduate of 'The Culinary Institute of America,' Johnny Iuzzini was accused of sexual harassment by four former employees, back in 2017. The Mic interviewed the four women, agreeing to keep their identities private.
The former employees which include, two pastry chefs and two externs reported on getting abused. The women stated,
"Iuzzini could be verbally abusive and did things to make people uncomfortable, and to see what he could get away with."
Additionally, he made sexually explicit remarks, lewd gestures and allegedly demanded shoulder massages from female employees at the end of shifts.
Well, one of the women was a pastry chef at Jean-Georges in New York where Iuzzini used to work. She stated to Mic that, Iuzzini put his tongue in her ear which made her quit the job.
The second woman who used to work as an extern explained,
"He would always make me give him a shoulder rub, every day — that was part of my job, when I signed off."
Well, after all the accusations made against him, he apologized with a statement to Mic that says,
"I am shattered and heartbroken at the thought that any of my actions left members of my team feeling hurt or degraded. More importantly, I am deeply sorry to those who felt hurt."
In addition to the allegations, a single woman came forward with a claim that she witnessed him "using cocaine," but Johnny denied the use of drugs.
After all these accusations, the third season of The Great American Baking Show, for which he was a judge, got pulled after two episodes.