Entertainment
Who Is Joseline Hernandez Baby Father? 'Parents' Tag Goes To This Musician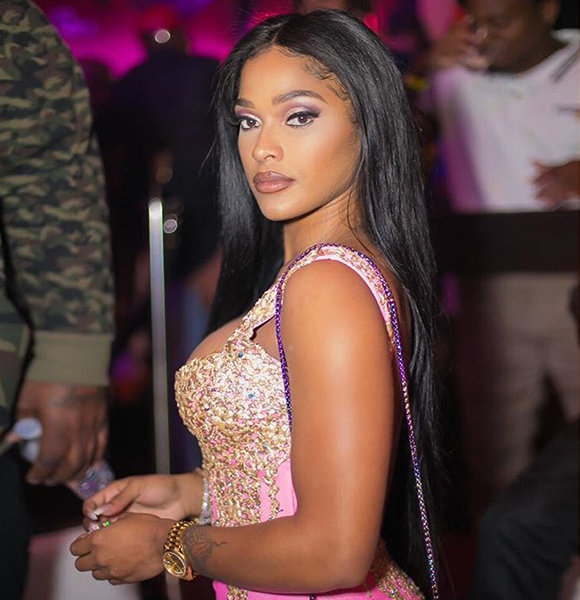 Puerto Rican-American actress Joseline Hernandez stunned to the fame world after appearing in the reality show, 'Love & Hip Hop: Atlanta.'
The reality star got more than the fame from the show; she got a love of her life in the show. She was indulged into the relationship with the cast member, Stevie J  and was also rumored to have got married.
As of now, Joseline has found another beau who seemed to be very close to her. So, will they form a happy family?
Pregnancy Saga With Baby Father; Joint Physical Custody
The singer, Joseline was dating her Love & Hip Hop castmate Stevie J for the seven long years before calling it quits in 2016. The couple also got married in 2013 but later revealed that the marriage was not legal. Their marriage was just a part of the publicity stunt.
Even after their breakup, the intimacy between the formerly engaged couple was not lessened. They just happened to share a physical relationship which got her pregnant with her ex-boyfriend's child. 
Though they were separated, she never thought to abort the baby. When the DNA test was conducted to know the Joseline's baby father, it was none other than her ex Steve J.
You don't want to miss:- Empire's Taraji P. Henson Getting Husband As Baby Father's Death Lingers In Past
After the baby father was confirmed, he filed a new document which included the visitation rights. Also, he claimed the primary physical custody of the child.
Further, he proclaimed the drug testing of the then-pregnant mother as he believed she might be intoxicated with drugs and alcohol throughout her pregnancy. He thought her behavior might have affected the fetus too, so he wanted the drug tested to be conducted with the baby within 24 hours of birth.
After he included his claim in the document, he also added the text message from Joseline, which says:
 "You will never see your daughter f**k n***a."
Also, he reportedly showed his interest to be in the delivery room during the birth of their daughter. She gave birth to their baby daughter named Bonnie Bella on 28 December 2016. And after her birth, the separated couple decided to side their conflicts and co-parented their daughter together.
Well, she also came with the new song, Baby Daddy, produced by her real-life baby dady which reflects the cold relationship with her own baby-daddy Stevie.
Josline and Stevie have finally settled their child settlement for their one-year-old daughter. The court ordered that the baby father who earns $30k a month has to pay Joseline $1,000 a month in child support.
Stevie and Joseline will have joint physical custody, but Joseline gets primary physical custody of Bonnie. As the former couple has already ended their relationship, she has moved on with another beau and is rumored to have engaged.
Spots With Engagement Ring; New Bae In Scene
After her split from her baby father, Joseline has finally moved on. She left the show, Love and Hip Hop Atlanta after having a dispute with the show's manager and went to Miami, revived her music career and found her love.
Joseline seems to be dating the new man. The news about her new relationship aired after Fameolous reportedly posted the adorable pictures of Joseline in Miami Beach with her new boo where the newly flamed couple seemed to be happy.
In an interview with The Breakfast Club, the Puerto Rican Princess was spotted strolling with her engagement ring. When Charlamagne Tha God popped the question about her rumored engagement which she accepted.
Take a Look:- Who Are Lana Condor Real Parents? Wiki Reveals - Dating, Boyfriend & Personal Details
The identity of her new boyfriend was not known, but she was seen getting cozy with him, licking his ear, splashing in the pool. After the video went viral, she and her new boyfriend, who happened to be a South Florida producer went public with the relationship.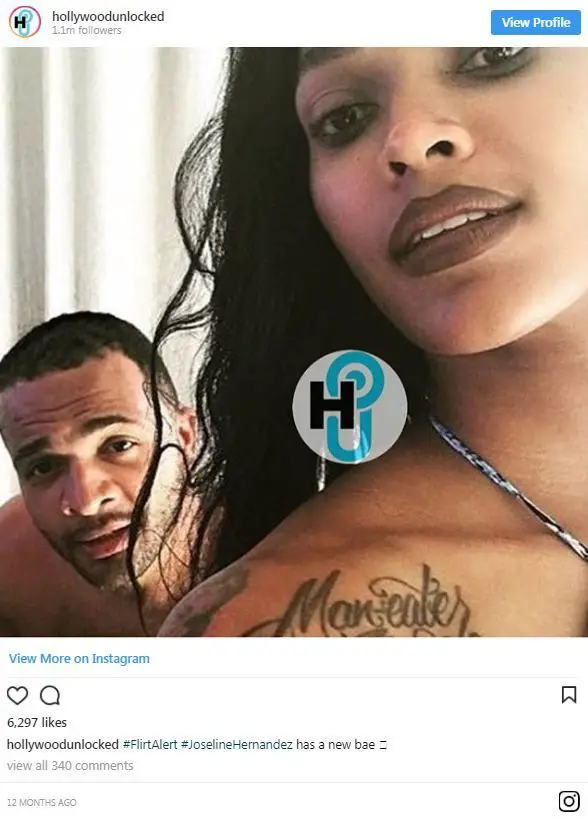 Joseline Hernandez with her new boyfriend (Photo: hollywoodunlocked's Instagram)
Well, it seems she found the perfect step-father for her daughter. The 31-year-old star appeared to be anxious to establish a family with her new beau.
Also, she opened up about her family. Previously, before gaining fame, she had a resentment against her mother who left the nurturing of the children struggling with the addiction. And Joseline had to leave home and start stripping as a teenager to support her siblings.
Not only she struggled as a teenager, but she also loses her father to the drug overdose. As a child, she was lost with the burden of responsibilities which her parents did not bear. 
Notably, since she is a parent now, she wants her daughter to live the life fullest.