Entertainment
Find Out About Taraji P. Henson's Boyfriend, Affairs, Husband, Engaged, And Son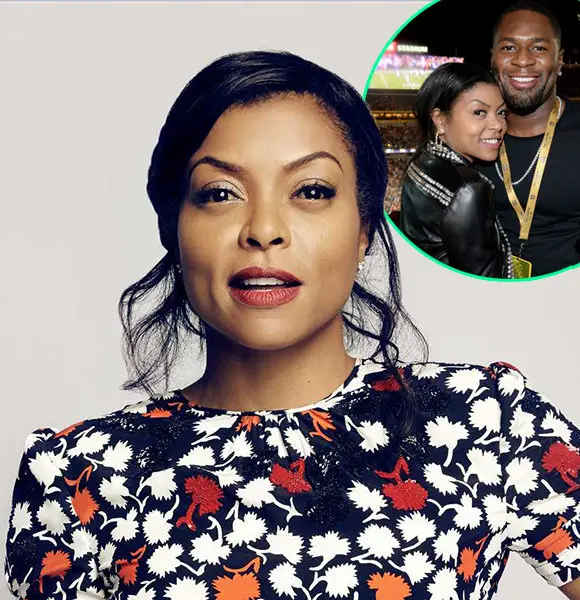 American actress Taraji P. Henson has been the center of the attention of Hollywood with her superb acting talents. 
However, the two times Emmy-nominee walked a hard way to success - tough years in her childhood and tragic events. From family to her boyfriend, she has been the victim of tragedies. 
Let's find out more about her baby's father. 
Taraji P. Henson's First Love
By the age of 17, Taraji had already got a boyfriend of her own, but he dumped her for not having intercourse. However, she later found her first true love in William LaMarr Johnson, whom she lovingly referred to as "Mark"; sometime after her break-up. 
The 51-year-old actress first fell in love at first sight with her boyfriend, Mark, a then-struggler for jobs, outside the Maryland movie theater.
Taraji's boyfriend, Mark, decided to let her go for her better future, knowing she deserved more. Then came the actress's reluctance and childish acts like attending a club in her tightest and shortest skirt, which created a scene.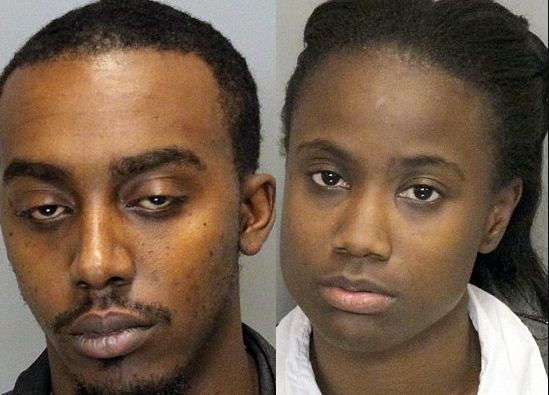 Young Taraji P. Henson (right) and deceased boyfriend William LaMarr Johnson "Mark" (Photo: Articlebio.com)
However, after one year of their split, Taraji patched up with her boyfriend, Mark, and soon became pregnant with a child. Then-Howard University student Taraji gave birth to Marcell with her boyfriend, who fathered children from his other affairs.
Marcell, born on 10 May 1994 and ages 27, is also an aspiring actor known primarily for appearing on several episodes of Empire.
However, the duo's relationship ended due to her boyfriend's irresponsibility towards family, including his late returns. 
While the Southeast Washington native confronted her boyfriend, Mark, he punched her.
The All of Us star ended her relationship, asking him to get his stuff and leave. Although her father tried to settle the dispute, Taraji was already heartbroken.
Partner's Tragedy:- Openly Gay Matt Lucas Husband Death Left A Dent, Affecting Present Partner?
But, a major tragedy hit Taraji's married life when she heard the news of her son's father's murder through his mother in January 2003. Mark, who died at the age of 34, was mercilessly beaten and stabbed to death over a slashed car tire dispute.
Although the Four Brothers actress was badly affected by Mark's death, she needed to stay healthy for the sake of her son and thus developed her robust alter ego named "Ghetto Betty." 
Apart from having an abusive partner, she also suffered the same treatment from his father when she was a child. 
Taraji P. Henson's Rough Childhood With Abusive Father
Growing up in a poor neighborhood in Washington, Taraji had a rough childhood - the childhood of witnessing her father's physical and mental abuse of her mother. 
Her father, Boris Henson, was a Vietnam veteran and substance addict who used to torment her mother. The torment went extreme when Boris threatened to kill Taraji's mother by dragging her to the car. Saved by Taraji's mother's sister, she ran away with baby Taraji to a small Maryland town, which later Boris found out.
Supportive Parents:- Spencer List Girlfriend, Siblings, Parents, Net Worth
He tried to take Taraji with him, but the mother-daughter ran again. As a result, the Smokin' Aces actress found herself amid financial difficulties and a tough neighborhood in one of the most dangerous ghettos in Washington.
However, Taraji's father, Boris, later changed and supported his daughter in his later years. Boris eventually died in 2005; the actress kept the cause of death private. After his demise, Taraji founded a charitable organization named Boris Lawrence Henson Foundation in her father's honor. The trust focuses on breaking the taboo about mental health issues widespread in the African-American community.
Having herself battled depression, Taraji values a good therapist as the Afro-American people rarely address these matters. Despite being a successful actress, Taraji suffered constant depression. She even mentioned that being famous only increased mental pressure.
Nevertheless, with her loving fiance, the actress is set to win overall her tragedies, healing her wounds with love. 
Taraji P. Henson's Engagement With NFL Player
Taraji has been dating NFL player Kelvin Hayden. The rumors of the beautiful ebony dating her 13 years junior Kevin had surfaced in late 2015 after they were pictured at a beach but were confirmed only in December 2017. Kelvin was previously in a relationship with Carla, and the former couple even has a son Kelvin III. Kelvin supposedly pays $35,00 per month for child support at home and lets his ex-girlfriend use his home in Chicago.
In a 2017 interview with Essence, she said,
'I'm happy in my personal life. Finally it has happened to me!'
After six months of coming out publicly with her romance, Taraji announced her engagement to the former NFL star in May 2018. She even shared a picture of her engagement ring along with the caption,
"I said yes y'all!!!"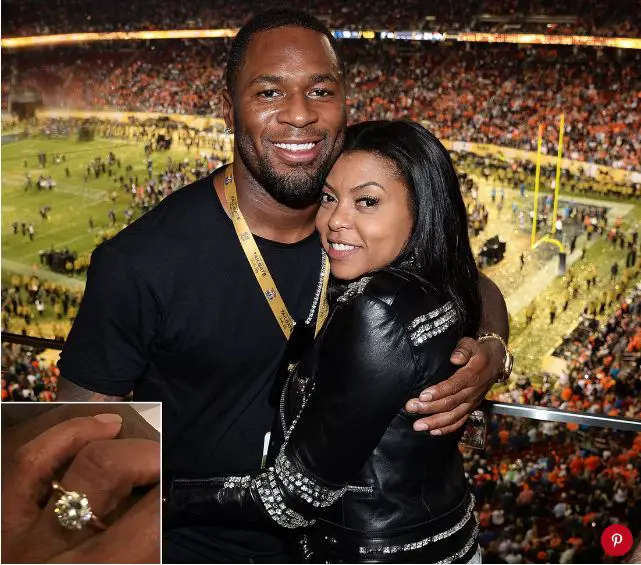 Taraji and fiance Kevin Hayden attend a football game and flaunt her engagement ring (Photo: People.com)
However, after getting engaged for nearly two years, Taraki revealed her breakup with her boyfriend, Hayden. 
According to the People, Taraji has not revealed the reason for their split, but it seems that they ended their relationship because of self-love and self-happiness. 
After her two failed major relationship, she was speculated to be gay. Yet, she has not cleared anything regarding the rumors. But, if we see her affairs, we can safely assume that she is not gay and is straight.
Where Is Sebastian Now:- Sebastian Bear-McClard Bio, Net Worth, Wife
Meanwhile, she enjoys a considerable net worth of $25 million and leads a comfortable life. However, her wounds from her past will always stay as a scar in her heart that may never heal. 
We will surely update you more on Taraji P. Henson in the coming future. Till then, stay tuned.