Entertainment
Married Actress Kate Flannery, Victim To Cancer? Facts, Details
Being in the limelight has its perks! These celebrities who are in the spotlight can hardly avoid the blending of their personal life with their profession. And the sitcom scene-stealer, Kate Flannery faced the same situation. Well, the story of her on-screen character deluded her day-to-day life. Similarly, she was also said to be a victim of cancer.
Interested in knowing more? Keep reading to find out what misled the details of her off-screen life and whether she is a victim of cancer or not!
Is Kate Flannery Victim of Cancer?
Kate Flannery, best known for portraying Meredith on NBC's The Office was pictured bald. During the episode 'Lice' of the series, Flannery appeared hairless. Her on-screen act on the episode raised a question in her personal life.
Moreover, when the bald scenes surfaced on the media, it made the fans wonder if Kate became the victim of Cancer. As pictures of her shaven head went viral, the people who weren't familiar with her character speculated her of having cancer.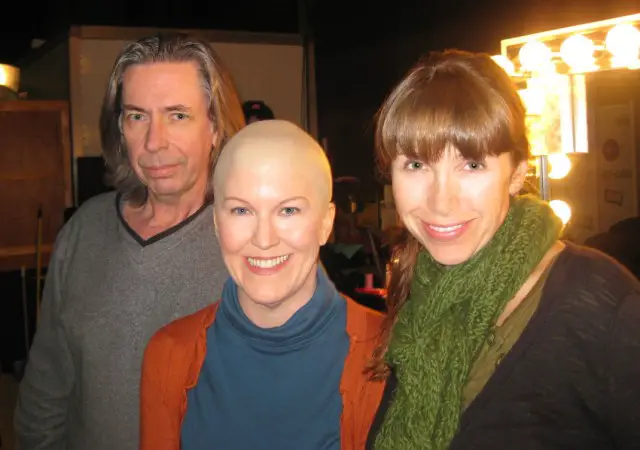 Kate Flannery with artist Ed French on the left (hairferry.com)
Nevertheless, the case with her baldness is very different. Flannery actually had on the bald cap for the episode 'Lice.' The episode had many scenes of Kate without hair, and it even showed her shaving her hair to avoid getting lice on her hair.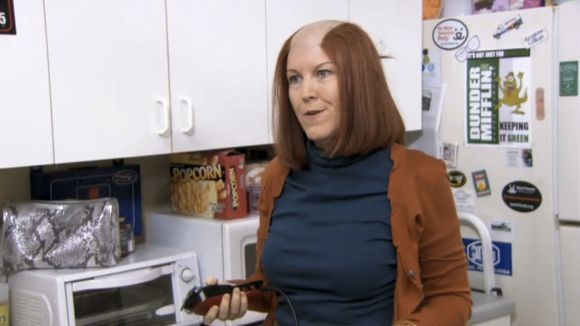 Kate Flannery on 'Lice' episode of 'The Office' (USA TODAY)
Moreover, Flannery provided some insights regarding the bald scenes. She had her hair wrap around and then had put on the bald cap which was applied by artist Ed French. Flannery tweeted regarding her bald makeup artist stating,
"Ed French is the artist who built the bald cap, He also did the last Star Trekmovie."
Subsequently, Flannery added that the bald cap took three and a half hours to apply. She even stated that she had a newfound respect for the actors who portray characters on the script that demand such make-ups. She shared,
"I have newfound respect for the actors in Planet of the Apes!"
However, the bald cap looked very much real and made the fans believe that Flannery had lost her hair. To the surprise, it was just a bald make up which might have disappointed some of her fans as well.
However, Flannery has always succeeded in making her admirers laugh and has appeared in many memorable scenes of 'The Office' and Lice being one of them.
Kate Flannery's Bio:
Born on June 10, 1964, Kate Flannery grew up with six siblings in her family including her twin sister. Flannery, who is a family person is married to Chris Haston who served as a still-photographer for NBC for 27 years.
Flannery and her husband share a loving bond which Kate flaunts on Twitter expressing her love for her him. She posted a picture of two crossing fingers which was decorated as a girl and a boy and wished her husband a 'Happy Birthday' on 27 June 2017
Moreover, the couple Kate Flannery and Chris Haston were seen attending the premiere of IFC Films' 'The Female Brain' at ArcLight Hollywood on February 1, 2018, in Los Angeles, California.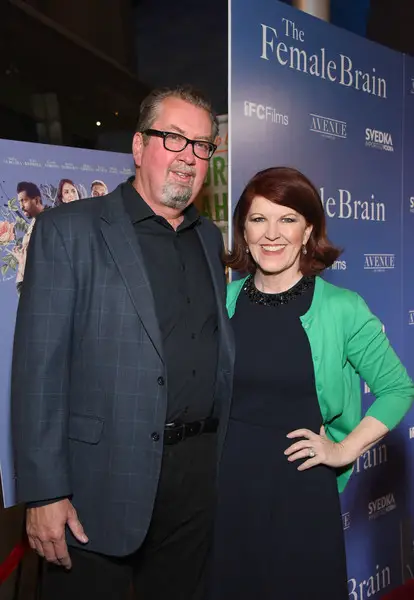 Kate Flannery with husband Chris Haston on premiere of IFC Films' 'The Female Brain' (zimbio.com)
However, Kate who is living a happy married life with her partner Chris has starred in various films and television shows. Kate first appeared as 'Tonia' in the movie 'Can't Stop Dancing' back on 1999. She was also seen in some of the short films like 'Amy Stiller's Breast' (2000), 'The Heir Apparent' (2005), 'Jesus People' (2007).
Moreover, Kate has also appeared in some episodes of various television shows like 'Spyder Games' (2001), 'Boomtown' (2003), 'The Bernie Mac Show' (2004), 'The Office' (2005-2013), 'Brooklyn Nine-Nine' (2016), and 'OK K.O.! Let's Be Heroes' (2017-present). Kate, who is living a prosperous life enjoys the net worth of $2 million.