Entertainment
Kate Walsh Couldn't Find Love Even After A Failed Married Life; Talks About Children Issue
Break-ups and failed marriages in the Hollywood industry is not something new but this became curious when Kate Walsh unable to find love even after multiple attempts. She certainly has a failed married life behind her back but it's strange that her dating life also could not take the leap.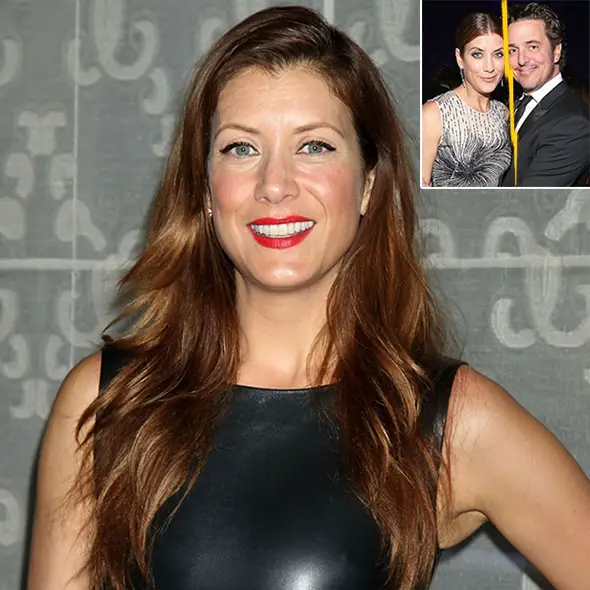 Break-ups and failed marriages in Hollywood industry are not something new, but this became curious when Kate Walsh unable to find love even after multiple attempts. She certainly has a failed married life behind her back, but it's strange that her dating life also could not take the leap.
Married Life That Did Not Last Long!
Kate Walsh is an American actress of 49 years old who is majorly known for her role in Private Practice and was previously all happy and full of blissful feelings when she got married to her film executive husband Alex Young in 2007. Followed by a couple of months of dating, before the couple tied the knot.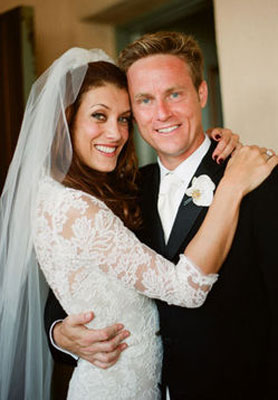 Caption: A hold that lasted short, Kate Walsh with ex-husband on their wedding on 2007.
Photo Credit: celebritybrideguide.com
Kate and Alex made first public appearance as a couple during April of 2007, following their engagement while on a trip to San Francisco and finally getting married on September 1, 2007, in Ojai, California, amid 100 of their family and friends including Kate Beckinsale, Katherine Heigl, and Chandra Wilson. 
However, their relationship ended as fast as it made its way to the altar as her husband filed for divorce on December 24, 2008, citing irreconcilable differences.
In response, Kate counter-filed for divorce where she contested the date of separation but never did share a feeling of loathsome towards her husband of 15 months. She said via e-mail,
"I don't think anyone gets married thinking that they will get divorced. We certainly did not. Alex and I still care for each other, and I wish him nothing but the best. The silver lining to this, however, is that I have a wonderful family and a great group of friends who really showed their support and encouragement, and for that I am truly grateful."
After the divorce had been filed, the couple made a statement seeking a little privacy in the difficult times. 
"The couple remain on friendly terms and sincerely hope the media will respect their privacy during this difficult time."
The counter filed divorce resulted in the separation being finalized on February 5, 2010. As of the moment, Alex Young has not been encountered romantically with anyone, but the same cannot be the said for Kate as well.
A second attempt to personal happiness!
Later in 2011, Kate started dating her writer/producer boyfriend Chris Case. The couple shared a contented relationship, and Kate used to talk about her beau often. During an interview with Ellen DeGeneres Show Kate revealed that Chris had a serious allergy to her cats.
Caption: Kate Walsh was talking about her boyfriend not liking cats on The Ellen Show.
On the interview Kate said;
'My boyfriend's highly allergic, and it's ridiculous,'
She continued,
'His tune changed once we were like, "Maybe there's some sort of job here for these cats" And suddenly his tune started to change. We are making an animated series called Cat Stories.'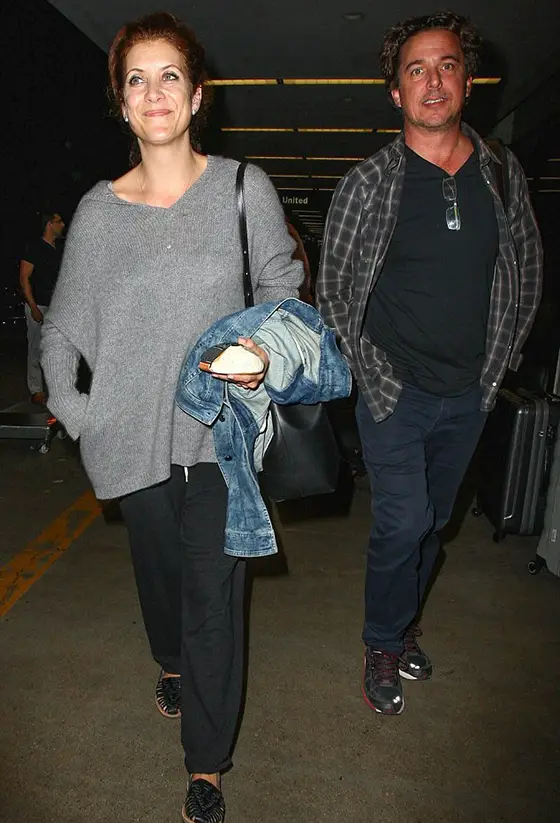 Caption: Katie Walsh and ex-boyfriend Chris Case in May of 2015.
Photo Credit: gcimage.com
A source took the liberty to notify People on the status of their relationship and how they met, revealing;
"They met through friends. He thinks she's amazing."
While talking about how they met, the source also revealed that Kate and Chris spent their Summer in Greece, vacationing.
Kate and Chris had dated for four years before media got wind of their split. However, the split was calm and amicable as an insider made a comment over the split,
'They are just in different places in their lives, and it wasn't working. Kate has been upset but trying to get over it.'
Both Kate and Chris are single at the moment, and Kate did not have any children with any of her former lovers. Not having a child with her boyfriend Chris was okay because they were not a married couple but it was curious why she and Alex did not conceive any children. However, it turned out that the reason behind not having children has its own story.
An issue that kept her from having children!
As much as Kate Walsh would like to have children of her own, she can't. A couple of years back in 2015, the actress revealed her cause of not being able to have a baby; which was menopause. While in an interview with the SiriusXM, Kate Walsh said,
"I don't have children. I'm not going to have kids. I went through early menopause. That happened."
She also said that going through early menopause is becoming something of a common thing and didn't know the exact reason for her early menopause but suspected it to be the product of the environment and pills.
However, the early menopause is a family thing for Kate as her older sister suffered the same fate but Kate is one strong woman who faces the situation bravely. She said,
"I've always felt I've been, at times in my life, indecisive or have hard times making decisions. I go for what I want and I also embrace what's in front of me."
She continued,
"I don't know if you can actually have it all. I think that is actually this American myth. I wouldn't call it a dream. I think it's a bit of a myth in that it's this huge pressure. We're like, 'Wait a minute, am I less than if I'm not a mother? If I'm not a rock star in my career?' I don't know. I'm just rambling. This is what I ponder."
In talks of that, Kate also revealed her heartfelt wish on having a baby with her then boyfriend Alex and her regrets on not being successful that made her feel like a loser, and this probably is a disappointment for a person who always imagined of having three or four children. She said,
"I feel like a loser [for not having kids]. I would definitely love to be a parent, but I definitely don't think I want to do it on my own."
Kate Walsh has been active since the 1995s. In such an old and extensive career, Kate has landed on many roles some of which were lesbian roles like in 'Angels Crest.' Kate, in her career as an actress, has certainly has earned her a huge amount of respects along with a load of fortune. 
She currently has a massive net worth of $20 million backed up with a salary of $175 thousand per episode for TV-series such as Grey's Anatomy and Private Practice.
Kate can be seen in 'Thirteen Reasons Why' and has two projects for post-production 'Felt' and REALITYHIGH.