On 16th April 2019, Katelyn Jae announced that she was pregnant with the couple's first baby via Instagram. Both parents-to-be took to the popular photo-sharing app, Instagram, to announce the big news.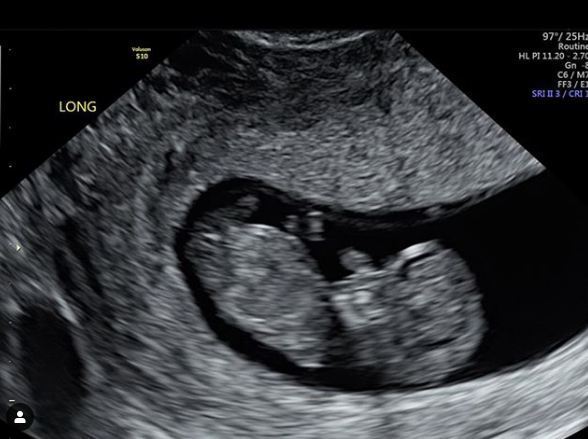 A sonogram of Katelyn Jae and Kane Brown's baby posted on 16th April 2019 (Photo: Kane Brown's Instagram)
An excited Kane added,
It's been so hard keeping this a secret!!!!! But the KB'S ARE GONNA BE PARENTS!!! KB3. IM GONNA BE A DADDY!
The joyous milestone came in the couple's life after Katelyn, age 27, and husband tied the knot in October 2018.
Welcomes Baby Girl
After the big and exciting news of the baby's arrival, the atmosphere was getting heated every day. The nervousness in the soon to be parent's faces were evident.
Saying that the good news was overshadowed by a tragic incident that took place on 14 October 2019. Kane's good friend and drummer, Kenny Dixon, passed away, making the father be in shatters. Learning about the news, Kane moaned for his buddy and displayed his deepest of condolence to his wife and family.
After such a tragic incident, Katelyn helped cheer up her husband by putting a Nursery on display for their daughter, who was soon to arrive. Posting a video of the room on 23 October 2019, the musician was over the moon, showing off the room for his daughter King.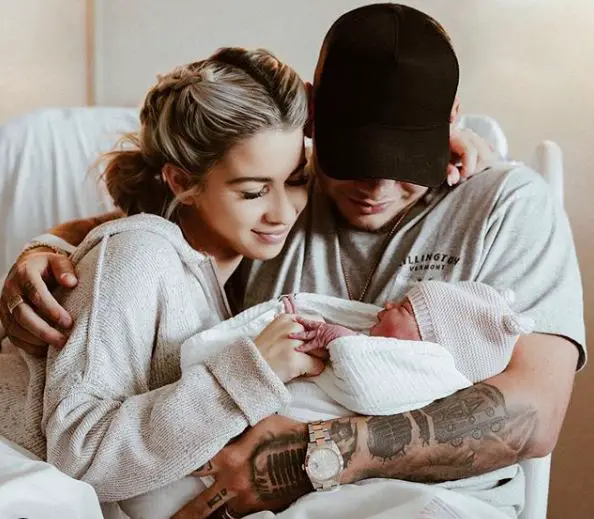 Katelyn Jae with husband Kane Brown on 31 October 2019 (Photo: Katelyn Rose Brown's Instagram)
Finally, on 30 October, the cries of the baby girl King was resonating in their house. The happy parents announced it on their Instagram, and they look forward to carrying their new responsibility to their fullest.
Wedding Details
Katelyn and her Lose It hitmaker partner became one in a beautiful ceremony held at the Mint Springs Farms in Franklin, Tennessee. To witness the union, the couple's close friends and family were in attendance.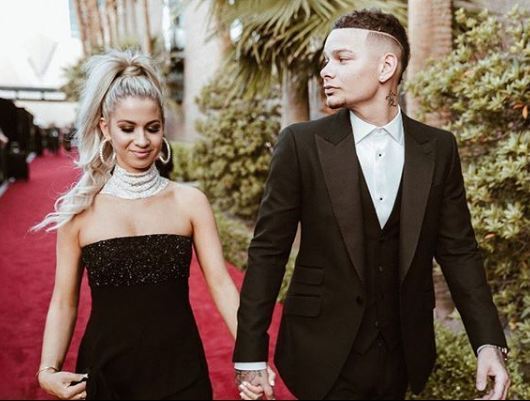 Katelyn Jae walks hand in hand with husband Kane Brown on 8th April 2019 (Photo: Kane Brown's Instagram)
A romantic at heart, Kane even got a tattoo of his wife's name on his hand to honor the ceremony.
More On The Wedding:- Why Kane Brown & Girlfriend Turned Wife Married In Peace & Serenity
The impressive milestone came in Katelyn, and her beau's life after the Used to Love You Sober singer popped the question in April 2017. He let the world know about the engagement at a show in Philadelphia.
Well, the pair had been dating since 2016, and when Kane proposed with a diamond shape, cushion cut platinum ring, Katelyn said yes! And, just like that, the duo stepped into their happily ever after.
Katelyn's Husband
The Take the Stage winner's husband is a talented musician in his own right. Kane Brown got his start auditioning for reality shows like American Idol and The X Factor. In 2015, he moved forward in his career and released the extended play Closer, which reached #7 on the US Country chart and #40 on the Billboard 200 chart.
After the initial success, he released his EP Chapter 1 in 2016. It managed to reach #3 on the US Country chart and #9 on the Billboard 200. Continuing the success, he released his debut album, which racked up a #1 spot on the US Country chart and #1 on the Billboard 200.
Read About Famous Country Singer:- Karen Fairchild and Husband - Major Power Couple in Their Content Married Life!
Kane kept hustling and released beautiful songs like Heaven and What Ifs. Courtesy of his famous songs, he managed to win three American Music Awards in 2018.
No wonder the talented singer has accumulated a net worth of six million dollars.
Behind the prosperous country, artist persona is a boy from Chattanooga, Tennessee, who made it big in the music industry. Born to African-American, father, and European mother, Kane is of multi-ethnicity.
The American singer's parents divorced while he was small and was raised by a single mother in Georgia.
On Katelyn's Family
The American national, who celebrates her birthday on 19th June, grew up with two siblings. Her partners in crime are two brothers Joel and Jay.
Katelyn's mother is a Life Spa manager by profession. Her mom is, indeed, her biggest admirer. So much so that she has written #1@KatelynJaeMusic fan on her bio.