Kelley O'Hara...have a husband, and she is not married yet...Kelley could not have gotten a more prominent stage or a more priceless moment in her life to show her...most of her personal life private Kelley was previously linked with...As proof from most of her photos on her social media...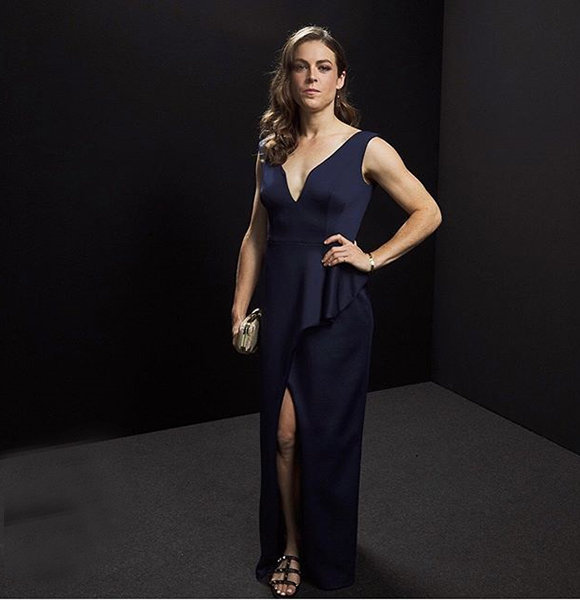 It looks like the US Women's Professional Soccer team is becoming as popular as the National Football League (NFL). Amongst the top athletes in the field, Kelley O'Hara shines as bright as anyone, if not more.  
Kelley is a member of the US Women's National Team, gracing her presence as a defender. As a part of the elite team, she won the Olympic gold medal in 2012 as well as World Cup championships in 2015 and 2019.
The soccer star started playing at the left-back position during the 2012 Olympic qualifying tournament for team USA, switching from her lifelong forward position. She was picked third overall in the 2010 WPS Draft.
Further, Kelley is a proud 2009 Hermann Trophy-winner as the top collegiate soccer player in the country.
Dating Or Married To Husband?
Kelley does not have a husband as she has never been married. In contrast, she has become a face that a lesbian would be proud of.
Glamour wrote in July 2019:
"As far as iconic kisses go, queer women, don't have many main-stage, historic moments."
Indeed, Kelley could not have gotten a more prominent stage or a more priceless moment in her life to show her girlfriend love and appreciation. After Kelley won her second consecutive World Cup title, she ran to the sideline and kissed her girlfriend.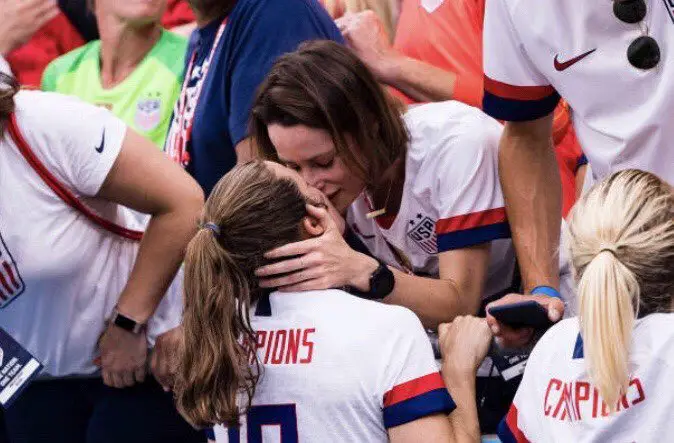 Kelley O'Hara kisses girlfriend after her second consecutive World Cup Championship-victory in 2019 (Photo: AOL.com)
However, the tender moment should not require any explanation in 2019 as she became the 42nd openly gay or bisexual soccer star in the Women's World Cup. On the other hand, her soccer fans were rocked a little as it was a coming-out moment of their favorite soccer star in one of the biggest stages.
Another American Soccer Player:- Tierna Davidson Girlfriend, Lesbian, Parents
It was a unique way to come out as a lesbian because Kelley never mentioned her sexuality before or after the incident. Instead, she just went back to her healthy life, which made the kiss more historical in a sense. The athlete has received many enthusiastic praises from the queer community and USMNT fans.
Even though Kelley kept most of her personal life private, she was previously linked with her high school sweetheart, Adam Sweat. Her then-boyfriend Adam was working as a senior communications specialist in Georgia State Capitol, but then, Kelley moved to Utah as a defender for Utah Royals.
There were lots of rumors about their breakup, and many of her fans assumed that she was focusing on her career.
Kelley's Age And Family
The football star was born on 4th August 1988 in Fayetteville, Georgia. Her father, Dan O'Hara, is a former pilot in the US Navy, and Kelley has a sweet mother, Karen O'Hara. She was raised in her hometown with her sister Erin and a brother named Jerry, who is also in the Navy.
Highest-Paid Women Soccer Player:- Sydney Leroux Salary, Net Worth, Husband, Family
Family is vital to Kelley as she is a family-centric person. As proof from most of her photos on her social media, she loves spending time with her family and friends, when Kelley is not practicing soccer.