No Golden State Warriors fan wouldn't instantly recognize the beautiful sportscaster...She is no other than, Kerith Burke...comes from a military household...born on the 23rd February 1983 in Seattle, Washington.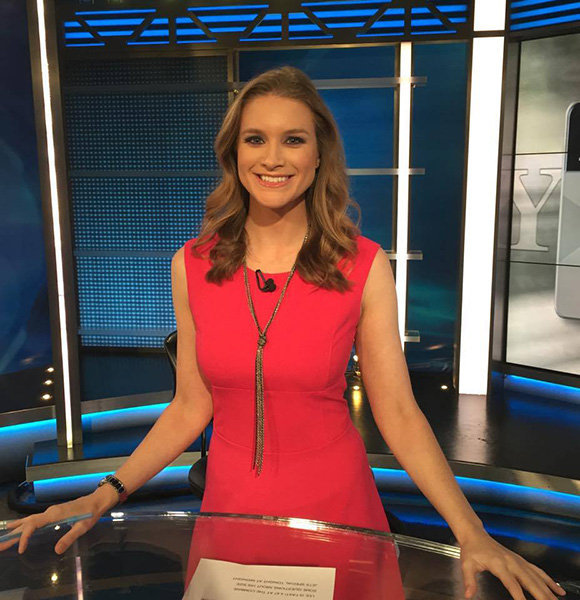 Kerith Burke is a name which every Golden State Warriors fan would recognize without a second thought. She is the famous sideline reporter of the basketball team for NBC Sports Bay Area. 
Kerith moved around a lot, working with Sterling Communications, NBC Universal Media, and SD Nation before finding her home at NBC. She has been with the news network since October of 2017.
Biography: Height, Weight, Birthday
Kerith comes from a military household. Her father served as a soldier with the Ranger battalion. Because of his father's work, Kerith relocated a lot as a child. She spent her childhood in Fort Lewis, Washington, Fort Benning, Georgia, and New York. 
She was born on 23 February 1983 in Seattle, Washington. It is unsure if Kerith favors discreetness or her father's job obligations doesn't allow her to share any details of her family. However, she is close to her dad & mom and frequently mentions them on her social media. Her nationality is American, but her ethnicity remains unknown. 
From A Military Family:- Renee Swift McCain Bio, Wedding, Parents, Net Worth
Kerith attended the Washington State University, affiliated with Murrow College of Communication School, to study broadcasting and communications. As for her measurements, the beautiful blonde stands at a fantastic height of 5 feet 9 inches (1.75m) and possess a weight of 59 Kgs. 
Keeping Husband A Secret?
Kerith is equally fortunate in her personal life as she has been on her professional front. She is a happily married woman. 
The reporter announced her engagement back in January of 2018. And after eight months on 26 September 2018, she got married to her longtime partner, David. Like everyone in her family, David also remains in the dark. However, it is known that the adorable duo had been dating for years before they officiated their union.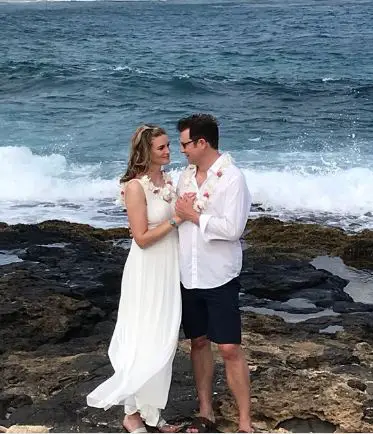 Kerith Burke with her husband David on their wedding on 26th of September 2018 (Photo: Kerith Burke's Twitter)
Even though Kerith shared some of the beautiful moments of her marriage on her social media, she did not include information on her husband. She might be keeping him all for herself! 
Decade In Sports Journalism
Kerith started her career when she was still studying at university. She took up a position at the official TV station, Cable 8 Productions, of Washington State University (WSU). During the same time, her Friday mornings were occupied by a three-hour music radio show on KZUU 90.7 FM. 
Her first work as a reporter came when she got accepted by the TV station, Pasco. She started as a general assignment reporter but quickly climbed up the ladder and was the interim sports director for the network.
Another Blonde Sportscaster:- ESPN Molly McGrath Husband, Engaged, Salary
Kerith's career has since been focused mainly on sports journalism. The reporter covered UConn Women Basketball National Championship victories with Sportsnet New York (SNY) from 2013 to 2016. She found the limelight with NBC Sports Bay Area as a reporter and sports anchor for Golden State Warriors.
With her decade long career in the industry, Kerith has earned renowned fame and respect enough to be included in Wikipedia. Her career put her on a better financial spot. Although her salary is not disclosed, she is undoubtedly paid more than the industry average of $67K.