Entertainment
Renee Swift McCain Bio, Wedding, Parents, Net Worth
Renee Swift McCain is an American hero...a servicewoman...was born on 16th of June...Her whole life has been influenced by the Navy..Her parents were both navy person...Her in-laws are also people involved with the service...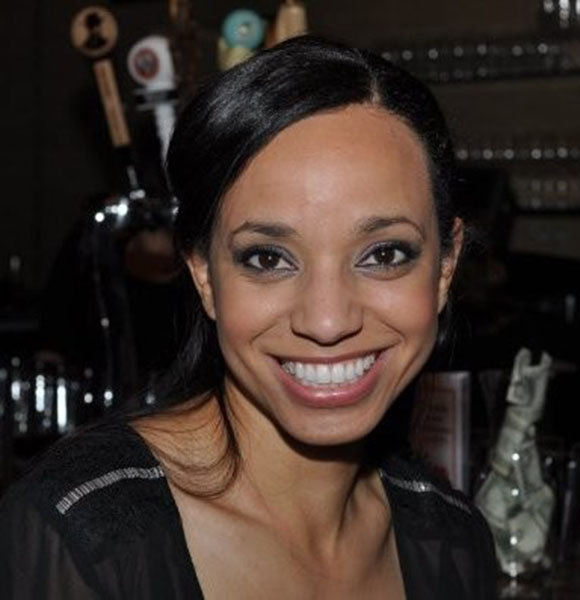 Coming from a family in a military background, Renee Swift was always interested in the service.
So, turning her passion into a career, she started serving in the Air Force of the United States of America. She is now a Staff Officer based out of Washington, D.C, Metro Area.
Wiki-Like-Bio
Renee Swift McCain was born on 16th of June 1983. Only a few details are available on her family members; her mother's name is Ruby. Her father, who remains unnamed, served as a young second lieutenant in the 1950s.
Renee is an American by nationality and belongs to the African-American ethnicity.
Similar Person Of Color:- CNN Athena Jones Bio: What Is Her Age, Height, Birthday, Ethnicity
As for education, the 35-year-old graduated from the college of San Diego State with both a bachelor's degree (2005) and a master's degree in Public Administration (2008).
Further, she added a Doctor of Education in the Field Of Study Organizational Change and Leadership in 2019 from the University of Southern California.
Renee's Private life: Husband & Baby
It doesn't come as a surprise that being a person in the military, Renee found the love of her life in the same place.
She fell in love with a Navy helicopter pilot, John 'Jack' Sidney McCain IV. They met each other while they were both on duty in Guam. Renee was stationed as a captain in the Air Force Reserves.
Despite Jack being two years younger than her, nothing could stop Renee from dating the man.
Then, the couple got married in 2013, at San Francisco's Grace Cathedral. Out of their love, they welcomed a baby son in 2016. The duo has not made his name public as of yet.
But, being married into an established family of war heroes, the color of her skin stirred up some controversies. Some people even went far enough to call the family of McCain, traitors. Despite all the hate, the family stood by what was right. 
Also, in 2016, John defended his wife, not that she needed it, on his Twitter against all the racist troll. He tweeted a photo of their wedding day and addressed all the racists with:
"I hope this one burns too, you ignorant racists."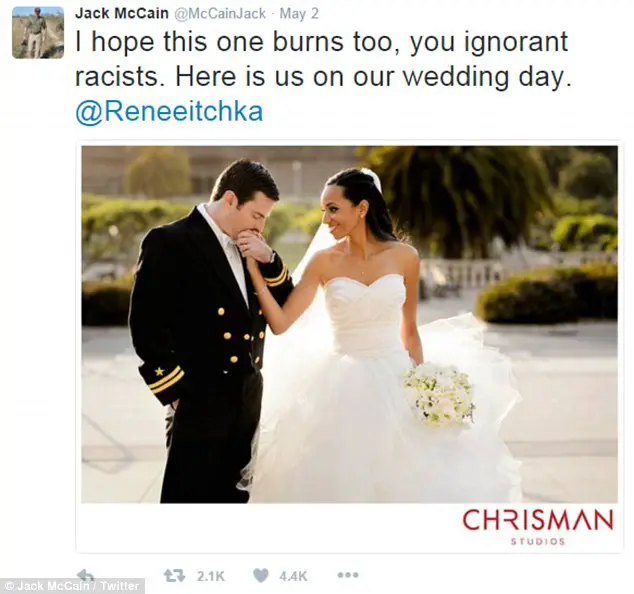 John slams racists for his wife, Renee Swift McCain (Photo: John McCain's Instagram)
Many international couples of the military followed suit. It could be said that Renee and John first started the push back against the racist internet trolls in 2016.
Renee Swift McCain's Career
Renee joined the 452nd Aerospace Medicine Squadron of United States Air Force in June of 2009 as a Director of Medical Logistics. She spent five years with the Squadron before moving on to be the Director of operations of 459nd Aeromedicine Squadron in October of 2014.
Another Navy's Wife:- 'American Sniper' Widow Taya Kyle: Joins Fox News as a Contributor
She, now, is the Staff Officer of the United States Air Force. She took on the position in January of 2018. With almost a decade of being a person in blue, Renee has certainly put her name amongst her parents and in-laws in the hall of heroes.
She has moved up the ranks and fulfilled all responsibility. The state, in retrospect, has undoubtedly compensated for her time and value to them. Her salary and net worth are not disclosed. However, it is certainly more than the average of $120K.
Her in-laws, the McCains' are valued to be over $300 Million.