Entertainment
Musician Family's Kevin Eubank Obscure Married Life & Wife Creates Buzz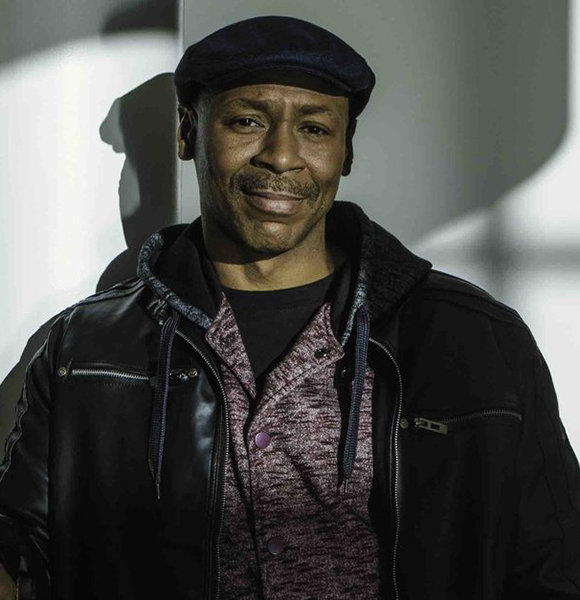 The leader of The Tonight Show band, Kevin Eubank loves cloaking his romantic life nothing more than he loves his music.
While he is currently running music classes in Philadelphia, his love life also gets questioned. Kevin had a whirlwind romance with a woman back in the days, who shared a similar background. Kevin's dating life was once a hot cake of 90's but what happened to the couple now?
Well, whether the love bind Kevin and his girlfriend for forever or things may not have worked out the way is still a mystery. 
Tag along to unveil Kevin's relationship details along with possible wife and family!
Girlfriend Feels Awkward At First Meeting; 90's Love Turned To Marriage?
Kevin Eubank, a guitarist bent towards contemporary jazz, has his share of romance. During 90's he was in a relationship with Tammy Townsend, American actress known for her roles as Wendy Reardon on the NBC daytime soap opera Days of Our Lives.
Kevin was seeing Tammy and shared some whirlwind romance wih her. According to PEOPLE, Kevin first met Tammy in a parking lot in Los Angeles recording studio. At the time, they both worked on a Marsalis album, Buckshot LeFonque where Tammy sang the lead on Aint It Funny while Kevin played the guitar.
The duo has their own version when it comes to memorizing their first meeting. Kevin believes his first approach towards her was brave one while Tammy says it was awkward. Kevin recalled his first meeting with Tammy by saying,  
"I had to talk to her. She had a very low-key, organic vibe I really dug."
In turn, Tammy shared her part of the memory saying, 
"He was awkward at first, which I thought was cute."
Well, bravely or not, Kevin surely grabbed Tammy's attention and they were set up for a date, in no time. Kevin and Tammy followed their first date a week later. Talking about their moments there Tammy said,
"he had a pimple on his chin. That was cute too."
By the looks of it, the couple surely adores each other. Kevin also added that Tammy was his push that he needed to become a bandleader from a background player.
And the year 1995, the pair's relationship received much hype from fans and media. But when asked if they were getting married the couple decided that they weren't ready to tie the nuptial knot yet.
As of now, there and not been any information whether the couple got married or not. But it was known that the couple last appeared together in the 1996 cover page of Ebony Magazine and also listed in "Top 10 Hotties Couple" in the 1996's January issue.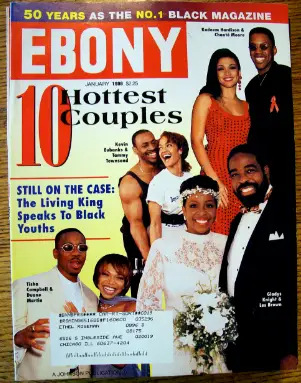 Kevin Eubank and Tammy Townsend in the middle of the Ebony Magazine January Issue in 1996 (Photo: livrampup.com)
However, after his relationship with Tammy, Kevin has remained utterly silent regarding his romantic life. There has not been any news of his obscure married life. It is still unclear if he has been married or not.
Musical Family, Net Worth
Apart from his romance, he also weaves a deep love for music. Kevin was born in a family of musicians that worshiped music and soon acquired the passion for music tunes through his mother.
While Kevin was just a child, his mom would take him to choir practices, through which he discovered his longing desires to fell and play tunes. As his family could not afford a babysitter, his mother would have him sit on her lap during her practice sessions.
While growing up he had his hands on the guitar and any punishment for his wrongdoings would be that he was not allowed to play his guitar. Well, not only Kevin his whole family is a bunch of talented musicians including his siblings.
Kevin's brother Robin and the twins Shane and Duane all are talented musicians themselves. Kevin even attended music school and graduated which took him to the road of making music.
Well, Kevin, as he made a name for himself through his talent, has a net worth of $25 Million dollars.