Entertainment
Kevin Parker Secretly Relishes Dating Affair; Got Girlfriend's Name As A Tattoo?
Having a secret relationship is not something unique for a celebrity because we know, too much of everything is contagious, and that same goes to fame. The life of a celebrity is full of people speculating many things, mostly about their personal life.
You know when Hayley McFarland was secretly dating her boyfriend, Erin Boshart, and the case is similar to singer Kevin Parker.
Kevin Parker is a young man who keeps everybody grooving and moving with his music, especially girls, who scream when they see his gloomy but sexy face and that gigantic height.
However, as we discuss Kevin's personal life today, a lot of hearts are in danger to be shattered and scattered. A word of caution to all the ladies out there before the beginning.
Secretly Dating Behind The Closed Doors?
As it happens, this 34 years old singer is dating, and quite secretly we might add. The 'Yes I'm Changing' singer is, in fact, dating his high school crush somewhere in 2013. Pretty lucky to be dating a high school crush right? But wait till things get even cuter.
In honor to his high school crush turned girlfriend, Kevin has embedded a tattoo in his forearm; a minimal "S." In addition to that cuteness, his girlfriend Sophie Lawrence also has a minimal "K" embedded on her arm.
The reason why the couple bond so well together might be because of their similarities. Kevin revealed in an interview that his girlfriend's job as an advertising executive had helped them to move along in their respective life while keeping the love alive. He says,
"Her job is all about triggering people's emotions, ­finding ways of connecting with people. That's exactly how I feel about writing songs."
One sad thing about Kevin's dating affair with Sophie is that the couple does not post any pictures on any of their social media accounts unlike Michael Mando, who flaunts his picture perfect world with his girlfriend over his Instagram.
Even though Kevin is not much open about his relationship with her, we can get to know a little bit more about Sophie in several of his interviews. During an interview with the Rolling Stone, we came to know that Sophie is an avid listener of hip-hop and R&B.
Kevin was later asked if he made some of his records because his girlfriend listened to that particular genre, to which he replied,
Don't bring up that topic! [Parker looks around quickly to see if Sophie has been listening, before composing himself.] I've always made music for myself and the people around me. That's why I started doing it. I started making music for myself, but then I started having friends who were into music and I started to make it for them to listen to. I first asked myself, "What would I like to hear?" But the secondary thought is, "What would the people that I love like to listen to? What would appeal to them?" Because if I didn't ask that question, I'd only be catering to the same one person.
Now, we know for sure that Kevin only makes music for himself and the people around him but also does not want to hurt his girlfriend's feelings by saying some particular records were just not for her.
So now we know, what drives a perfect relationship, don't we?
Had Any Relationship Affairs In The Past?
This is not the first time Parker connected to his girlfriend, because his former girlfriend Melody Pinochet, who is a French musician also helped him in his work while dating. Kevin even produced his then girlfriend's debut album and also contributed to record the tracks she wrote.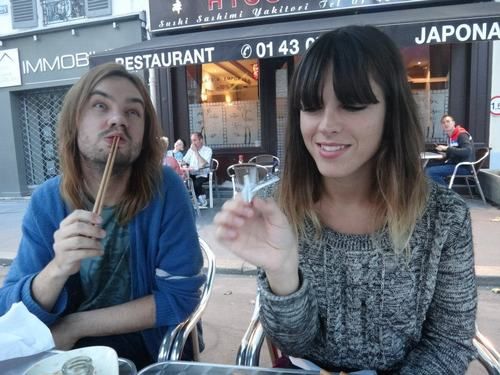 Caption: Kevin Parker with his then girlfriend Melody Pinochet.
Photo Credit: pintrest.com
However, the split between them has not been revealed and neither the two has spoken about it.
Currently, the Australian singer is looking forward to his upcoming tour which starts on July 29, 2017. Again the sad part here is that despite all the accumulated fame, Kevin has not bothered to reveal his net worth to the public. Maybe he is just waiting to come up with some huge numbers at once.
Stay with us for the upcoming updates on Kevin Parker!