Entertainment
'The Thunderstorm' Star Kira Kosarin New Boyfriend, Revealed? Dating Status Now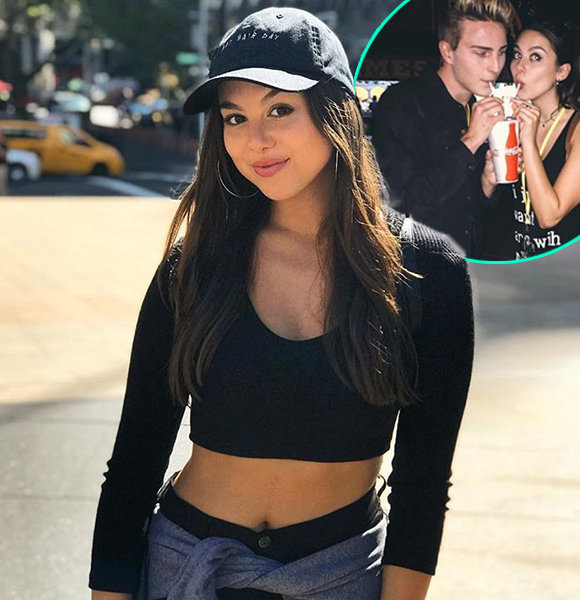 Kira Kosarin is famous for playing Phoebe Thunderman on Nickelodeon's The Thunderman. Considered an all-rounder, Kira excels at singing and ballet dancing.
The 20-year-old is active on social media and likes to flaunt her personal life to her fans. Also, she had been linked to a co-star in the past.
Dating And Split With Ex-Boyfriend
Kira became romantically involved with actor Chase Austin in 2014. After a week of the couple's six-month anniversary, she talked about her love life and the first kiss. In an interview on February 2015, she said, 
"I had my real first kiss this year...It was kind of perfect – it was like a movie. It was romantic and sweet and respectful and wonderful. It was what I had dreamed about when I was eight years old, but didn't think would happen,
However, the couple parted ways in 2015 after dating for about a year. She even shared an emotional post via Instagram to notify fans about her break up.
In the post, the One Crazy Cruise actress started by addressing her fans,
"Alright guys. You all have been asking me a LOT of questions lately and I think you deserve an answer".
She added, 
Yes, @chaseaustin10 and I broke up a little while ago. No, it's not the end of the world. He's still a wonderful human being whom I love with all my heart, it was just time for us to accept that things change, people change, and sometimes the best thing is for people to take on the world in a different way.
However, Kira mentioned that there were no hard feelings between them and the two remained friends after the split.
Dating Co-Star Turns Out A Practical Joke
In 2016, Kira was rumored to be dating her Thundermans co-star and onscreen brother, Jack Griffo. The theories surfaced in the media after Jack shared a picture on Instagram of the pair dressed in Wedding dresses.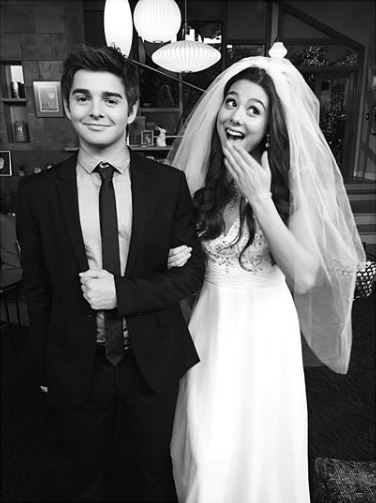 Kira and Jack pose as husband and wife on 26 August 2016 (Photo: Jack Griffo's Instagram)
Meanwhile, the couple remained silent about their dating status which further garnered curiosity of the fans.
And they came forward in January 2017 to clear the rumors and disprove the dating claims. In an interview with M-Magazine, the alleged lovers dished the rumors and revealed the wedding photo was a prank to fans. Kira also declined any chances of the pair dating in the future saying,
"It's not going to happen. We actually messed with everyone a few days ago."
She further mentioned,
"It got like 4,000 comments with people trying to figure out what was happening but we're just having a blast. Social media can be a really mean place sometimes so when we get a chance to to make the joke, it's kind of nice."
Kira and Jack are still besties and like spending time with each other. On 10 May 2018, Kira shared a picture of the two marking the final season of Thundermans.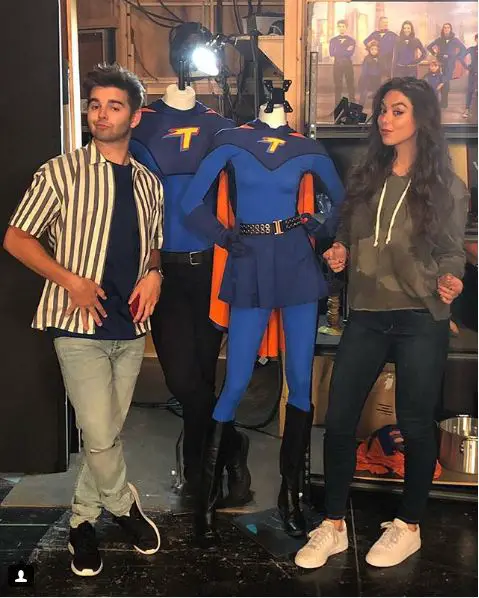 Kira and Jack pose in front of Thunderman costumes on 10 May 2018 (Photo: Kira Kosarin's Instagram)
As of now, Kira is single and hasn't revealed any information regarding her boyfriend in 2018.
Kira is close to her family which compensates for her lack of love life.
Relationship With Parents
Kira is the daughter of music director/record producer, Danny Kosarin, and Broadway actress, Lauren Kosarin. 
She shares a beautiful bond with her parents. For instance, on the occasion of her father's birthday in 2016, Kira shared a heart-warming message. She wrote on her social media account,
Happy birthday to my mentor, my hero, my inspiration, my anchor, the person with whom I share a brain, the person who is as passionate about life as a person could be, the person who has never let any obstacle stop him, the person who always works hard but somehow always puts his family first, the person who makes sure I never feel alone in this world.
Kira, who possesses an Eastern European Ashkenazi Jewish ethnicity further wrote in the post,
"Thank you for everything you have done, everything you do, and everything I know you will continue to do. Thank you for teaching me what it means to be passionate, resilient, kind, caring, joyful, hardworking, and loving. I love you to the moon and back."
Further, Kira also shares a lovely bond with her mother. She has posted several tweets dedicating to her mother and has even wished her mom on the occasions of Mother's Day via Twiiter in May 2016.
She wished her mother saying she is an incredible mom and Kira gets inspired by her every day. Likewise, in November 2016, she again took it to her Twitter and wished her mother a happy birthday.
It's likely that Kira spends quality time with her parents and is building her budding career which has left her less time for dating.