Entertainment
Kirsten Nelson Family Moments Reflects Married Life; Adorably Cute & Filled With Smiles
American actress Kirsten Nelson has carved success both, in her professional and personal life. 
She has scripted the famous TV series, Psych under her resume, while she also holds a blissful family of four. Eye-pleasing relationship with her loving husband, she has walked a beautiful romantic journey of turning her best friend to the husband. 
Join in to know the full story of your favorite actress! 
Best Friend Turns Into Husband; Hides Pregnancy For A Role
51-years-old Kirsten Nelson has a long list of projects to be known for in the entertainment world. Behind the successful image, Kirsten has a lovely romance story turning her best friend into a husband. 
She got married to a Catholic man on 5 August 1995. On the occasion of 18th marriage anniversary, Kirsten took to Instagram and shared a glimpse of her wedding. Sharing a throwback image, she quoted that her husband as her best friend in the caption.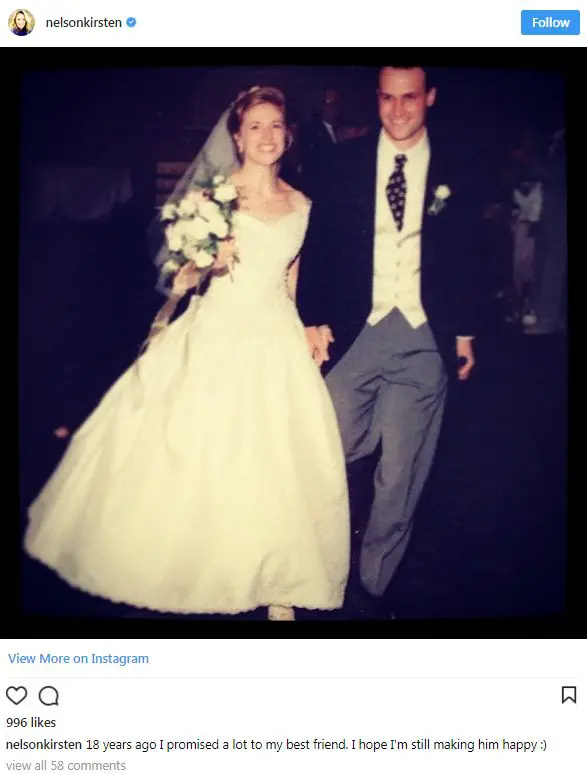 Kirsten Nelson and her husband all in smiles during their wedding back in 1995 (Photo: Kirsten Nelson's Instagram)
A year later, Kirsten celebrated her 19th marriage anniversary by sharing a throwback image again on her Instagram on 5 August 2014. Via the caption, she described her marriage as the union of Lutheran girl (herself) and Catholic boy (her husband). 
Despite all, she has kept the identity of her husband concealed and has not revealed any further wedding details.
After six years of marriage, Kirsten with her husband welcomed their first child, a son in 2002. Later, she gave birth to their second child, a daughter in January 2006.
During her second pregnancy, Kirsten was filming the first pilot for the series Psych. She even shared her experience during an interview with the teenink.com and stated that she had to take a doctor's note also to fly in an airplane. 
She also admitted that she had first hidden her pregnancy during the audition. But when she was called back for the role, she confessed it and luckily got cast. Though Kirsten talked about her pregnancy, she didn't reveal her daughter's name and had it concealed till date. 
Social Media Reflects Family Bliss 
Kirsten's social media is the one place, where her fans can witness updates in the actress's life. She often features her parents, husband, children and even cousins, making her family life transparent.
Kirsten also never misses wishing her husband on special occasions. One of such examples was on 5 August 2015, on the occasion of their 20th marriage anniversary. She posted a picture of the duo and wrote a caption as, 
"This is what 20 yrs of marriage looks like."
Similarly, she Instagrammed a photo in 2016 and via the caption revealed that her family said yes when she asked them to go for a four-mile hike on her birthday. Kirsten also quoted her family members
" My home and my hearts."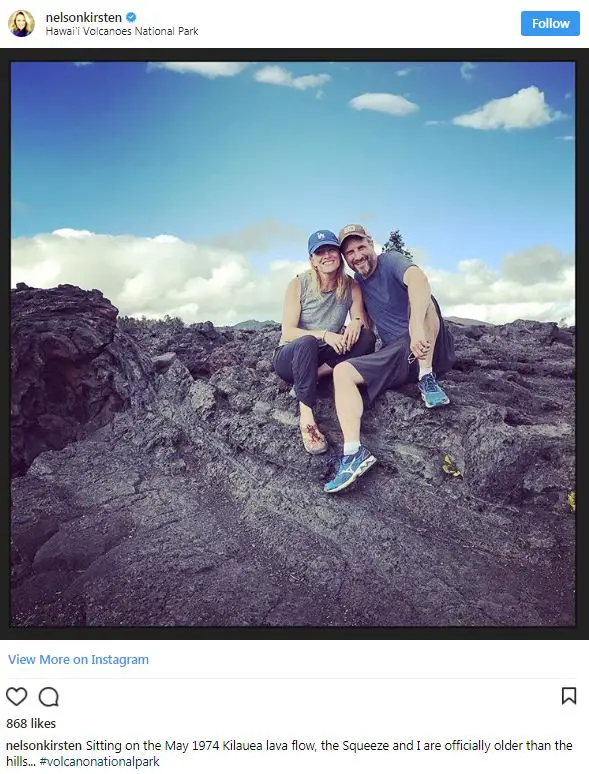 Kirsten Nelson sits with husband on the Hawai'i Volcanoes National Park back in 2017 (Photo: Kirsten Nelson's Instagram)
However, Kristen has her own way of featuring her closed ones as she never calls out the name of her family. Instead, she quotes "the squeeze" for her husband. On 18 July 2017, she uploaded a picture with her husband beside a breathtaking view, and captioned it, 
Sitting on the May 1974 Kilauea lava flow, the Squeeze and I are officially older than the hills...
Furthermore, Kirsten updated her son via a post uploaded in February 2018. She Instagrammed a picture of an apple pie and revealed that the cake was for her 16-years-old son who donated blood for the first time. 
She even uploaded a picture of her daughter in March 2018 and disclosed that her daughter is already 12 years old. 
Kirsten indeed has a beautiful family, and their family of four is enriched by their fifth member, a dog named Porkchop. They had adopted their hound back in February 2015.