Entertainment
Kirstie Allsopp Married-Like Relationship With Partner! Already A Family
British media personality Kirstie Allsopp has continuously peeked English households through television sets as a presenter of Channel 4's Location, Location, Location since 2004. Phil is married to his Australian wife, Fiona, and has two kids with her. Kirstie meanwhile, is involved in a romantic relationship with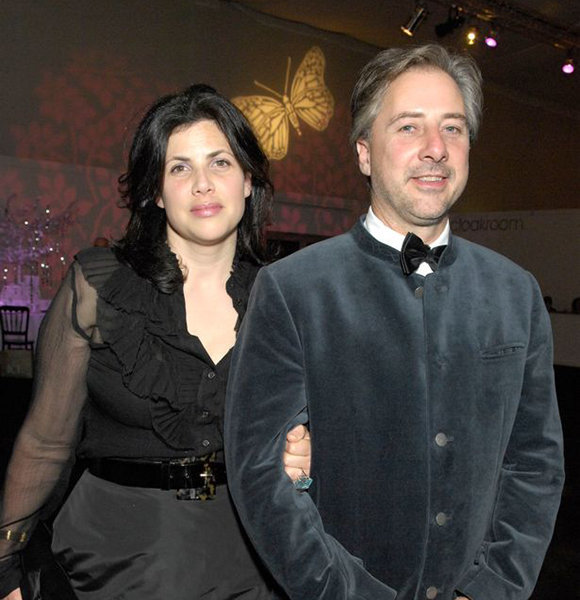 British media personality Kirstie Allsopp has continuously peeked English households through television sets as a presenter of Channel 4's Location, Location, Location since 2004.
Not only has she been helping participants in the reality show find their perfect home, but she is also an owner of a lush house with an ideal family in real life.
She has been in a living relationship with property tycoon Ben Andersen, and the couple has two kids to show from their relationship together. But why have the couple not named their relationship and pronounced each other husband and wife?
Happy With Husband Like Figure
Kirstie Allsopp often gets asked if she is married to Phil Spencer. Anyone who has followed the show Location, Location, Location strictly can be forgiven for assuming the pair to be married. Phil Spencer even calls Kirstie his other wife, but despite their similarities, they are not dating, neither are married to each other. 
More About Phil And Kristie's Relationship:- Kirstie Allsopp Married-Like Relationship With Partner! Already A Family
Phil is married to his Australian wife, Fiona, and has two kids with her. Kirstie, meanwhile, is involved in a romantic relationship with realtor Ben Andersen. The couple started dating during the fall of 2004 and have remained together ever since.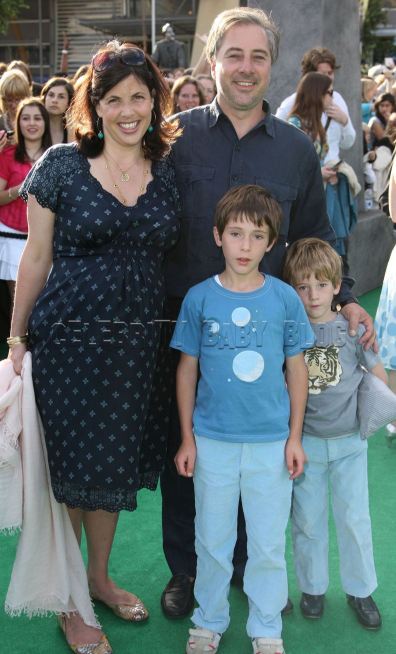 Kirstie Allsopp with partner Ben Andersen and her two kids (Photo:People.com)
With the couple madly in love, another unsolved question that remains about the presenter is about her marriage. The couple is not married, despite spending about a decade and a half with each other. 
When asked about why the couple had not yet been married despite being in a long-term relationship by Dailymail on 19 October 2016, the former Property Chain presenter replied that her partner was initially reluctant to get married, after his previous marriage ended in bitter terms.
She further added that she was unwilling to get married as well, quipping why to fix when it's not broken. Dailymail quoted her saying:
"Ben has been married previously and so initially it was he who was reluctant to do it. And then I was reluctant to get married because I just think: 'If it ain't broke, don't fix it.'"
Moreover, she was also aware of the fact that her marital life was a constant source of gossip. Both of her younger siblings, a brother, and a sister are married, adding pressure on her to tie the knot.
However, she, in the same interview with Dailymail, stressed that getting married wasn't crucial until and unless they remained happy. She affirmed:
"There does seem to be a gripping fascination with the fact I'm not married to Ben. But how many people aren't married nowadays? Something like 50 per cent of children are born out of wedlock. I've always said the same thing: there is every likelihood that one day we'll get married, if only for practical reasons. But we're very happy as we are."
Well, the couple is thrilled as they are and are enjoying blissful family life, despite not getting married. 
Biological Children And Stepsons
The Channel 4 presenter lives with her millionaire love in a vibrant area in Notting Hill, West London, and are parents to two adorable sons Bay, 11 and Oscar, 9.  Kirstie is also a stepmother to two sons of Ben, Orion 18, and Hal 15,  born to his previous partner.
In an interview with The Times on 28 April 2018, she explained that she always wanted children from a young age and had made up her mind of becoming a mother on her own via donor if she has no partner. 
The conservative party-supporting presenter, however, admitted that being a stepmother was much harder than a biological mother. She stressed that the default love between the mother and child was not present between them because of no pains associated with pregnancy.
Another TV Presenter To Explore:- Karina Banda Age, Husband, Net Worth, Family
But she later added she had no problems raising her stepsons because she was always someone who loved children and gave her all children the same love and affection. 
The feminist star praised Duchess of Cambridge, Kate for getting pregnant despite suffering from Hyperemesis Gravidarum, extreme morning sickness during pregnancy, which Kirstie also suffered during her son's birth.
An active advocate for early pregnancy, Kirstie feels that women should be made aware of the fact that fertility dwindles with advancing age, and the fast-paced life we lead today is hindering younger women from embracing motherhood.
Meeting Criticism On Twitter
Being an advocate for early pregnancy, Kristie tweeted multiple times in June 2019 urging women in their late 20s to have kids now rather than spending £20K on weddings. With such forceful tweets, her fans told her off by tweeting to stop forcing children to young women and not to tell people what to do. Her actions on Twitter created quite the backlash for the Channel 4 presenter. 
However, Kristie did not stand down as she allegedly said that she is in the best place to advise on the matter due to her experience of working for 20 years with families searching for homes.
The TV personality furthermore, quit Twitter in September 2019 after she announced that she smashed her children's iPads when they broke their screen time rules. 
Kirstie's Relationship with Children
Kirstie provides a regular glimpse of happy motherhood on her Instagram and spends time with her two sons. She posted a series of pictures in August 2017, visiting NewYork with her kids on Instagram.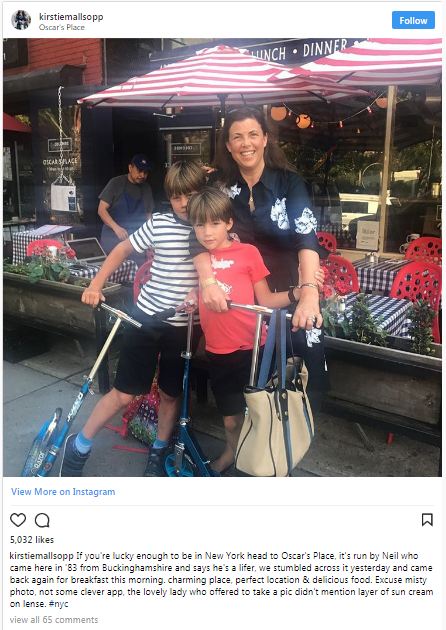 Kirstie Allsopp with her sons during a visit to NewYork (Photo: Kirstie Allsopp's Instagram) 
The star who likes to keep her personal life away from the prying eyes of paparazzi treated her followers on Instagram with rare glimpses of her happy family. Her family was pictured soaking up the sun in a private boat overlooking the sea.
Similarly, she even acquainted a fellow tourist with a local eatery called Oscar's Place, which she visited twice during her stay at Manhattan.
Similarly, she also posted about her sons and her stepson cleaning the surroundings and bonding as biological siblings. Her Instagram wall is awash with posts about her kids' antics and is reveling in her avatar of a happy mother. 
Furthermore, Kristie, whose net worth is around £16million, decided to give all of her fortunes to her kids after her death; but only if they have a job. She wants her children to be able to do whatever they want to do and that financially, no problem arises. But, if her kids decide to be lazy and not work, they would not inherit anything from her. 
Blessed with lovely kids and a loving and caring husband like figure, Kirstie is enjoying a happy family life. 
Weight Loss
Kristie lost two stones (12.7 kgs) as of September 2019. She also revealed the reason for her weight loss; she was worried about getting breast cancer like her mother did when she was 41. 
She even read that being overweight when you are fifty is also a risk factor. Hence, determined to lower the risks, she started a new workout plan. And to help her with the weight loss, she even started eating more greens.