Entertainment
Know What Enkindled Rosie Mercado To Start A Weight Loss Session That Resulted Her Measurements To Be Fairly Smaller
Know What Enkindled Rosie Mercado To Start A Weight Loss Session That Resulted in Her Measurements To Be...Obesity is a burning problem of today...Being oversized has many disadvantages and people who have become the victim of it want to lose their weight and get back to their...
Quick Information
Dating/Affair

No

Divorce/Split

Yes (Once)

Lesbian

No

Eye Color

Brown

Hair Color

Brown

Hair

Long

Weight

N/A

Height/ How Tall? 5'9" (1.78 m)
High School

Bishop Gorman High School

Career

2009-present

Net Worth

Not Disclosed

Date of Birth Mar 28, 1980
Ex-Husband

Kirby Braden Mercado

Husband/Spouse

Gilberto Flores (m. 2019)

Relationship Status

Married

Children/Kids

3

Ethnicity/Race

Latino

Religion

Christianity

Zodiac Sign

Aquarius

Profession

Model

Birth Place

Los Angeles, California, United States

Nationality

American
Obesity is a burning problem in today's world. Being oversized has many disadvantages, and people who have become the victim of it want to lose their weight and get back to their slim figure.
Similarly, Model Rosie Mercado faced this problem too. But she's done it! Yes, she has shed a lot of fats and has now got a slim figure. So how did this happen? Let's uncover her story on weight loss.
Root Reasons Behind Her Obesity
In the first place, the question arises why did Rosie gain so much weight? It's because of the quiet times and circumstances that she had to face in her life. First of all, she had to deal with the separation part of her marriage and secondly, her son was diagnosed with mild cerebral palsy. Here is what she has to say about it in her words,
"I hit rock bottom about eight years ago, and started gaining a lot of weight. My son was diagnosed with mild cerebral palsy, my marriage fell apart. Everything that could possibly happen happened."
Amidst the problems of her life, she didn't pay much attention to her increasing weight. In fact, she let herself be fatter.
Trigger Factor For Rosie To Lose Unnecessary Fat
Rosie once weighed 410 pounds, but after taking her weight issue seriously, she proved it right that once you are determined about something, difficult tasks are also possible to overcome and get the success where she was successful to shed 250 pounds!
The motivational factor for this to happen was one embarrassing incident that she had to face due to her heavyweight. It was when a flight attended told her to buy an extra plane seat. She said that,
"They were really rude. They announced it in front of everyone that I needed to buy an additional ticket. That was an 'aha' moment for me – either I choose to continue living this lifestyle, or I make a wise decision and take responsibility for my life."
Then, she took a low carbohydrate and low dairy food and also did a workout for six days a week. She kept her persistence all along the way and thus finally got what she wanted. However, that did not stop her from getting criticized; she was battered with hateful comments saying; she did it just for her career.
Acting Legend:- Liev Schreiber Wife, Dating, Kids, Net Worth
Replying to the same, Rosie claimed she did not do it for her career but for a better and spontaneous lifestyle with her kids. Adding to the same she also recalled being a fat person from her childhood and not being able to do anything a normal kid could do.
But now, she is more inspired than ever to maintain her body transformation and live up as an example to all.
Painful Days When She Was Full-figured
Life was harsh when she weighed 410 pounds. Rosie had a hard time finding a job due to her size. She used to send only her headshots to different modeling agencies. From them, she used to get interesting calls, but after finding out her size, they would say no.
She also had other problems which she expressed as,
"For me it was normal for me to have to think about fitting at a table or booth," she says. "I couldn't go to the movies. I couldn't go to Disneyland – I had to hire a nanny so my kids could have fun because I was too heavy for the rides."
Quick Information About Her Personal Life, Boyfriend?
The mother of three, she was married to Australian physical trainer Kirby Johnston, but in 2009 the pair got divorced, and they are no longer husband and wife. Nothing much has been disclosed about the spouse's whereabouts.
However, 2019 saw a change in Rosie Mercado in terms of her weight and also her relationship status. On 9 February 2019, the Face the Truth host tied the knot with her high school love from 22 years back, Gilberto Flores.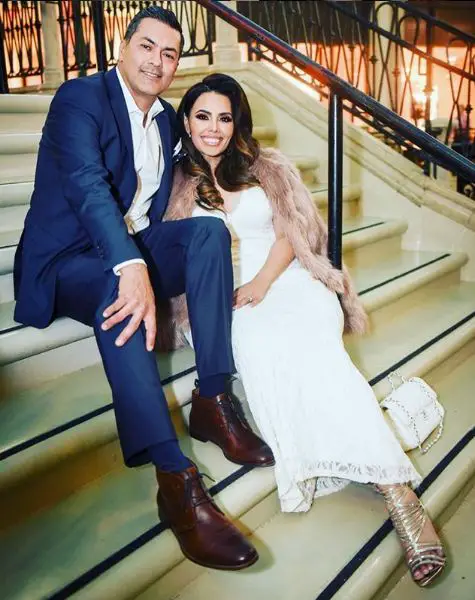 Rosie Mercado with husband Gilberto Flores during their wedding in February 2019 (Photo: Rosie Mercado's Instagram)
The long-time couples shared an intimate wedding ceremony in Las Vegas with only close family and friends. The couple celebrated the moment with a huge wedding cake and posted the lovely pictures on their Instagram. Now, the couple is very happy being together and start a family of their own.
Check Out:- Ambyr Childers Husband, Children, Family, Net Worth
But still, she has not revealed her net worth as she is privacy concerned lady. Last but not least, how this plus-size model transformed her measurements is commendable.
How Is Rosie Coping With Reactions To Her Weight Loss?
Regarding her weight loss, she got mixed reactions. Some appreciated her effort while some gave negative reactions. The "fat activists" sent her vicious online messages. People who were against her weight loss told to jump off a bridge and kill herself. She hasn't taken those negative remarks too much into her heart. She responded to those haters as,
"I got hate mail ... Not so much from the other models, just fans that hated on me. You've just got to let it go and not pay attention to the negative remarks."
She further added:
'Diet for me really equaled a lifestyle change, it equaled freedom, it didn't equal a size. It equaled to having freedom of choice, getting on a roller coaster, going zip lining and just having fun."
Rosie had to go through a complicated process to get the right size, and now she reminisces her oversized period as a learning chance.
She said it taught her to be 'humble, how to treat people, never judge a book by its cover.'