Cleveland Cavaliers' manager Koby Altman needs no introduction. A well-suited guy in his thirties, there might be very few things left for him to achieve. But, Koby wasn't born with a silver spoon in his mouth; he had to struggle his way up to reach the ranks.
In the humble journey from a middle-class family to becoming a glorified manager, Koby credits his single mother for all the success.
Bio: Age, Ethnicity, Family
Koby Altman was born on 16 September 1982 in Brooklyn, New York City. He was raised in a low-income family. Koby's parents were separated even before his birth.
His mother, Deborah Altman, worked at the Sheepshead Bay High School. Koby grew up solely in the care of Deborah, and that's where he derived his love for basketball.
Koby's mom was a basketball fan since her college days at the University of North Carolina. After making a move to New York, she started cheering for the Knicks.
Another NBA Star's Bio:- Jordan Bell Girlfriend, Age, Parents, Net Worth
Koby also played the sport during his childhood and even while at New Utrecht High School. Despite his relatively short height of 5 feet & 10 inches (1.77m) compared to other basketball players, he was considered a great Point Guard. He also played during his college years at Middlebury College.
Talking about his ethnicity, Altman is of mixed heritage and follows Judaism.
Net Worth & Salary
Koby worked as an as assistant coach at the Columbia University. His fate changed when he was appointed as the pro personnel manager for Cleveland Cavaliers in August 2012.
He was later promoted as the pro personnel director in September 2013.
Less than a year after serving as the assistant manager, he signed a contract making him the Cavaliers' manager in 2017. Koby's first year saw his team winning a Central Division and Eastern Conference Finals. Further, Cavaliers also made it to the NBA final, four times in a row.
Koby has been doing well financially, earning an estimated annual salary ranging from $51,000 to $55,000. But, his net worth is still under review.
Married In 2018; Wife, Daughter
Koby is a married man with a loving wife at his disposal.
The manager and his partner, Rachael Emily Garson had got engaged on 17 September 2017. The news of their engagement was later published in the Cleveland Jewish News.
Discover:- Joe Mande Married! Inside Low-Key Wedding Ceremony With Wife
Rachael, who is a nurse by profession, has also been to several of NBA's events with Koby, including the 2018 NBA awards.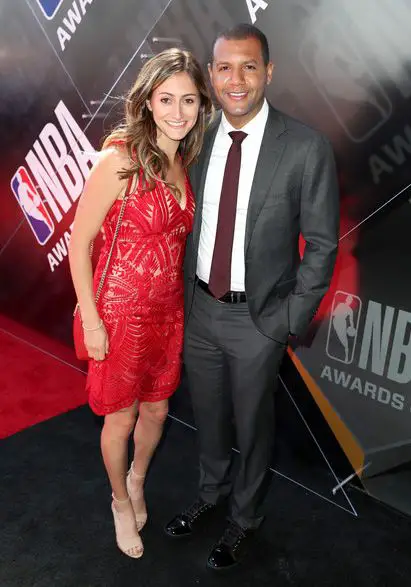 Koby Altman and Rachael Garson at the 2018 NBA Awards in June 2018 (Photo: Zimbio.com)
The couple later got married in a low-key wedding ceremony on 18 August 2018. Together, the husband-wife duo shares a girl child; however, their daughter's identity is kept a secret.
With a loving family of three, Koby might be one of the few people to have succeeded both personally and professionally.