Entertainment
Kristen Schaal Talks About Her Husband And Her Funny Wedding That Included Llama For Goodluck
There are many possible ways to get married, for instance, comedian Michael Yo popped the question to his girlfriend in a fairytale like proposal and got married the same way but comedienne Kristen Schaal made the most of her comedy profile and took her wedding to the next level by adding Llama for a supposed 'good luck.'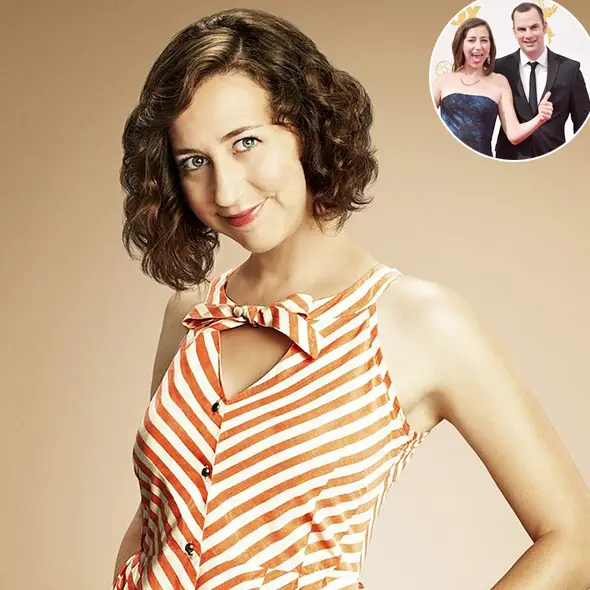 There are many possible ways to get married, for instance, comedian Michael Yo popped the question to his girlfriend in a fairytale like proposal and got married , but for comedienne Kristen Schaal she made the most of her comedy profile and took her wedding to the next level by adding Llama for a supposed 'good luck.'
Extra Ordinary Way Of Getting Hitched!
The 38 years old author of 'Sexy Book of Sexy Sex' got married to her writer boyfriend, Rich Blomquist in November of 2012, at the famous Staley Hotel. However, the wedding was not an ordinary one as it was held at the hotel where renowned author Stephen King was inspired to write The Shining in 1974.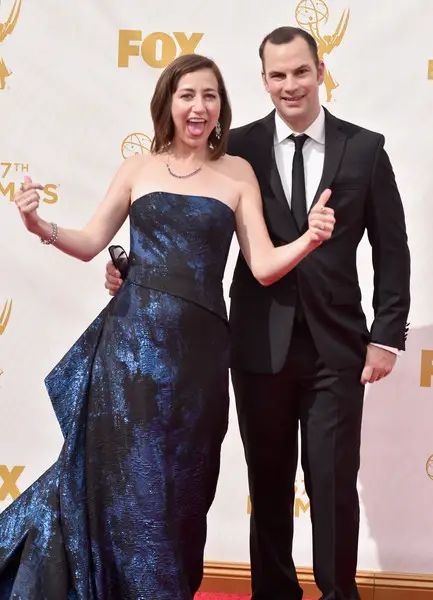 Caption: Kristen Schaal and husband Rich Blomquist with their weird poses at the 67th Annual Emmy Awards Red.
Source: zimbo.com
But this is not the only fact that made Kristen's wedding with husband Rich stand out. In an interview with Conan O'Brian on his talk show, Kristen revealed that she had Llamas on her wedding as ring bearers for real. 
Kristin and her husband Rich had two Llamas at their wedding ceremony with bow tie and flowers. She said,
"Well, it was a big quirky… Uh, we did have two Llamas in our bridal party. One had a bow tie on the groom side and then we had flowers on my side."
When Conan asked why did she have Llamas on her marriage, she replied,
"I think they're good luck for weddings."
Caption: Kristen Schaal in an interview with Conan on TBS on November 28, 2012.
She then further explained the reason for bringing Llamas to their wedding to her husband's fondness towards them. She said,
"Well, my husband loves Llamas-He thinks they're hilarious and if you look at their face up close when they smile; I mean (giggles) they're so funny. So, that's why we had em'."
Later, a funnier side of the wedding was visible after an interview with John Cullen, an owner of the Stanley Hotel from the past 22 years. Upon recalling his favorite stories, Cullen mentioned a wedding with two overly hydrated Llamas. As the Llamas were brought down the aisle by Stephen Colbert and Jon Stewart, one of the Llama started squabbling around. Cullen said,
"The problem was that these llamas weren't acclimated to high-altitude areas," Cullen says, "so one of the llamas started getting disoriented. Assuming that the llama was dehydrated, the Stanley's general manager went on Google and typed in the query: "How to hydrate a llama. They got a lot of water into that llama."
However, after being over hydrated, the Llamas which were apparently trained and both urinated in front of the guests once they were down the aisle. The wedding story became quite the sensation and Cullen, however, got calls from PETA for using Llamas into weddings but Cullen calmly said, "that's just a standard day at the Stanley."
Kristen Schaal and her net worth:
Kristen Schaal has been in the entertainment field for a long time now as she started her career in 2001. Her high-pitched but still cute voice has helped her gain success as a comedienne from over a decade and with her notable voice jobs like Bob's Burger and BoJack Horseman has gathered her huge admiration from her fans.
Over the years, with an extensive career, Kristen has successfully gathered herself a net worth of $5 million and that amount is expected to be increased because Kristen has about five projects lined up for 2017 itself.