Kyle Guy is a young basketball player in the NBA...recently married his girlfriend...had been dating since the 8th grade...engaged a year before getting married...their wedding took place at Hawaii...22 years of age...parents divorced at a young age...has a height of 6 feet...got couples tattoo with his wife...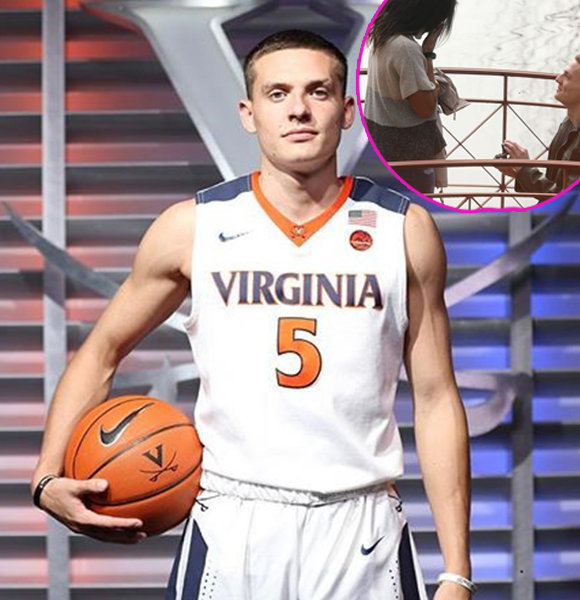 2019 was an exceptional year for Kyle Guy on the court. The University of Virginia student, led his team, Virginia Cavaliers, to their first National Championship in men's basketball in 2019. And, Kyle managed to get drafted into the NBA as the Sacramento Kings chose him in the 2019 NBA Draft.
Similar to the good things happening on-court, things worth celebrating happened for Kyle off the court as well. He experienced the best moment of the year in July 2019, when he married his girlfriend. But, what else is there to know about Kyle's wife and his family?
Kyle's Wedding
Starting with Kyle's married life, let's talk about how things led to his wedding. Kyle's wife is Alexa Guy, formerly Alexa Jenkins. Kyle proposed to Alexa on 18th February 2018, and they got engaged.
However, this bond between them isn't a result of a short dating period. Kyle and Alexa go way back, as back as 8th grade. Alexa said through a post on Instagram that she had a massive crush on Kyle when she was in the 8th grade. But, she also confessed that she never expected to get engaged at 20, a relatively young age.
Subsequently, after almost a decade of dating each other, actually from 8th grade, the couple decided that it was time to tie the knot. And the pair got married, after approximately one year of getting engaged, on 25th July 2019.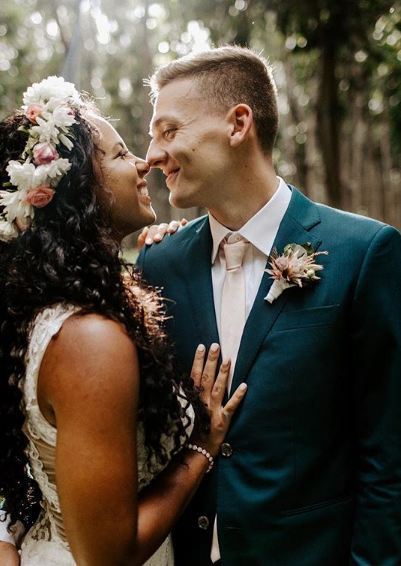 Kyle Guy and his wife Alexa Guy at their wedding on 25th July 2019 (Photo: Kyle Guy's Instagram)
And the ceremony, held in Hawaii, was a lovely affair, attended by many people. Both Kyle and Alexa's parents and family were in attendance at their wedding.
Who Is Alexa Jenkins?
Alexa Jenkins (now Alexa Guy) is neither a celebrity nor an athlete. 
Interestingly, she is a law student studying at the Notre Dame School of Law. Before starting her law education, she was an undergraduate at De Pauw University.
Taking more about her, Alexa is biracial. She is one of the two children of her parents - White mother Brandi Jenkins and Black father, Derrick Williams. Her brother's name is Tyler Jenkins, and he, too, is a basketball player. 
Kyle Guy: Parents
Kyle is one of the five siblings in his family. However, his father Joe Guy and his mother, Katy Fitzgerald, got divorced at a young age, and both have remarried since then.
However, divorces don't always mean chaos and bitter separation. Both families - from his father and his mother's sides - are still living in Indianapolis. Both families support Kyle in his career and are always in attendance in his games.
Also Read:- Marvin Bagley III Parents, Stats, Contract, Salary
Kyle's father was a football player. And Kyle, even though he wanted to pursue football, couldn't do so. An injury as an 8th grader prevented him from doing so, and he chose to play basketball instead.
And the decision to change sport benefitted him, as he got very good at basketball. In fact, he got so good that he received his first scholarship letter from the University of Indianapolis when he was just 14. And both his dad and his step-dad were there to see this achievement.
Anxiety Issues
Getting love and support from your close ones doesn't always mean a person is free from mental pressure. A person can face difficulties with anxiety, even amidst a loving environment.
Kyle's life has been a similar ride, as the player has dealt with anxiety after the publicity of his marriage proposal on national television. He didn't expect his personal life to be shown on TV, and the incident shook him, leading him into the hands of anxiety and other mental issues.
You Might Be Interested In:- Marquese Chriss Girlfriend, Family, College
However, this wasn't the only time Kyle had faced such difficulties. Before the proposal, Kyle faced similar demons after the UVA's loss to UMBC in the national competition. He was embarrassed, and he even posted two lengthy posts on his Facebook page detailing his embarrassment and mental issues following the loss.
A confessed people pleaser, Kyle rarely said 'no' to anyone because he didn't want to let people down. He always tried to be there for everyone and everything, and that started the anxiety attacks.
However, he has had the support of his wife, and his family members all along. And with his marriage, his mind must be at a little bit of peace now.
Interesting Facts
Kyle's birth date is 11th August 1997, and he was born and raised in Indianapolis, Indiana. 
He stands at a barefoot height of 6 feet (1.82 meters), and his wingspan is measured at 6 feet 4 inches.
The NBA star has a few tattoos on his body. He has a "David vs. Goliath" tattoo on his right leg on his quadriceps. He also got a couple's tattoo with Alexa; Kyle has ink of a rocket on his left hand's ring finger, and Alexa has a tattoo of the moon in the same place.
The newly married couple are religious Christians.