If growing up with a total of nine siblings was not tough enough, imagine being disallowed to pursue a career that you so dearly wanted.
Marquese Chriss was bound to be a footballing great, but a collarbone injury in school shattered any chance of him living his dream. Along with his never give up attitude, the athlete had a supportive mother by his side.
She introduced him to basketball, and from then on, his career took a turn for the best. Though the power forward is yet to showcase his best performance in the NBA, age is on the side for the youngster.
Dating Girlfriend?
Marquese is not shy talking about dating, girlfriend, and his personal life. Since 2013, he was creating havoc with his tweet about his ex-girlfriend. Furthermore, the forward joked about desperately wanting a girlfriend.
Interestingly, 2014 saw a different side of the player. When asked about if he wanted a girlfriend, he replied, saying no. However, he mentioned a girl as his girlfriend responding on a tweet in October the same year.
It is still uncertain whether he in a relationship or not, but it won't surprise the fans to see a promising young star dating a girlfriend.
Height, Family, College
Marquese Chriss is the fourth oldest son amidst nine siblings in his family. He also boasts a step-brother Mikey from his mother, Shawntae's marriage to his step-father Michael. Sadly, the couple separated after nine years of relationship. 
Growing up, Marquese did not have the support of his biological father. He had a lot of responsibility in his shoulders, and his mother always helped him achieve them. During his days in school, the 22-year-old insisted on pursuing a career in football.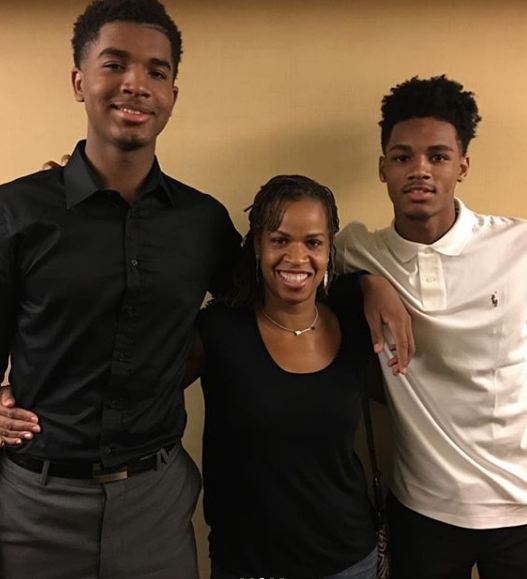 Marquese Chriss (right) with mother and brother in March 2019 (Photo: Marquese Chriss' Instagram) 
Unfortunately, he met with a severe shoulder injury which threatened his playing career. Knowing the potential in her son, Shawntae suggested Marquese play basketball. For five years, he trained in high school and finally tasted success in his college days at the University of Washington.
The 6 foot 9 inch (2.10m) posted one stellar performance after another and was named in the Pac-12 All-Freshmen selection. Also, he was drafted in the 2016 NBA Draft by Sacramento Kings and traded to Phoenix Suns.
Climbing Up:- Talitha Bateman Dating, Family, Net Worth
In the rookie season, he blasted his name in the NBA All-Rookie Second Team. Saying that the forward was not pleased with his stay in the club and had a pretty bad outing. The coaches in his team also labeled him as stubborn and uncoachable.
Just when it looked like a dead-end for the youngster, he was selected in the Golden State roster in place of Alfonzo McKinnie. Now, he is looking to bounce back and bring his sinking career in track.