Entertainment
Naked and Afraid's Laura Zerra Bio, Family & Relationship Status Now
Laura Zerra is a survivalist, writer, public speaker, and reality star. She is best known for her time in Discovery's Naked And Afraid (2013-2019). In fact, she holds the record for having spent more days on the show than anyone else: a total of 156 days.
A self-taught survival expert, she has overcome extreme environments and challenges, be it for shows or her own adventures.
Naked And Afraid
Laura was a cast of the Discover survival show in its very first season in 2013. She continued with the show in 2014 as well before moving on to the series' sequel, Naked and Afraid XL, in 2015. She appeared in over 25 episodes combined in the two series. 
The adventurous survivalist returned in Naked and Afraid: Savage in 2019, along with her survival partner, Jeff Zausch.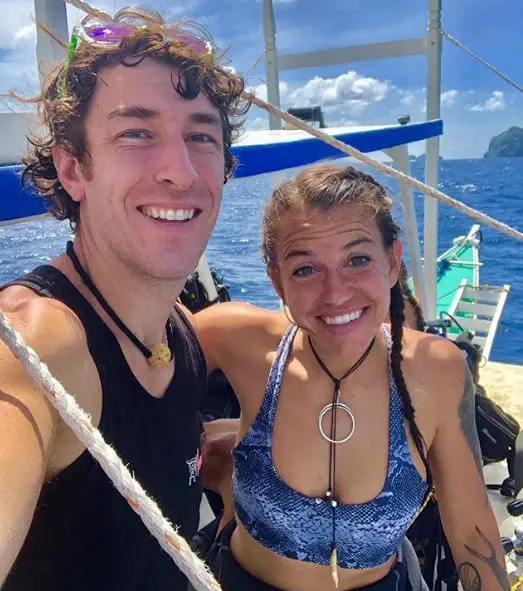 Laura Zerra with survival partner Jeff Zausch at El Nido, Palawan in July of 2019 (Photo: Jeff Zausch's Instagram)
The duo spent 60 days with nothing but primitive survival skills. Simultaneously, they established themselves as two survivalists who spent the highest days naked and afraid in the show. Laura is ranked first with 156 days, and Jeff follows in her footsteps with a total of 121 days. 
Age & Family
Laura was born to Steven and Elizabeth Zerra on 16th September 1985 in Massachusetts. She has two older sisters, one of them being a doctor and the other a lawyer.
About Jeff Zausch
Jeff Zausch (born Jeffrey Joseph Zausch) is an expert survivalist and reality star. He appeared in Naked After Dark and Naked and Afraid in 2014. Since then, he has appeared in similar series, including Dual Survival (2016) and Naked and Afraid: Savage (2019).
Bear Grylls' Wife:- Beautiful Wife Shara Grylls, Scared From Her Adventurer Husband Bear Grylls: De-Wormed Bear With Dog's Pill
He married Gabrielle Zausch on 8th March 2013.
Bio / Facts On Laura Zerra
Laura stands at the height of 5 feet 4 inches (1.63 meters).

She has taught her survival skills at locations like Great Hollow Wilderness School.

The avid survivalist's list of previous jobs includes mushroom hunter, taxidermist, farrier, butcher, and survival instructor.

Laura is also the founder of Zerra Expeditions, through which she coaches people about primitive survival skills.

Her hobbies are horse packing, hunting, rock climbing, scuba diving, whitewater kayaking, and traveling.

Laura frequently speaks at schools and organizations around the U.S.