Entertainment
Lee Dong-wook Casually Dating Around, Looking To Get Married? Revealed
A charming actor and the crush of many, South Korean actor, Lee Dong-Wook has always been silent about his dating life.
He has mostly enjoyed keeping his fans in the dark by revealing tiny hints but not disclosing full details of his relationships. That ended in 2018 when the South Korean actor started dating a hot girlfriend. 
While Lee was expected to get married to his singer girlfriend, seems like the fans' wishes to see the couple together as husband and wife might not be successful.
Dating Rumor With Co-Actor; Singer Girlfriend Not Going To Be Wife
Lee Dong's personal life has always been a topic of curiosity to his fans. Back in 2009, rumors surfaced that the actor was dating his co-actor from KBS2TV's Partner, Kim Hyun Joo. 
The gossips had first surfaced when the two colleagues arrived at the shooting spot after the scheduled time. Both of them had driven to work on private cars and not on the company's vehicles, which further increased the chances of the duo dating.
Take A Look At:- Christa B. Allen Is Not Having Dating Affair With Co-Actors; Has A Boyfriend Now?
However, later their representatives came forward to reveal that there no element of romance between Lee and Kim even though they were close friends to each other after working together. 
Although the dating rumor was disclaimed, Lee during an interview revealed that he had dated a co-worker in real life, which furthered the speculation whether Lee's girlfriend was Kim Hyun Joo. 
Lee's dating life remained low-key for several years until he was spotted with a new girlfriend. Earlier in 2018, rumors began to spread that Lee Dong was dating South Korean actress, Bae Suzy. The couple supposedly met at a private party and instantly hit it off. The pair was first spotted on a date in Cheongdam-dong.
A source close to the alleged couple mentioned that the pair was not officially dating and were getting to know each other. The source further explained that the pair might have started dating after the rumors surfaced.
"Lee Dong Wook and Suzy weren't really dating yet so they often hung out in public together, going to cafes and such here and there. I think even if someone took photos of them, it wouldn't show anything suspicious between the two. They were surprised by the sudden dating rumors, but they both were interested in each other so I think they decided to calmly confirm the rumors and start dating officially."
However, four months after dating, news surfaced that the two were no longer a couple and had broken up in July 2018. The actors' representatives came forward to reveal the update of their break up. 
You May Also Like:- Carli Bybel Age 28 Dating; Real Reason She & Boyfriend Break Up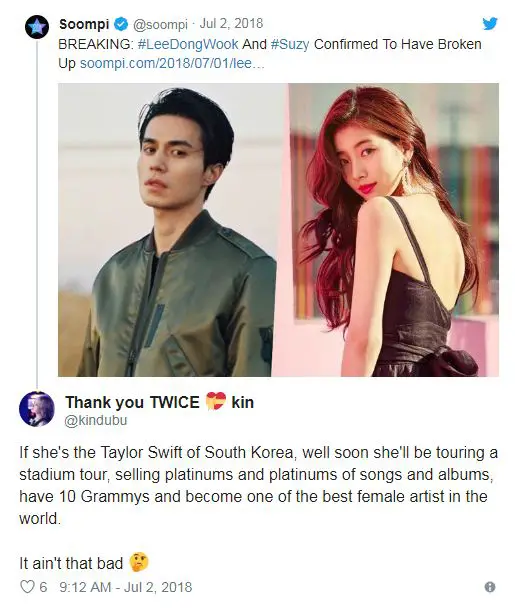 Lee Dong-wook and Bae Suzy have broken up after four months of dating in July 2018 (Photo: Soompi's Twitter)
The reason for their break up is given as the couple's busy schedule. While Lee has not commented on the topic, his fans have already started calling Suzy as the Korean Taylor Swift as she had earlier broken up with Lee Min-Ho.
While many fans were expecting Lee Dong to get married and make Suzy his wife, for now, it seems like a far-fetched dream.
More About Lee Dong-wook: Age, Net Worth, Movies, And TV Shows
Born in Seoul, South Korea, Lee Dong was raised along with his four siblings by his parents and belonged to a middle-class family. 
See Also:- Carli Bybel Age 28 Dating; Real Reason She & Boyfriend Break Up
Lee, who made his onscreen debut while in high school, first rose to fame with a part in the TV comedy show, My Girl. Later, he also appeared in various TV shows, which earned him the nickname "Wookie." Some of his TV shows include Roommates, Strong Heart, Blade Man, Goblin, Guardian: The Lonely and Great God, and more.
Further, Lee has performed in several movies like Heartbreak Library, The Recipe, and Crime Family. In his latest TV show "Life," Lee appears as a doctor, who gives his 100% to save the lives of his patients.
Lee, who ages 37, has not disclosed his not disclosed either his salary or net worth, but looking at how he supports his parents and family, his net worth could be revealed millions of dollars.