LeSean McCoy was in a relationship with...things took a rocky turn ...their relationship had not been...his ex also came forward with accusations...Even before the surface of these allegations.... some heat from the gay community...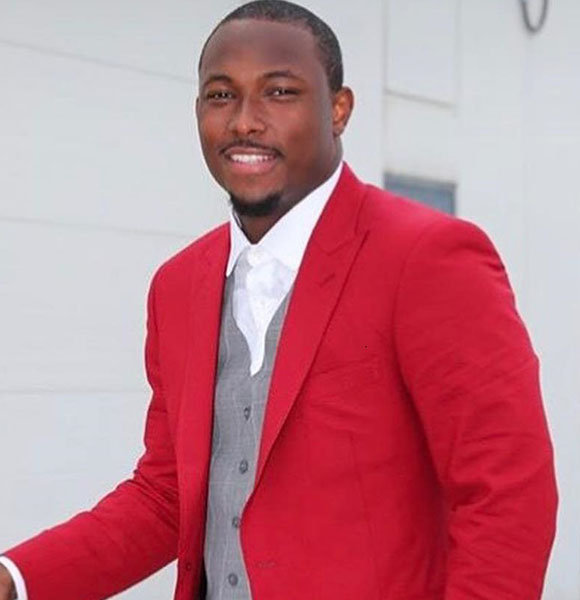 Nicknamed "Shady," American footballer LeSean McCoy was first drafted in NFL by the Philadelphia Eagles in the second round of the 2009 draft.
The athlete didn't disappoint the selectors as he set a set single-season touchdown record with 20 for his team and emerged as the franchise's all-time leading rusher.
Later, in 2013, LeSean was dubbed the Offensive Player of the Year as he led the NFL with 1607 yards. However, he was traded to the Buffalo Bills in 2015.
Despite being one of the most prominent players in American football, LeSean is no stranger to controversies.
LeSean's Controversy With Girlfriend
LeSean McCoy was in a relationship with an Instagram model-fashion designer named Delicia Cordon in 2016. The couple started to live together in October 2016. LeSean - who has a reported net worth of $14 million - and his girlfriend were madly in love with each other. Everyone thought the couple would pronounce each other husband and wife someday.
But, things took a rocky turn in July 2018 when one of Delicia's friends posted a picture of her with bloodied face lying on the hospital bed and allegedly accused LeSean of abuse. The accusation did not end there, LeSean was further accused of taking performance-enhancing drugs and abusing his children and dog.
More on the case:- LeSean McCoy, Massive Salary & Net Worth Bagger & Girlfriend Engaged - In Lawsuit
On his defense, LeSean released a statement saying,
''For the record, the baseless and offensive claims made against me today on social media are completely false. Furthermore, I have not had any direct contact with any of the people involved in months.''
Delicia later clarified the case, saying that their relationship had not been the smoothest. LeSean even demanded his items back, including $133,000 worth of jewelry that he initially gifted her. According to Delicia, he threatened her if she did not give his jewelry back, she would get robbed. She also claimed that the home invasion and attack on her was pre-planned by LeSean.
Ex-Girlfriend And Son 
Amid the ongoing case with LeSean's girlfriend, his ex Stephanie Maisonet also came forward with accusations against him. According to Stephanie, LeSean abused their six-year-old son in the name of discipline and beat his young son over minor mistakes. In her court document, she said,
''I feel like I am sending our son to a monster every two weeks. LeSean McCoy should be held accountable for his actions, regardless of his career choice or his income.''
To support her charges, Stephanie posted a picture of her son with bruises on his face. She also posted videos of the child refusing to go to his father.
Another controversial NFL star:-Jameis Winston Girlfriend, Married, Parents
LeSean immediately took to his twitter to call out Stephanie's allegations and wrote,
"The allegations made against me today regarding my relationship with my son are provably false, outrageously inaccurate, and offensive, I have a loving and close knit relationship with my son. That young boy is my whole life. With a custody case coming up in November, I can see why these false allegations are surfacing."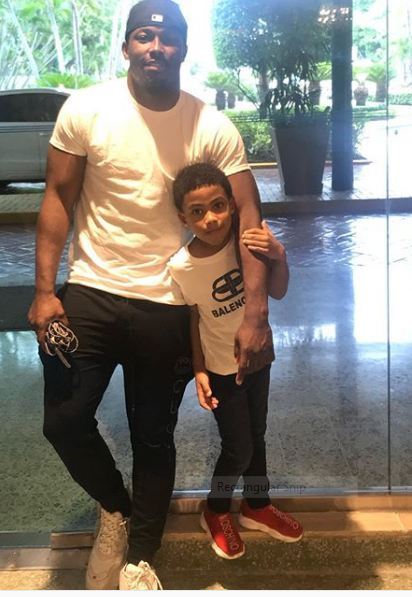 LeSean McCoy with his son LeSean Jr. on May 2019 (Photo: LeSean's Instagram)
Even before the surface of these allegations, LeSean did not share a good relationship with the mother of his child. In 2013, the ex-couple got into a Twitter brawl with each other.
It all started when LeSean tweeted about his vacation, except he misspelled vacation and wrote 'vocation.' On this, Stephanie called him out for his spelling error, and then things took a nasty turn.
Apart from these personal controversies, the NFL star also gained some heat from the gay community for his tweet back in 2011.