Entertainment
Leverage Actor Aldis Hodge Is A Taken Married Man Or Is In Search Of A Girlfriend?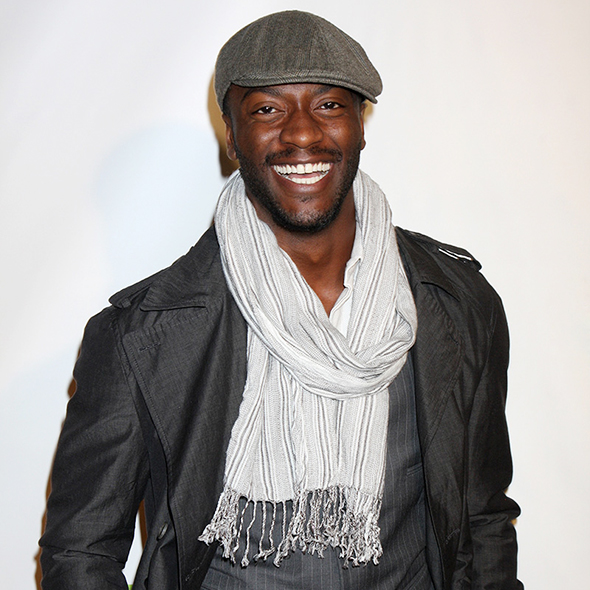 The American actor Aldis Hodge who is best known for the portrayal of Alec Hardison in the series Leverage' has made his imprint in viewers' eyes. His fans are keen on his personal life for that spectacular personality, alongside his professional life. Getting to the personal life, does he have a girlfriend or already has a wife? Let's got digging into the very topic.
Aldis Hodge: Already Occupied Or Taken Away?
Over the 35 years old, actor Aldis Hodge has got into many television and film roles, which gradually increased his fan following. But, of course, that eventually increased more interest in his personal life too.
Talking about his life, is he married or busy finding a girlfriend? On that note, as he is rarely linked up with girls, that somehow gave rise to the speculation of him being gay. Nevertheless, there is no official statement of the actor and no other proof to enlighten the assumption. 
Further, about his dating, the paparazzi clicked Aldis Hodge with a beautiful woman whose identity is yet to be revealed.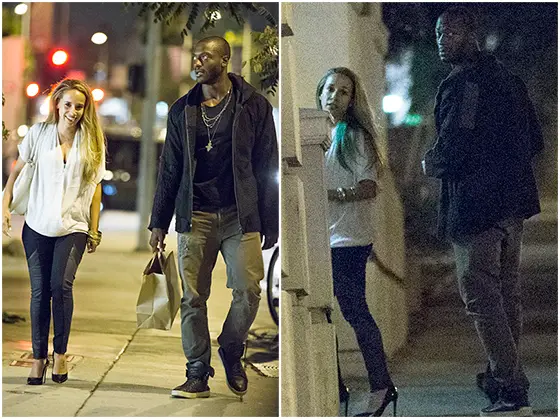 Caption: Aldis Hodge snapped with a lady at Zinque restaurant in West Hollywood, CA (2015). 
Photo Credit: lipstickalley.com
Everyone speculated her to be Aldis's girlfriend, but the actor heard no words on that very topic. Previously, in 2011, the actor took a post on Twitter about his girlfriend.

Aldis Hodge Tweet About His Girlfriend (Source Twitter)
But no further detail about his girlfriend was revealed by an 'Underground' star on that very topic.
Well! That was all speculation, and his tweets gave us some information, but no official statement and evidence is found that can prove the speculation.
As of now, he is not married and doesn't have a wife. Further, according to sources, he is possibly single. Maybe he is still in search of a perfect girlfriend.
More About Aldis Hodge:
Aldis Hodge got into acting because his mother promised him some Batman toys, and his older brother wanted him to be 'in the box.' He began his acting career at the very young age of three when he booked a print job for Essence magazine with his brother Edwin Hodge. From then and there, he appeared in various prints and commercials. Then he got into acting professionally after his appearance alongside his brother on 'Sesame Street.'
Some of his works include "Die Hard With a Vengeance" (1995), "Bed of Roses" (1996), "Pacific Blue" (1999-2000), "Judging Amy" (2000), "Big Momma's House" (2000), and "Happy Feet" (2006). In 2008, he landed the role that would bring him the most widespread recognition as Alec Hardison on "Leverage." In addition to his series and film work, he has also voiced characters in "Grand Theft Auto: San Andreas" and appeared in various commercials and music videos. All his work in TVs, movies and commercials has contributed to making an impressive net worth of $1 million.
Aldis Hodge, Watch Lover, Watch Collector, and a Watchmaker
However, the casual fans don't know about Aldis is his love for watches. The 'hidden figures' expressed his passion for watches, talked about his watch brand 'Basil Time Piece,' and even delved into his personal history. 
The New York native was raised by his single mother, who also inspired her to become an actor. His first watch(which was a Mickey Mouse watch) was also a gift from his mother and brother. Hodge talked about his family fondly, saying,
"She(their mother) raised my brother and me, putting us in the business of acting at a very young age, so I have been an actor and entertainer for 27 years. When I was 18, I began attending college for art and design, and I designed all sorts of things from furniture to industrial designs and even watches. My mom told us that we should have good shoes, a good suit and a watch, so I was running around at age 10 looking like a little old man, But somehow I grew to understand that a watch is a representation of myself, of my culture, taste, awareness and aesthetic."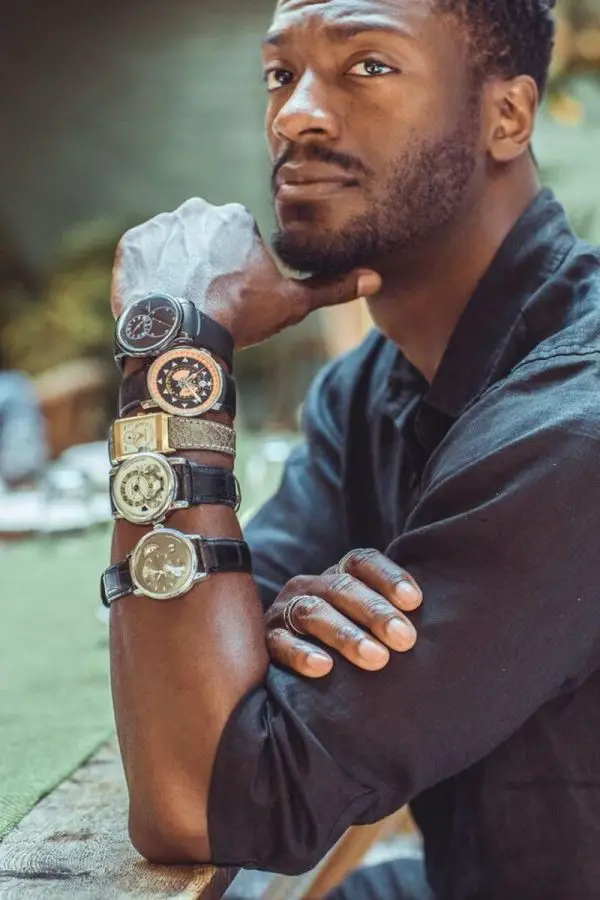 Caption: Aldis Hodge shows a minor part of his collection.
Photo-Credit: Forbes.com
While he holds a vast collection of watches of all sorts, sizes, and brands, he holds an equally impressive history in watchmaking. The actress was previously an apprentice of a teacher from Vacheron Constantin and has worked on building watches for multiple brands for years and even has thought of original plans, which were much more advanced at the time of inception. He talked about his dreams of introducing a brand to a Swiss company saying,
"When I was 22, I was working on a line and I brought the concepts to Switzerland to a brand that was looking. I presented three watches, one was a retrograde, one was a perpetual calendar, and the third was a tourbillon. They liked them but said they couldn't make them because that brand at that time didn't make its own movements so that the concept wouldn't work; it was too advanced for them. So I decided I would do it myself. I didn't want to quit acting, though, because I also love that, and because acting gives me the ability to   be able to create and design things in my free time."
Hodge personally plans to build his company, Basil Time Piece, as a boutique brand that will focus on Haute horology. The watch enthusiast was quoted explaining his plans stating,
"We are going into production now of our first flagship model, but we will only be making small limited collections and special bespoke pieces,"
Stay tuned to get more updates on Aldis Hodge.