Entertainment
Who Is Lil Skies Girlfriend? Also About Mom, Brother, Dad & More
Lil Skies' girlfriend pregnancy news...features his childhood photo featuring his mom...younger brother is also a rapper named...his father was hospitalized following a severe...his popular stage name, Lil Skies real name is
Lil Skies is one of the prominent figures in the arena of hip-hop world today; his hit tracks such as Roses and Lust tell it all. Moreover, his critically acclaimed album Life of a Dark Rose managed to secure 10th spot at the Billboard 200 charts.
But, the start of his well-running career wasn't an easy one like in most cases. Taking inspiration from his father, Lil - however - managed to climb the ladders of success and is doing pretty well for himself now.
Who Is Lil Skies' Girlfriend?
The rapper is in a relationship with a woman named Jacey Fugate.
Well, the initiation of their relationship dates back to 2018. After dating for more than a year, Lil Skies took a major step up in his relationship. On 1st March 2019, the artist disclosed the news of his partner's pregnancy during a live show with REAL 92.3 LA.
Free Pregnancy Tests:- Think You Might Be Pregnant?
Moreover, several pictures of the pair featuring Jacey's belly bump started to float on the internet. Finally, in August 2019, the couple welcomed their baby boy into their life but chose not to disclose his name.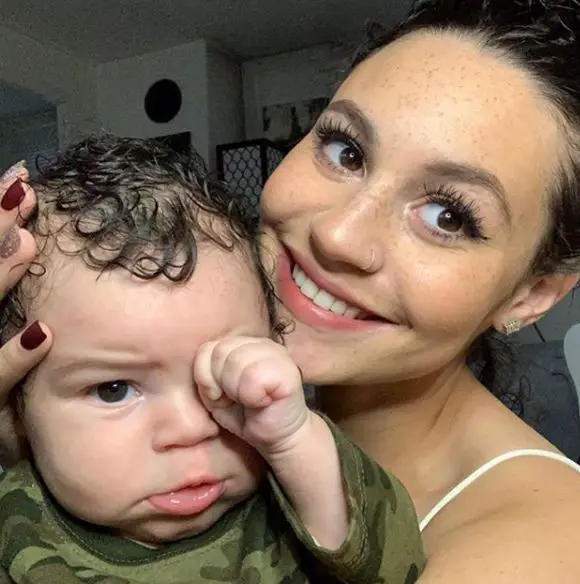 Lil Skies' girlfriend Jacey Fugate holding her baby boy in October 2019 (Photo: Jacey Marie Fugate's Fanpage)
As of now, the artist and his son's baby mama are more than happy looking after their newborn. On 6th November 2019, Lil's girlfriend even shared another cute picture of their son on Twitter with a caption that read,
"I'm that mom that takes 5000 pics of their child and idc and I won't stop bc omg"
However, for now, the question remains if the hip-hop artist is planning to make things official with Jacey and walk down the aisle with her.
Family Bio: Mom, Dad, Brother
Although mostly recognized by his stage name, Lil Skies' real name is Kimetrius Foose as per official records. He grew up in the neighborhood of Chambersburg, Pennsylvania, in a working-class family.
His dad, Michael Burton Jr, was a struggling rapper himself and performed under the stage name, Dark Skies. Evidently, the songwriter's stage name was inspired by his dad.
He even formed a band with his father after his dad was hospitalized following a severe explosion accident while he was in high school. So, this moment undoubtedly motivated him to pursue a career in rap music.
Canadian Rap Artist:- Details On Tory Lanez Dating Status, Who Is Girlfriend?
Likewise, his mother had an equal inspiration on him growing up, and he even dedicated his 2019 studio album titled Shelby after her. The album cover also features his childhood photo featuring his mom.
Although his parents separated a long time ago, he is in good terms with both of them.
Interestingly, his younger brother is also a rapper named Kamrin Houser, who is well known by his stage name Heartbreak Kid.
 About Lil Skies Including Age
As per official records, Lil Skies' birthdate is 4th August, whereas his birth year is 1998.
Kimetrius stands 5 feet & 7 inches (1.7 meters) in terms of height.
Among numerous tattoos engraved on his body, the singer's favorite one is the name of his mother's name embedded in his face.
He made his TV Show debut from the French show Quotidien in 2018.