Entertainment
Love Is In The Air! Lisa Gormley And Dan Ewing's Dating Rumors Emerges After Their Latest Photoshoot!
With an onscreen chemistry like that of Lisa Gormley and Dan Ewing, anyone can assume that there is something fishy going on between the two, even though they claim that they're not secretly dating.
Lisa and Dan played a married couple in the hit Australian soap, 'Home and Away'. The chemistry they have on screen, have people questioning the relationship they have. But the actors have a different perception on this. They believe that even though they have so much love for each other, the chemistry people see onscreen is only on screen and not in real life !
How did all the rumors start that they might be boyfriend and girlfriend? Recently, while Lisa and Dan were getting ready for a photoshoot with an Australian magazine, New Idea, they shared how they feel about each other. 
While Dan thinks that the chemistry like that cannot be faked, Lisa says that it is definitely not real. Dan even credited Lisa of being a great influence in his life and helping him through his split with ex-wife Marni Little. But for Lisa, who is the only child mentioned that Dan is like the annoying little brother she never had !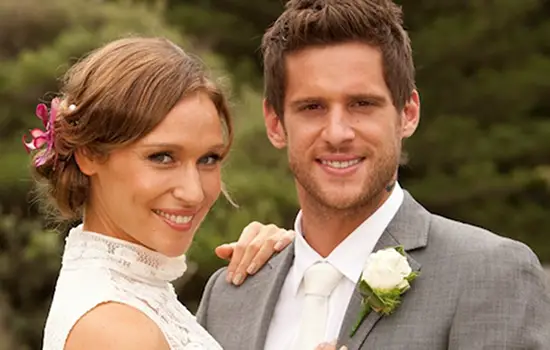 Caption: Lisa Gormley and Dan Ewing posing for a picture during their photo shoot with New Idea magazine in November 2016.
Photo Credit: newidea.com
During the shoot, the pair were super flirty and were even calling each other 'baby.' Now, are they just toying with their fans or the onscreen husband-wife really have something they're hiding from the public? Only time will tell.
More about Dan and Lisa:
Lisa (32) was born in Bradford, West Yorkshire, UK and moved to Australia when she was 3. She graduated from National Institute of Dramatic Art Before becoming an actress, Lisa worked as a flight attendant for Qantas (according to Wikipedia). 
She started acting at a young age, appearing in youth community theater. Her first big break came when she got the part of Bianca Scott in 2010 soap, Home, and Away. Apart from this she also appeared in 2010 film Before the Rain and is set to appear in In Extremis and Dark Alliance.
Dan (31) was born in Manly, New South Wales and grew up in Forestville. He attended Marist College North Shore. Before stepping out as an actor, Dan was an accomplished sportsman (according to Wikipedia), who played Representative Basketball for nine years.
  He made his acting debut in a 2004 film Dead Meat. He first appeared in Home and Away in 2007 as Reuben Humphries but was later cast as Heath Braxton as a series regular. Currently, he is set to appear in films like Factory Hands, Beast No More, and Dunamis.