Entertainment
Liv Hewson: Everything We Know - From Her Dating Affair And Boyfriend To Her Siblings and Family
Liv Hewson is an upcoming artist who has been winning many hearts with her performances. Liv certainly has the demeanor and the skills to go a long way in her career.
She showcased her talents when she played Drew Barrymore and Timothy Olyphant's daughter in Netflix comedy, "Santa Clarita Diet" and the amazing display of talent she brought to light was something spectacular, as she did not get fazed of sharing the screen with two veteran actors.
While Liv is climbing the new height of success in her career, has she taken out time from her profession to indulge in a romantic union?
You might just find this segment useful as today; we are putting the spotlight on her life regarding her personal, romantic and professional aspect in a wiki-like bio of Hewson.
Who Is Liv Hewson? Her Family Life:
November 29, 1995, Canberra, Australia, born Liv Hewson is a US and Australia based actress and playwright. Hewson began acting at a very young age in theater productions at Australia's Canberra Youth Theatre, and that is where Liv learned the tricks of the trade.
She is a native of Australia, who goes by her original name Olivia Hewson.
She has always been a shy girl when it comes to detailing the facts about her personal life, and that is the reason why she has never actually discussed her family life and the identity of her parents and siblings in public.
But back in an interview in March this year, she talked about her family background a bit. Speaking about her accent not being typically Australian, she said,
"I've always found an American accent pretty easy to fall into and I do think that's because of The Simpsons. I come from a family where a lot of our favourite running jokes just rely on us quoting things."
She then added,
"We'd watch The Simpsons and Futurama together and we'd watch American films and obviously growing up listening to American music."
She continued,
"I really like listening to accents and trying to mimic them just because I think it's fun. I'm really fascinated how people speak and how voices work, just from a mechanical perspective.
Hewson concluded,
"So I think I just kind of learned 'American' as a child out of curiosity and now it's come in kind of handy."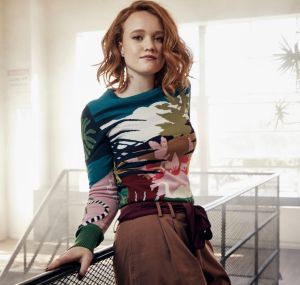 Caption: Liv Hewson has always found this strong connection with the American accent.
Photo Credit: canberratimes.com.au
It is probably the reason why Liv got to live her dreams and pursue an acting career, just after two years of her heading to the states, which has helped her have so many hit projects in her bag like "Dramaworld," "Before I Fall," and "Santa Clarita Diet."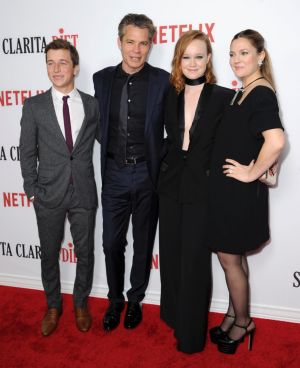 Caption: Skyler Gisondo, Timothy Olyphant, Liv Hewson and Drew Barrymore at the LA premiere of "Santa Clarita Diet."
Photo Credit: canberratimes.com.au
Does Liv Hewson Have A Dating Life?
There is no doubt that Liv Hewson, who is 21 in age and stands over 5ft 5inhes in height, is a beautiful young lady. She is doing justice with her her talents and skills and further have attained the success in her career thus far.
Hence it could be the reason why she is relentless in achieving further heights in her career, keeping herself away from the dating affairs.
However, let us not rule out the possibilities of her being in a dating relationship in a low key manner, which several other celebs prefer as well.
Stay with us for the emerging updates on iv Hewson!