settled with a husband...now, the motivational speaker has turned her weakness... love and support from her family kept...Bullying, Career, Education, Net Worth...Is She Married?...
Lizzie Velasquez is a motivational speaker and anti-bullying activist famous for her inspiring autobiography, Lizzie Beautiful: The Lizzie Velásquez Story (2010). In the book, she wrote about her experience with a rare medical condition called Marfanoid-progeroid-lipodystrophy syndrome, and the bullying she went through due to it.
In 2015, a documentary titled A Brave Heart: The Lizzie Velasquez Story was released based on her life which went onto win the audience award at the SXSW Film Festival.
Bio, Family
Lizzie, whose real name is Elizabeth Ann Velásquez was born on 13th March 1989 in Austin, Texas. Her father Guadalupe is a retired principal, while mother Rita Velásquez comes from Mexican ancestry.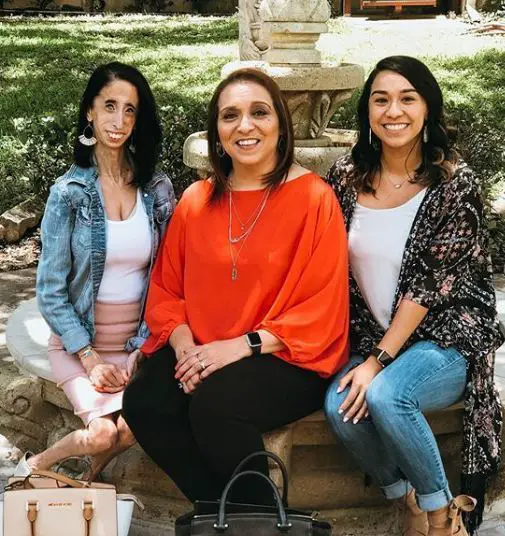 Lizzie Velásquez spends time with her mother Rita Velásquez and sister Marian Velásquez in May 2019 (Lizzie Velásquez's Instagram)
The writer is also the eldest child in the family, with two siblings: younger brother Chris and sister Marina Velásquez.
Bullying, Career, Education, Net Worth
Due to the absence of any adipose tissue (a tissue that the body needs to store fat), her appearance was unusual and prematurely aged. This medical condition resulted in Lizzie, who stands 1.75 meters (5 feet & 7 inches tall) in height, to become the center of constant bullying in her childhood.
In her kindergarten years, she realized that other kids were afraid to talk to her, and at the age of 17, a YouTube video labeled her as "the ugliest woman." The footage also met with many online bullying comments. While it was a difficult time for her to process all of these, the extreme amount of love and support from her family kept her positivity alive.
Active In Anti-Bullying Activities:-  American Journalist Emily Bazelon, A Rising Voice On Abortion and Bullying
Moreover, Lizzie was determined to prove that she was beautiful in every aspect that she could be and help out several others, who felt left out due to bullying. During her college years at the Texas University, she started a self-titled YouTube channel where she promoted anti-bullying messages.
In 2014, she gave an inspirational viral speech in TEDTalks that earned a vast number of views. Due to the exposure she recieved from the video, it became a breakthrough moment in her career as a motivational speaker.
Subsequently, she wrote several books, including  Choosing Happiness (2014) and appeared in several platforms like The View, The Today Show, and Huffington Post raising awareness on bullying and providing hope to millions.
As of now, the motivational speaker has turned her weakness into strength as she has monetized her works, including her Youtube channel, which has more than 800 thousand subscribers. She has also made a fortune out of her career, but Lizzie's net worth is kept a secret due to legal issues.
Is She Married?
In 2015, rumors surfaced around the internet that Lizzie was engaged to her fiance. The gossips had started after she was seen wearing a gold ring in her ring finger. 
Recommended Motivational Speaker:- Where Is Openly Lesbian Susan Powter & Who's Her Partner Now?
However, she immediately put a stop to the rumors herself clarifying that she had kept the ring since she was 15 in the ring finger as it didn't fit in any other finger. So it seems, she isn't getting settled with a husband any sooner.
But, she did date twice during her college years with an ex-boyfriend, whom she refers to as Blake.